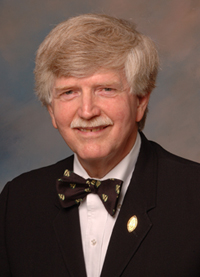 John L. Tarpley, M.D.
Professor of Surgery and Anesthesiology Emeritus
Department of Surgery, Section of Surgical Sciences
Site Director and Associate Chief of Surgical Service
VA Tennessee Valley Health Care System, Nashville Campus
Medical Center North
Vanderbilt University Medical Center
1161 21st Avenue South
Nashville
37232-2730
John Tarpley joined the faculty of the Vanderbilt University Dept. of Surgery and the VAMC Dept. of Surgery in 1993 and was the Program Director for the General Surgery Residents and has served as a Master Clinical Teacher in the medical school. He is Associate Chief of General Surgery at the VA. He served at the Baptist Medical Centre, Ogbomoso, Nigeria from 1978-1993 and also spent 4 years on the faculty of the Johns Hopkins Dept. of Surgery and the Loch Raven (Baltimore) VAMC during that period. Esophageal cancer, international health, history of medicine, and the role of spirituality in clinical medicine are areas of particular interest.
In September 2002, the Accreditation Council for Graduate Medical Education (ACGME) selected Dr. Tarpley as one of eleven outstanding program directors in the nation to receive the ACGME's Parker J. Palmer "Courage to Teach" Award.
Education
1962-66 Vanderbilt University,Nashville, Tennessee, A.B.
1966-70 Vanderbilt University, Nashville, Tennessee, M.D.
Post-Graduate Training
1970-71 Johns Hopkins Hospital, Baltimore, Maryland, Surgical Intern
1971-72 Johns Hopkins Hospital, Baltimore, Maryland, Surgical Assistant Resident
1972-74 Surgery Branch, National Cancer Institute, National Institutes of Health, Bethesda, Maryland, Clinical Associate
1975 Frenchay Hospital, Bristol, England, Registrar in Cardiothoracic Surgery
1974-76 Johns Hopkins Hospital, Baltimore, Maryland, Surgical Assistant Resident and Resident 
Research Information