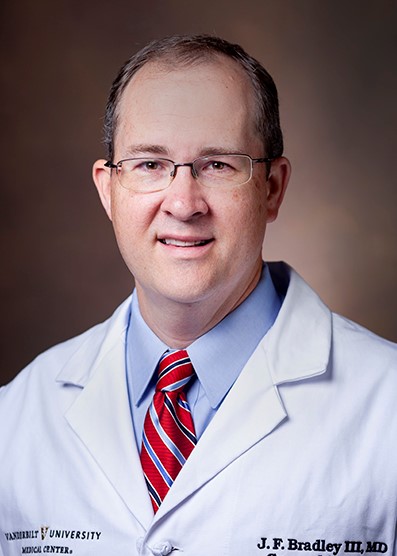 Joel F. (Trey) Bradley, III, MD, FACS
Assistant Professor of Surgery
Clinical Co-Director of the Hernia Program
Division of General Surgery
Appointment: (615) 322-2063
Dr. Bradley joined our surgical faculty in the Division of General Surgery as an assistant professor of Surgery, after working as a private practice General Surgeon in Knoxville, TN. His clinical areas of expertise include abdominal wall reconstruction, hernia (inguinal, ventral, incisional, flank, and epigastric), biliary disease/gallbladder, diaphragmatic hernia, and sports hernia/athletic pubalgia.
Research
Dr. Bradley's research interests include patient outcomes before and after hernia repair, hernia quality of life, minimally invasive surgical techniques, robotics in surgery, biology of hernia, and hernia device implants. His recent publications include: Does Ventral Hernia Defect Length, Width, or Area Predict Postoperative Quality of Life? Answers from a Prospective International Study, Journal of Surgical Research; Defining Surgical Outcomes and Quality of Life in Massive Ventral Hernia Repair; an International Multicenter Prospective Study, American Journal of Surgery; and SAGES Guidelines for Laparoscopic Ventral Hernia Repair, Surgical Endoscopy.
Memberships
Dr. Bradley is a member of the American College of Surgeons, Society of American Gastrointestinal and Endoscopic Surgeons, and Southeastern Surgical Congress. He is also a member of the Americas Hernia Society and Tennessee Chapter of the American College of Surgeons. Dr. Bradley is an American College of Surgeons Fellow. He is board certified by the American Board of Surgery in General Surgery.
Education
Dr. Bradley graduated magna cum laude with a Bachelor of Science from the University of Memphis, in Memphis, TN. Graduate studies in science and business were conducted at the University of Memphis, in Memphis, TN. Dr. Bradley received his MD from Wake Forest University School of Medicine, Winston-Salem, NC. He completed his residency and internship at University of South Carolina/Palmetto Health, Columbia, SC. He completed his Minimally Invasive Surgery fellowship with a focus on hernia repair at Carolinas Medical Center, Charlotte, NC.
WEBSITE