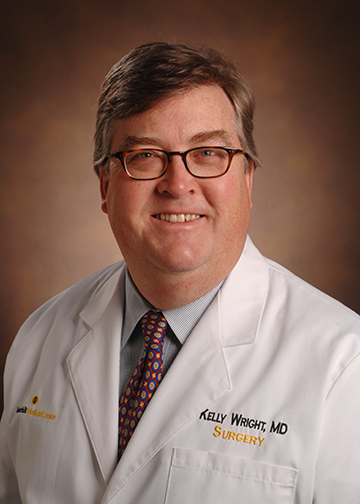 J. Kelly Wright, Jr., MD, FACS
Division of Hepatobiliary Surgery & Liver Transplantation
Oxford House
1313 21st Avenue South
Nashville
Tennessee
37232-4753
Dr. Wright's clinical interests include transplantation of the liver, kidney and pancreas and treatment of benign and malignant disorders of the gastrointestinal system, including primary and metastatic liver cancer, pancreatic cancer, bile duct and gall bladder cancers, and treatment of portal hypertension.
Dr. Wright was recruited to Vanderbilt in 1990 to help start the Liver Transplant Program and continues as its Surgical Director. Dr. Wright is committed to quality, evidence-based, compassionate care of his patients, and exemplary mentorship to residents and medical students.
Patient Care Emphasis
Transplant
Liver Transplantation
Surgery for Portal Hypertension
Treatment of Bile Duct Diseases
Treatment of Malignant and Benign Liver Tumors
Treatment of Pancreatic Diseases
Education
1977 B.S. (Physics) Vanderbilt University
1981 M.D. Johns Hopkins School of Medicine
Postdoctoral Training
1981-1984, Residency in Surgery, Massachusetts General Hospital
1984-1986, Robert R. Linton Research Fellowship in Surgery, Massachusetts General Hospital
1986-1988, Residency in Surgery, Massachusetts General Hospital
1988-1989, Chief, West Surgical Service, Massachusetts General Hospital
1989-1990, Clinical Fellowship in Transplantation Surgery, Massachusetts General Hospital
Dr. Wright's CV is available in PDF format for information about his research, publications and presentations.
Contact Information for Dr. Kelly Wright:
Phone: (615) 936-0438 or (615) 936-0420
Fax: (615) 936-0435
Mailing Address:
Division of Hepatobiliary Surgery & Liver Transplantation
Vanderbilt University Medical Center
801 Oxford House
1313 21st Avenue South
Nashville, TN 37232-4753
Medical Appointment Address:
The Vanderbilt Clinic
1301 Medical Center Drive
General Surgery Clinic: Suite 3501, Third Floor
Nashville, TN 37232
Free Valet Parking in front of The Vanderbilt Clinic building entrance