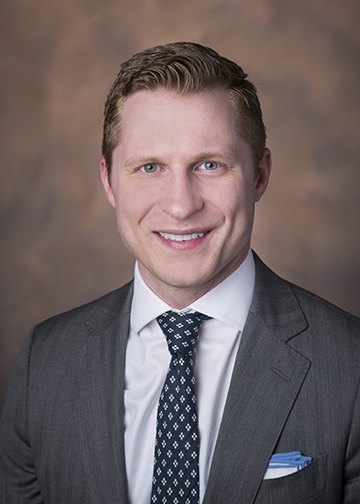 J. Bradford Hill, MD
Assistant Professor of Plastic Surgery and Surgery
Director of Limb Reconstruction
Director of Medical Student Education
Department of Plastic Surgery
Clinical Interests
Dr. Hill is a comprehensive hand and upper extremity surgeon who treats most conditions from below the shoulder to the finger tips.  His areas of expertise include fractures, trauma, arthritis, tendon injuries, sports and repetitive motion injuries of hand and wrist, as well as finger and limb reattachment, salvage and preservation.  
Dr. Hill offers minimally invasive approaches for common conditions, such as targeted denervation for arthritis, endoscopic carpal tunnel release surgery and joint arthroscopy, preferring his patients to have shorter recovery and return to work or activity.
Professional Involvement
Dr. Hill is active among university-wide teams for trauma and limb reconstruction. He is a champion for patients with trauma, limb loss or other devastating injuries of the arm or leg.  Dr. Hill is also a leader in medical education, and serves as the course director for several medical school classes. Dr Hill is the education director of Hand, Upper Extremity and Nerve Surgery for the residency program.
Research
Dr. Hill's research interests are primarily related to advancing patient care and outcomes within hand surgery, trauma and reconstructive microsurgery. His work has generated dozens of peer-reviewed journal articles, book chapters and presentations at national meetings.
Education
Dr. Hill received his undergraduate education at the University of Florida, where he graduated as Valedictorian. He graduated from medical school at Vanderbilt University School of Medicine.  He then completed a combined residency in General Surgery and Plastic and Reconstructive Surgery at New York University, followed by an Orthopedic Surgery Fellowship in Hand and Upper Extremity Surgery at the Curtis National Hand Center.
Dr. Hill sees patients at:
Nashville
Adult Plastic Surgery
The Vanderbilt Clinic
1301 Medical Center Drive, Suite 3701
Nashville, TN 37232
Brentwood
343 Franklin Road, Suite 108
Brentwood, TN 37027
Vanderbilt Plastic Surgery - Spring Hill
1003 Reserve Blvd., Suite 320
Spring Hill, TN 37174