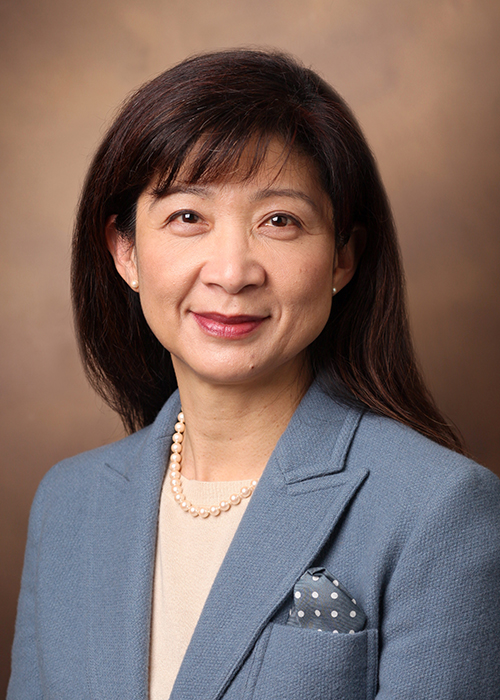 Eunice Y. Huang, MD, MS, FACS, FAAP
Professor of Pediatric Surgery
Vice Chair for Clinical Services
Associate Program Director, Pediatric Surgery Fellowship
Department of Pediatric Surgery
Vice Chair for Surgical Quality & Patient Safety
Section of Surgical Sciences
Associate Surgeon-in-Chief
Chief Surgical Quality and Innovations Officer
Monroe Carell Jr. Children's Hospital
Dr. Huang joined our surgical faculty in the Department of Pediatric Surgery from her previous position as Associate Division Chief, Division of Pediatric Surgery, and Professor of Surgery and Pediatrics, Department of Surgery, at the University of Tennessee Health Science Center, Memphis, TN. A major focus of her research and clinical interest is improving and standardizing processes to increase effectiveness, efficiency and consistency of care for common pediatric surgical diseases.
Research
One of Dr. Huang's primary interests is promoting innovative methods to implement guidelines for standardization of best practices across institutions to advance cost-effective accurate diagnostics for pediatric surgical interventions such as appendicitis and inguinal hernias. Another important focus is effective use of electronic health record data for research and knowledge generation to aid practitioners and families in caring for pediatric patients especially with complex congenital problems, such as Hirschprung's disease. Among her recent publications in numerous peer reviewed journals are: Use of Computed Tomography Versus Clinical Acumen in Diagnosing Appendicitis in Children, Journal of Pediatric Surgery; Outcomes Associated with Early vs Late Initiation of Enteral Feeding Following Laparoscopic Gastrostomy, Nutrition in Clinical Practice; Probability of Failing to Meet Minimum Case Volumes in Pediatric Surgery Fellowship, Annals of Surgery; Telemedicine and Telementoring in the Surgical Specialties, American Journal of Surgery; Guidelines for the Management of Postoperative Soiling in Children with Hirschsprung's Disease, Pediatric Surgery International.
Memberships and Awards
Dr. Huang holds membership in the American Pediatric Surgical Association, the American College of Surgeons, the Society of University Surgeons and the Association of Women Surgeons. She is also an active member in the American Medical Informatics Association. She is the recipient of the American Surgical Association – Association of Women Surgeons Surgical Leaders Fellowship Grant for 2020.
Education
Dr. Huang received a Bachelor of Science from Yale University, New Haven, CT. She earned her MD at the Keck School of Medicine, University of Southern California, Los Angeles, CA. Dr. Huang served her internship and residency in General Surgery at the Los Angeles County + University of Southern California Medical Center, Los Angeles, CA, and completed a wound healing research fellowship at the Children's Hospital Los Angeles. She obtained her fellowship in Pediatric Surgery at the University of Tennessee Health Science Center, Le Bonheur Children's Hospital, Memphis, TN. She also completed a Master of Science in Epidemiology in the Department of Preventive Medicine, University of Tennessee Health Science Center, Memphis, TN, as a junior faculty.
CONTACT 
Department of Pediatric Surgery
Monroe Carell Jr. Children's Hospital at Vanderbilt
Doctors Office Tower, Suite 7100
2200 Children's Way
Nashville, TN 37232
Fax: (615) 936-1046
Office: (615) 936-1050
Patient appointments: (615) 936-1056
EMAIL:  Eunice.Huang@vumc.org
WEBSITE:  Department of Pediatric Surgery
CLINIC WEBSITE:  Pediatric Surgery Clinic