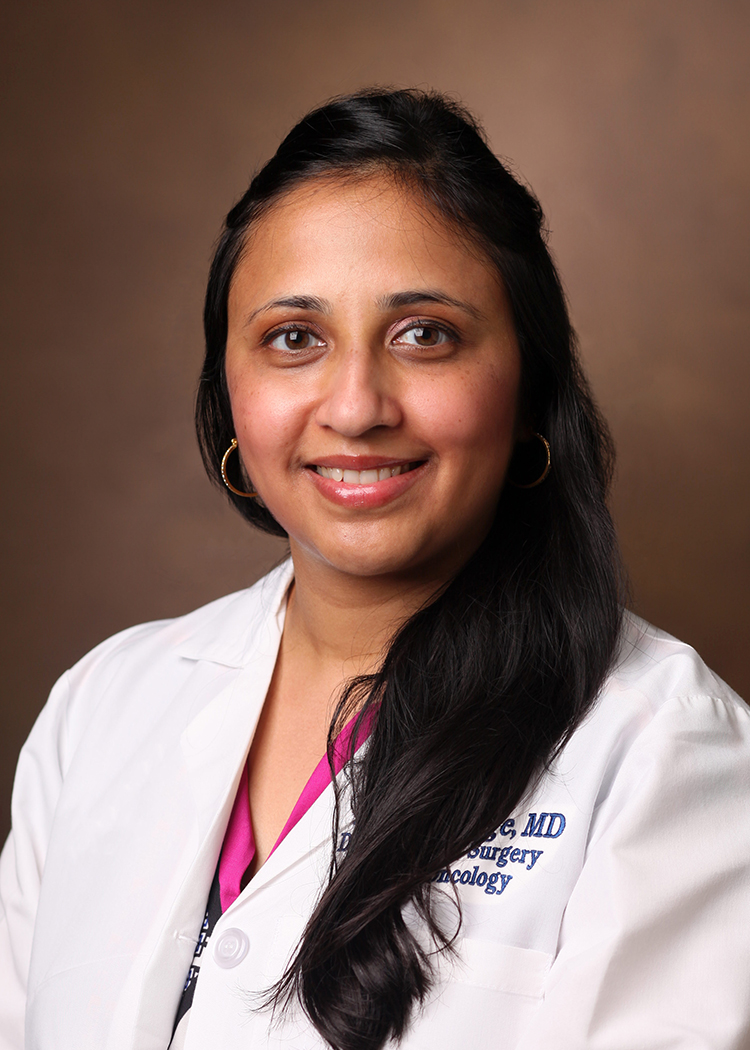 Deepa Magge, MD, FACS
Assistant Professor of Surgery
Division of Surgical Oncology & Endocrine Surgery
Director, Peritoneal Surface Malignancy/HIPEC Program
Vanderbilt-Ingram Cancer Center
Associate Program Director
General Surgery Residency
Preston Research Building
2220 Pierce Avenue
Nashville
Tennessee
37232-6860
Dr. Deepa Magge joined our surgical faculty in the Division of Surgical Oncology & Endocrine Surgery as an assistant professor of Surgery after she served as an Assistant Professor of Surgery in the Division of Surgical Oncology at the Icahn School of Medicine at Mount Sinai, NY. She served as the Associate Program Director of the complex general surgical oncology fellowship and focused much of her time on teaching residents and fellows. She was presented the Resident Teaching Award during her tenure at Mount Sinai.
Dr. Magge's specific areas of clinical interest include gastrointestinal (GI) surgical oncology, colorectal surgery, cytoreductive surgery (CRS) with hyperthermic intraperitoneal chemotherapy (HIPEC) for peritoneal carcinomatosis, as well as other soft tissue malignancies. She is well-versed in minimally invasive approaches, including laparoscopic and robotic techniques, to treat most benign and malignant conditions and complex GI surgical oncology cases.  
Research
During Dr. Magge's  residency at UPMC she performed 2 years of basic science and translational research, focusing on oncolytic viral therapy modulation, and was presented the Resident Research Award. Dr. Magge also completed numerous clinical research studies describing regional therapies, including Hyperthermic Intraperitoneal Chemotherapy (HIPEC) for carcinomatosis secondary to multiple GI malignancies, as well as Isolated Hepatic Perfusion for unresectable liver metastases. She has over 20 first or last author publications as well as many other publications as collaborating author in peer-reviewed scientific and clinical journals. In addition, she has presented her research findings nationally. 
Memberships
Dr. Magge is currently board certified in General Surgery as well as Complex General Surgical Oncology. She will serve as a committee member for the Advanced Cancer Therapies Conference offered by the Society of Surgical Oncology, beginning her 2-year commitment this fall.
Education
Dr. Magge earned her bachelor degree with summa cum laude distinction in 2004 and medical degree with cum laude and AOA designation in 2008 from Boston University where she was part of their seven-year medical program. She was awarded the Anne and David Mishel Cancer Research Award for her early interests in oncologic care.
Dr. Magge completed her General Surgery residency at UPMC, there she also completed a fellowship in Complex Surgical Oncology, during which she served as Administrative Chief Fellow. 
PATIENTS
Vanderbilt-Ingram Cancer Center 
1301 Medical Center Drive
Nashville, TN 37232
Fax: (615) 936-6535
Appointments: (615) 936-8422
CONTACT
Division of Surgical Oncology & Endocrine Surgery
2220 Pierce Avenue
597 Preston Research Building
Nashville, TN 37232
Phone: (615) 322-2391
Fax: (615) 936-6535

EMAIL:  Deepa.R.Magge@vumc.org
WEBSITE: Division of Surgical Oncology & Endocrine Surgery