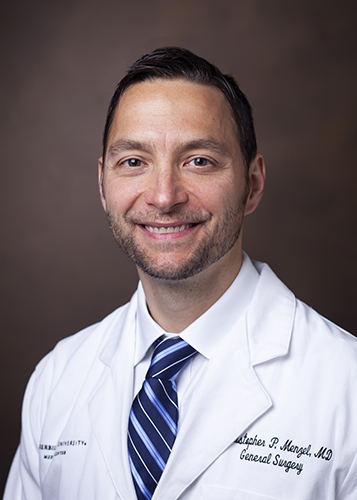 Christopher Menzel, MD
Assistant Professor of Clinical Surgery
Division of General Surgery
Clinic Phone
Appointments: (615) 322-6000
Dr. Menzel joined our surgical faculty in the Division of General Surgery as an assistant professor of Clinical Surgery after completing a fellowship in Bariatric and Minimally Invasive Surgery at Vanderbilt University Medical Center. His clinical areas of expertise are bariatric and metabolic surgery, as well as minimally invasive foregut surgery. Other areas of expertise include GI surgery, gastroesophageal reflux disease, biliary disease, and general surgery. Dr. Menzel will be focusing his efforts on the development of Vanderbilt's Surgical Weight Loss/Bariatric Program at Vanderbilt's Wilson County Hospital. 
Research
Dr. Menzel's research interests include optimizing enhanced recovery pathways in bariatric patients, studying patient outcomes after staged bariatric revision operations, and the professionalism of medicine. His recent publications include: Comparing Sleeve Gastrectomy to Single Stage Band Removal and Concomitant Sleeve Gastrectomy, International Federation for the Surgery of Obesity and Metabolic Disorders. He is also co-authoring a book chapter on the metabolic changes after roux-en-y gastric bypass.
Memberships
Dr. Menzel is a member of the Society of American Gastrointestinal and Endoscopic Surgeons, the American Medical Association, and is becoming a member of the American Society for Metabolic and Bariatric Surgeons. He is board certified by the American Board of Surgery in General Surgery.
Education
Medical Degree - Medical University of South Carolina - Charleston, SC
Internship & Residency - Jackson Memorial Hospital/University of Miami Hospital - Miami, FL
Certified Nutritionist and Personal Fitness Trainer
WEBSITE