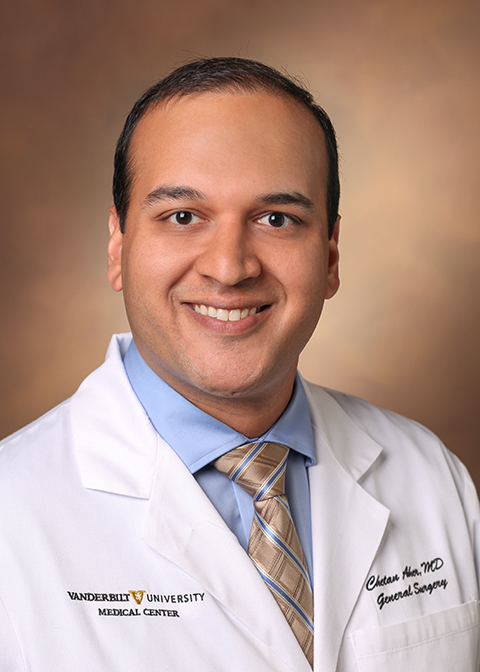 Assistant Professor of Surgery
Division of General Surgery
Medical Center North
1161 21st Ave South
Nashvlle
Tennessee
37232
Dr. Aher is an Assistant Professor and part of the surgical faculty in the Division of General Surgery after completing a Minimally Invasive and Bariatric Surgery Fellowship at Vanderbilt University Medical Center. His clinical areas of interest include surgical treatment of gastroesophageal reflux disease, obesity, hiatal hernia, achalasia, and surgical weight loss.  
Dr. Aher was named a Diplomate on the American Board of Surgery in 2015 and is a member of the Society of American Gastrointestinal and Endoscopic Surgeons and the American Society for Metabolic and Bariatric Surgery.
Research
His research interests include outcomes after esophageal myotomy, changes in cognition after weight loss surgery, and the effect of quality and process improvement on patient care delivery and outcomes. Dr. Aher has presented his research at national meetings including the Society of American Gastrointestinal and Endoscopic Surgeons as well as the Society of Laparoendoscopic Surgeons. A recently published article is The utilization of laparoscopy in ventral hernia repair: an update of outcomes analysis using ACS-NSQIP data, Surgical Endoscopy.

Education
Dr. Aher earned a B.S. with Honors in Biology at Loyola University in Chicago and a medical degree at Rush Medical College in Chicago. He completed an internship, then a residency in general surgery at Rush University Medical Center. At Vanderbilt University Medical Center he completed a fellowship in minimally invasive and bariatric surgery.
CONTACT
Division of General Surgery
Vanderbilt University Medical Center
1161 21st Avenue South
D-5203 Medical Center North
Nashville, TN  37232
Phone: (615) 322-5813
Fax: (615) 343-9465
PATIENTS
General Surgery Clinic
1301 Medical Center Drive
The Vanderbilt Clinic Suite 3501
Nashville, TN 37232
Fax: (615) 343-3093
Appointments (615) 322-2063
Center for Surgical Weight Loss
Vanderbilt Health One Hundred Oaks
719 Thompson Lane, Suite 22200
Nashville, TN 37204
Fax: (615) 322-4657
Appointment: (615) 343-8988
Chetan.V.Aher@Vanderbilt.edu
WEBSITE
Division of General Surgery