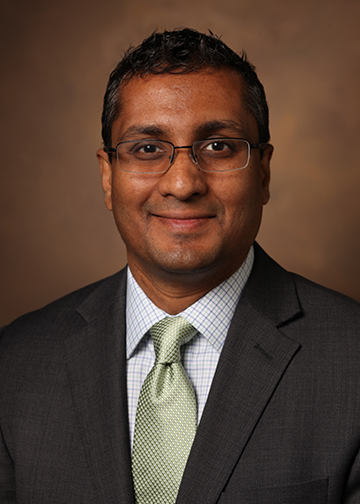 Ashish Sharma, BDS, MSD, FACS
Assistant Professor of Oral & Maxillofacial Surgery
Department of Oral & Maxillofacial Surgery
Medical Center North
1161 21st Ave South
Nashville
Tennessee
37232
Dr. Ashish Sharma is an Assistant Professor in the Department of Oral & Maxillofacial Surgery.
His primary clinical interests are in:
Skeletal Facial Deformities
Head and Neck Infection
Facial Trauma
Facial and Jaw Reconstruction
Dental Implant Reconstruction
Dr. Sharma received his Bachelor of Dental Surgery (BDS) at the Christian Dental College in Ludhiana, India in 2004.  He served as a dentist at the SDA Mission hospital in Jalandhar, India until 2009.
Dr. Sharma received a 3-year Certificate of Advanced Education in Implant Dentistry in 2013 and earned his master's degree in Science in Dentistry (MSD) in 2014 from Loma Linda University School of Dentistry, California. He continued his advanced training and further received a 4 year certificate in Oral & Maxillofacial Surgery from Loma Linda University in 2018 and most recently served as Assistant Professor of their Oral and Maxillofacial Surgery Department from July of 2018 until March 2019. 
Dr. Sharma enjoys participating in mission work, where in 2007, he worked to re-establish the SDA Mission Hospital's Dental Clinic in Jalandhar, India.
Through Dr. Sharma's extensive research, he was awarded the American Association of Oral and Maxillofacial Surgery Resident Research Paper Award in 2017 and has several research publications.
Vanderbilt Oral & Maxillofacial Surgery Clinic
1301 Medical Center Dr.
Suite 3501
Nashville, TN 37232
To schedule an appointment call (615) 322-2377