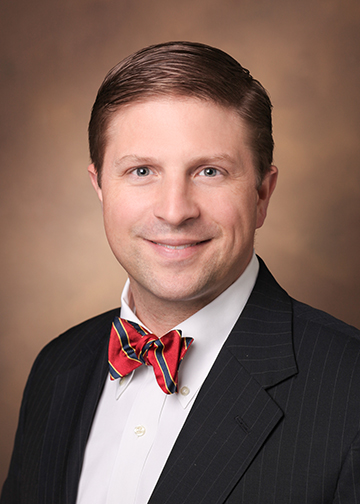 Alexander T. Hawkins, MD, MPH, FACS
Associate Professor of Surgery
Colorectal Research Center
Division of General Surgery
Clinic Phone
Appointments: (615) 322-2063
Dr. Hawkins joined our surgical faculty in the Vanderbilt Division of General Surgery, section of Colon and Rectal Surgery after completing a fellowship in Colon & Rectal Surgery at Washington University/Barnes Jewish Hospital, St. Louis, MO. His clinical areas of interest include colo-rectal cancer, inflammatory bowel disease (Crohns and ulcerative colitis), diverticulitis, ano-rectal disease, and transanal endoscopic micro-surgery (TEMS).
Dr. Hawkins is board certified and was admitted to the American Board of Surgery in 2015. He is a member of the American College of Surgeons, American Society of Colon and Rectal Surgeons, Society for the Surgery of the Alimentary Tract, and the Society of American Gastrointestinal and Endoscopic Surgeons.
Research interest
His research interests include colon & rectal surgery outcomes, health service research, patient reported outcomes and global surgery. Dr. Hawkins has multiple first-author publications in these areas. Also, he has worked with the NCDB, NSQIP, NIS and the SID/SEED and other large databases. Hawkins most recently published articles include Impact of Rising Grades of Internal Rectal Intussusception On Fecal Continence and Symptoms of Constipation. Diseases of the Colon & Rectum, Impact of Expanded Insurance Coverage on Racial Disparities in Vascular Disease: Insights from Massachusetts. Annals of Surgery, and Does Diverting Loop Ileostomy Improve Outcomes Following Open Ileo-Colic Anastomoses? A Nationwide Analysis. Journal of Gastrointestinal Surgery.
Education
Dr. Hawkins received his undergraduate degree from Amherst College in Amherst, MA, and his medical degree from the University of Virginia in Charlottesville, VA. He completed an internship and residency at the Massachusetts General Hospital in Boston, MA, and a fellowship at Washington University/Barnes Jewish Hospital, St Louis, MO. He also completed a two-year Cabot research fellowship at the Brigham and Women's Hospitals Center for Surgery and Public Health in Boston, MA, during which time he received an M.P.H. from the Harvard School of Public Health.
Meet Dr. Hawkins