If your research or work activities include working with research animals and the Occupational Health Clinic (OHC) or Student Health Services has determined that you should wear a particulate respirator for these activities and you have chosen NOT to decline respirator use, then you will take the following actions: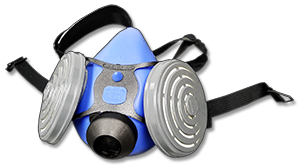 Send an email to biosafety@vumc.org to start the training and fit-testing process.

Use "Particulate Respirator Training Request" in the subject line.
In the email, provide your name, job title, supervisor's name, animal protocol number that you are approved to work on, and tell us whether you are a University or Medical Center person.

You will receive a notification from the Learning Exchange (or Oracle if you are University employee or student) that you have been enrolled in Respiratory Protection for Biological and Animal Research Staff.

Complete the course and send a copy of your certificate of completion (or screen shot of transcript if completed in Oracle) to biosafety@vumc.org with "Particulate Respirator Fit-Test Request" in the subject line.
An OCRS Biosafety Team member will contact you to schedule an appointment.
PLEASE DO NOT report to an open fit testing session/event. These sessions are for clinical personnel who may use an N-95 in clinical settings ONLY. AT THIS TIME, ANIMAL RESEARCHERS ARE NOT BEING FITTED FOR N-95 RESPIRATORS.

Upon completion of your fit test, you will be issued a particulate respirator that you have been successfully fitted in along with start-up maintenance supplies. A follow-up communication will be sent to you and your supervisor regarding expected practices, restrictions and maintenance supply ordering.
If you have specific questions regarding particulate respirators worn for animal allergen or infectious disease research purposes, please contact Erica Teasley or OCRS Biosafety.
Click here for information about the clinical N-95 Respirator Program.