Welcome from the residency program director
Welcome to the Vanderbilt University Medical Center Radiation Oncology Residency Program website! I am thrilled that you are considering our program. I hope that you will find this website helpful in answering all your questions and in giving you a picture of what this program has to offer.
The main objective of our program is to train physicians to be skillful in the practice of radiation oncology and to be caring and compassionate in the treatment of patients. Our residency program provides an outstanding educational environment dedicated to empowering physicians so that they can become leading academic clinicians and scientists. We use a multi-faceted approach that consists of: 
Training in the management of cancer and benign disease;
Didactic course work in radiation biology and medical physics;
Mentoring in professional development;
The opportunity to perform research in the laboratories of a number of outstanding Vanderbilt scientists who utilize cutting edge techniques coupled with highly collaborative approaches;
Multi-disciplinary Tumor Boards and Seminar Series designed to foster interactions between basic scientists and clinicians who perform translational research;
Grant writing workshops;
Attendance at scientific/medical conferences.
You will find that we have a very tight-knit group with a bond that continues after graduation. Many of our alumni continue to be involved with our program through professional mentorship of current residents or coming down for our annual mock oral board exam.
We greatly appreciate your interest in our program.
Best Regards,
Eric Shinohara, MD MSCI
Program Director
Welcome from the chief residents
Thank you for considering Vanderbilt for your Radiation Oncology residency! We think you will find Vanderbilt University Medical Center (VUMC) an outstanding place to continue your medical training. We pride ourselves on our collegial culture, excellent clinical training, research opportunities, and support for each of our unique career (and life) goals. We enjoy having every training opportunity, including pediatrics and LDR and HDR brachytherapy, all in the same department. We are on the same campus as VUMC and Vanderbilt University, making it easy to collaborate on research projects. We have structured clinical, cancer and radiation biology, and physics didactics, which we feel is one of the best in the country. 
Our residents (and attendings and medical students) become part of the VUMC family forever. We love seeing alumni annually at our mock oral exams and at our dinner at ASTRO! We frequently have meals with co-residents, as well as faculty and other colleagues in the department on weekdays and weekends. We've been known to go to movies, happy hours, trivia nights, lounge by each others' pools, bbq at each others' homes, carve pumpkins, etc. Who knows if there will be a road trip to ASTRO this year? 
 
Good luck! Hope to meet you soon, 
Neil Newman, Christopher Brett, and Mohamed Khattab
Chief Residents 
Department Tour and Resident Experience Video
We sincerely wish we were able to meet you all in personal this year and show you our facility and program up close, but we hope this short video will help you to get a better feel for Vanderbilt Radiation Oncology and what makes it our professional home!
2020 Residency match
Congratulations to the residents who will join our department in July 2021!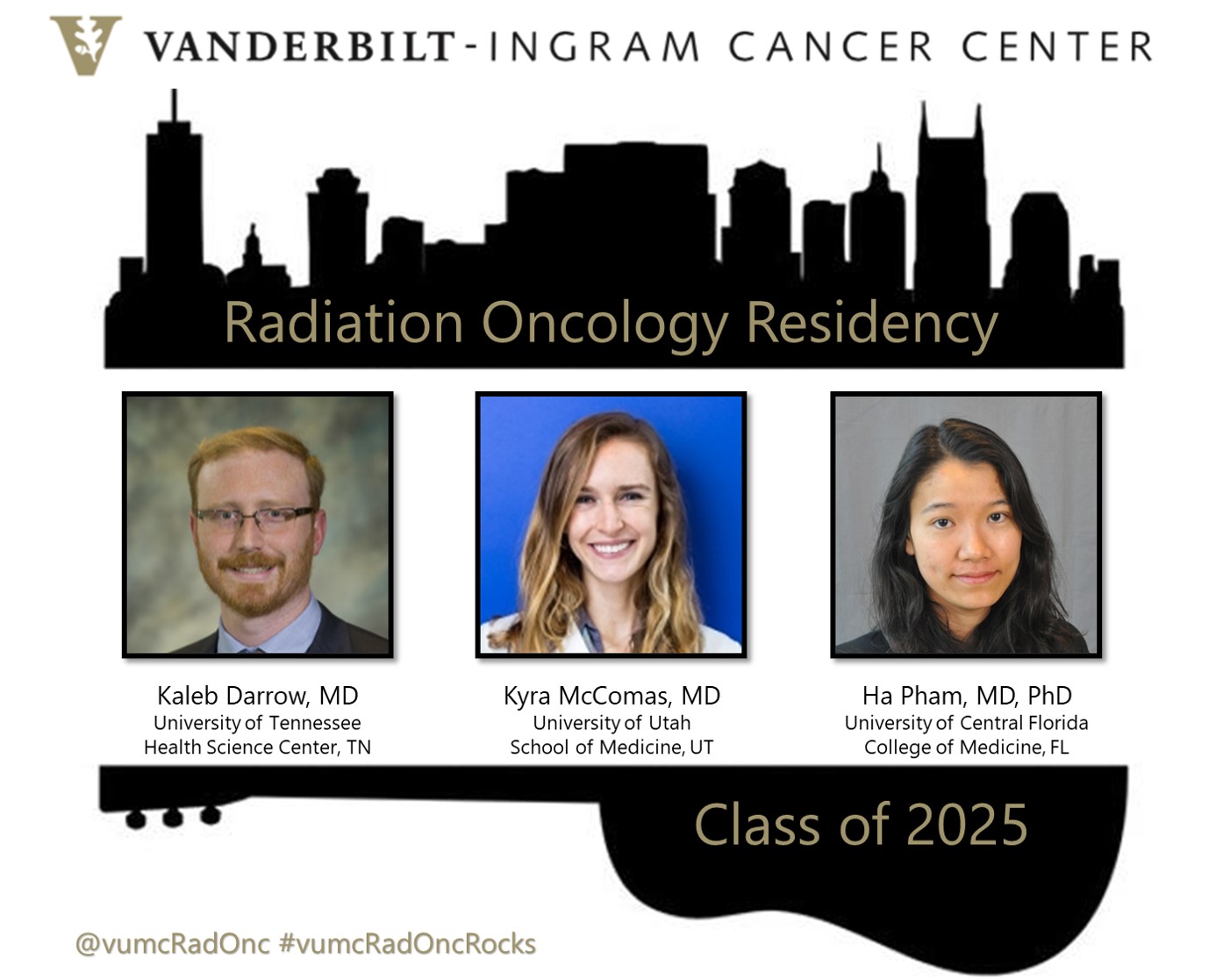 2019 Residency match
Congratulations to the residents who will join our department in July 2020!