Many of our residents publish in peer-reviewed journals, present at national meetings, serve in national leadership roles, and have been awarded grants. Congratulations to our current medical residents on their recent publications and awards!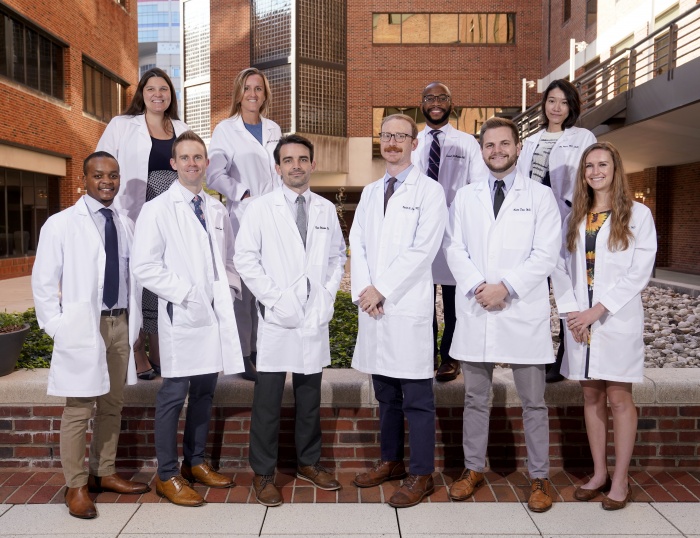 Radiation Oncology Residents, 2021-2022
 

Bingham BS*, Facer BD*, Fleisch SB, Walker JN, Ahmad M, Osmundson EC. Radiation Therapy Adherence Among Patients Experiencing Homelessness. Int J Radiat Oncol Biol Phys. 2021 Mar 15;109(4):1019-1027. doi: 10.1016/j.ijrobp.2020.10.032. PMID: 33127492. *Co-first Authors

Sherry AD, Bingham BS, Kim E, Monsour M, Luo G, Attia A, Chambless LB, Cmelak AJ. Secondary malignancy following stereotactic radiosurgery for benign neurologic disease: A cohort study and review of the literature. J Radiosurg SBRT. 2020;6(4):287-294. PMID: 32185088

Khattab, MH, Sherry, AD, Whitaker RM, Wharton, DM, Weaver, KD, Cmelak, AJ, Chambless, LB and Attia, A.  A Retrospective Cohort Study of Longitudinal Audiologic Assessment in Single and Fractionated Stereotactic Radiosurgery for Vestibular Schwannoma.  Neurosurgery; 2019;85(6):E1078-83. PMID: 31215628.

Whitaker RM, Newman N, and Osmundson EC.  Cancer Database Analyses Require Cautious Interpretation, Careful Approach.  Annals of Thoracic Surg. 2021;112:1386-1387. PMID: 33497667 

Newman N, Rajkumar-Calkins A, Shinohara E, Kirschner AN. Patient-Reported Quality of Life Outcomes Following Definitive Radiotherapy with Absorbable Spacer Hydrogel for Prostate Cancer. Accepted for publication in Advances in Radiation Oncology, 2021.

Kirschner AN, Wang J, Rajkumar-Calkins A, Neuzil K, Chang SS. Intravesical Anti-PD-1 Immune Checkpoint Inhibition Treats Urothelial Bladder Cancer in a Mouse Model. Journal of Urology, 2021. PMID 33356477.

Rajkumar-Calkins AS, Szalat R, Dreze M, Khan I, Frazier Z, Reznichenkov E, Schnorenberg M, Tsai YF, Nguyen H, Kochupurakkal B, D'Andrea AD, Shapiro GI, Lazaro JB, Mouw KW. Functional profiling of nucleotide excision repair in breast cancer. DNA Repair, 2019. PMID 31499327.

Szalat R, Samur MK, Fulciniti M, Lopez M, Nanjappa P, Cleynen A, Wen K, Kumar S, Perini T, Calkins AS, Reznichenko E, Chauhan D, Tai YT, Shammas MA, Anderson KC, Fermand JP, Arnulf B, Avet-Loiseau H, Lazaro JB, Munshi NC. Nucleotide excision repair is a potential therapeutic target in multiple myeloma. Leukemia, 2018. PMID 28588253.

Gaines DK, Rathmell WK. Spatial Models of Tumor Evolution. Nature: Ecology and Evolution. Accepted 10/7/2021.

Jean-Baptiste SR, Feigenberg, Dorsey JF, Kao GD. Personal and Prognostic: Liquid Biomarkers for Early Stage Non-Small Cell Lung Cancer Treated With Radiation Therapy. Seminars in Radiation Oncology. 2021 Apr;31(2):149-154. doi: 10.1016/j.semradonc.2020.11.002. PMID: 33610272.

Lee SH, Kao KD, Feigenberg SJ, Dorsey JF, Frick MA, Jean-Baptiste SR, Uche CZ, Cengel KA, Levin WA, Berman AW, Aggarwal C, Fan Y, Xiao Y. Multi-block Discriminant Analysis of Integrative 18F-FDG-PET/CT Radiomics for Predicting Circulating Tumor Cells in Early Stage Non-small Cell Lung Cancer Treated with Stereotactic Body Radiation Therapy. . Int J Radiat Oncol Biol Phys. 2021 Aug 1;110(5):1451-1465. doi: 10.1016/j.ijrobp.2021.02.030. Epub 2021 Mar 1. PMID: 33662459; PMCID: PMC8286285.

Dove A.P., Manole B.A., Wakefield D.V., Doubrovin M., Shulkin B.L., Merchant T.E., Davidoff A.M, Furman W.L., Krason M.J., Lucas Jr. J.T. Managing Local-Regional Failure in Children with High-risk Neuroblastoma: A Single Institution Experience. Pediatric Blood and Cancer. Sep 2018. PMID: 30270551 

Manole B.A., Wakefield D.V., Dove A.P., Dulaney C.R., Marcrom S.R., Schwartz D.L., Farmer M.R. Quality of Prostate Cancer Screening Information on the Websites of Nationally-Recognized Cancer Centers and Health Organizations. Practical Radiation Oncology. Dec 2017. PMID: 29452874
 

Wakefield D.V., Eaton B.R., Dove A.P., Hsu C.Y., Merchant T.E., Pappo A., Davidoff A.M., Esiashvili N., Krasin M.J., Lucas Jr. J.R. Is There a Role for Re-Irradiation In Pediatric Patients With Locoregionally Recurrent Rhabdomyosarcoma? Clinical Outcomes from A Multi-Institutional Cohort. Radiotherapy and Oncology. Jul 2018. https://www.thegreenjournal.com/article/S0167-8140(18)33378-4/fulltext?rss=yes  

Wakefield D.V. and Carnell M., Dove A.P., Edmonston C., Garner W., Hubler A., Makepeace L., Hanson R., Ozdenerol E., Chun S., Spencer S., Pisu M., Martin M.Y., Jiang B., Punglia R., Schwartz D.L. Location as Destiny: Identifying Geospatial Disparities in Radiation Treatment Interruption by Neighborhood, Race, and Insurance. Int J Radiat Oncol Biol Phys. Mar  2020. PMID: 32234552.

Dhuri, K., Bechtold, C., Quijano, E., Pham, H., Gupta, A., Vikram, A., & Bahal, R. Antisense Oligonucleotides: An Emerging Area in Drug Discovery and Development. Journal of Clinical Medicine 2020, 9(6):2004.

Kaplan, A., Pham, H., Liu, Y., Oyaghire, S., Bahal, R., Engelman, D., Glazer, P. M., Ku80-Targeted pH-Sensitive Peptide–PNA Conjugates Are Tumor Selective and Sensitize Cancer Cells to Ionizing Radiation. Molecular Cancer Research 2020, 18(6):873-882.
 

Utilization of 18F-FGln PET/CT Imaging in Metastatic Renal Cell Carcinoma.

Investigators: Dr. Dakim Gaines, Dr. WK Rathmell, Dr. BI Rini. 2020.

TESSERACT: Trial in ES-SCLC Enhancing Response to Atezolizumab and Chemotherapy with Total Body Irradiation. 

Investigators: Dr. Ryan Whitaker, Dr. Dakim Gaines, Dr. Evan Osmundson, 2020.

IST-370: Phase I/II Clinical Trial Evaluating the Role of Selinexor in Locally Advanced Rectal Cancer Treatment (SELECT).

Co-Investigator: Dr. Ryan Whitaker

SICARIO: Phase I/II Trial of Split-Course Adaptive Radioimmunotherapy for the Treatment of Oligometastatic Non-Small Cell Lung Cancer using Biologically-Adaptive Radiotherapy.

Co-Investigator: Dr. Ryan Whitaker
ASTRO-AstraZeneca Research Fellowship, $100,000

Vanderbilt Institute for Clinical and Translational Research (VICTR) Grant Total $5,000

Oral Presentation and Press Program Selection, ASTRO Annual Meeting, 2021

Techquity Design Challenge: 2nd Place, Vanderbilt Clinical Informatics Center

ASTRO Advocacy Day Travel Grant Recipient, 2020

ECOG-ACRIN Minority Scholarship Award, 2021
 

Association of Residents in Radiation Oncology (ARRO), Executive Committee Member

Dr. Dakim Gaines

, 2020 - present

Association of Residents in Radiation Oncology (ARRO), Co-Chair Global Health Subcommittee

Dr

. Dakim Gaines, 2020 - present

Radiation Oncology Virtual Education Rotation (ROVER) Resident Moderator

Dr. Anne Rajkumar

, 2021 – 2022

Association of Residents in Radiation Oncology (ARRO), Global Health Subcommittee

Dr. Kyra McComas

, 2021 – present

Association of Residents in Radiation Oncology (ARRO), Education Subcommittee

Dr. Brian Bingham

, 2019 - present

Dr

. Austin Dove, 2021 - present