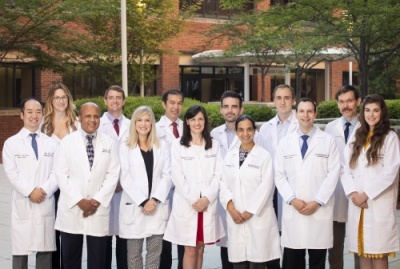 Why choose Vanderbilt? 
We are national leaders advancing cancer care...
Vanderbilt University Medical Center's Department of Radiation Oncology is dedicated to delivering world class personalized care to our patients. 
Our physicians are nationally recognized experts in your specific type of cancer and utilize state of the art equipment to deliver the most precise treatments possible. 
We are national leaders in cancer care. 
VICC is one of 32 NCCN Cancer Centers and one of 53 NCI-designated Comprehensive Cancer Centers.  We have expert physicians, superior treatment, and quality and safety initiatives that continuously improve the effectiveness and efficiency of cancer care. 
We are committed to advancing cancer care. 
Our physicians have multiple clinical trials studying ways to improve treatments.  We also have physics and scientific teams pursuing cutting edge ways to improve the effectiveness of radiation and decrease side effects. 
We are devoted to training future leaders in radiation oncology. 
The majority of our medical program and physics residency program trainees go on to be faculty at prominent cancer centers nationally. 
We have convenient and cutting edge treatments...
We save you time.  
Many of our treatments can use cutting edge technology to reduce treatment times from almost 2 months to as low as 1 day or 1 week.  Precise treatment planning and delivery let us do this safely, without increasing side effects. 
We provide state-of-the-art clinical care.  
Some of our strategies include utilizing image guided radiotherapy (IGRT), placement of SpaceOAR to reduce side effects for prostate radiosurgery, deep inspiratory breath hold (DIBH) techniques for left sided breast cancer to reduce cardiotoxicity, and adaptive radiotherapy on the Varian Ethos machine.
We operate in 5 convenient locations in Middle Tennessee.  
Our clinics are established in Nashville, Clarksville, Franklin, Spring Hill, and Lebanon.  See our Contact us page for more details. 
We can help you find a place to stay during treatments. 
Many of our patients who come from far away are able to stay at the American Cancer Society's Hope Lodge in Nashville for free with their caregiver.  They provide private rooms, daily shuttles to the hospital, and frequently provide dinners from local restaurants.  Patients and their caregivers can also meet other patients currently undergoing cancer treatments and form meaningful relationships that last for a lifetime. 
We are with you every step of the way...
We provide personalized education for each patient at the start of their treatment journey.  
Our Physician Assistant meets individually with patients to review their treatment plan and to discuss the potential side effects and management for these at the start of radiation treatment.  This conversation is helpful for planning purposes and to ensure that the appropriate measures are taken to minimize the burden of side effects during treatment.  
We continue to care for our patients' cancer-related needs beyond the completion of their treatment.  
Patients who have recently completed radiotherapy can schedule a visit in our survivorship clinic 90-120 days following the completion of their treatment.  This visit will address the challenges facing post-treatment survivors, including coping with late effects, managing fear of recurrence, making lifestyle changes, and many other topics.  This comprehensive visit will serve to address the physical, emotional and practical concerns of our patients on an annual basis or more frequently if needed.  Patients in this clinic will receive a Treatment Summary and Survivorship Care Plan that includes a summary of their cancer-related care in addition to guidelines for monitoring and maintaining their health.  Patients who are farther out from the completion of their radiation therapy or who completed this treatment elsewhere and are interested in survivorship care may also schedule an appointment to be seen in this clinic.