Clinical rotation / Acting internship (AI)
We welcome 4th year medical students interested in performing a 4-week rotation in the Vanderbilt University Department of Radiation Oncology. Located in the burgeoning city of Nashville, our department offers exceptional exposure to all sites of disease, particularly Head and Neck, CNS, and GI malignancies. We have an extensive array of treatment modalities available, including linac-based SRS, SBRT, ocular brachytherapy, Xoft electronic brachytherapy, SpaceOAR hydrogel placement, and conventional HDR and LDR brachytherapy.
During the 4-week rotation, you will have the opportunity to work with several attending physicians and their residents. Students will take an active role in the initial evaluation, work-up, discussion of treatment options, and development of radiation treatment plans for patients seen in consultation. As scheduling allows, you will also be invited to attend operative brachytherapy cases. A unique inpatient service is also available, whereby students can learn to manage emergent cases and participate in goals of care and end of life discussions, and see the patient's dynamic progression over days/weeks. Students will also attend daily education conferences including didactic lessons with the residents, journal club, and case presentations. At the end of the 4-week rotation, visiting students will give an oral presentation on a relevant topic. 
We encourage students to come prepared with their own personal goals for the rotation as well. Some objectives may include a letter of recommendation from a specific faculty member, opportunity to contribute to research projects, write a case report or review article, have exposure to specific procedures or disease sites, or spend time on our inpatient service. Having these ideas at the beginning of the rotation will help us make sure you make the most of this opportunity.
If you are interested in performing a visiting rotation, please understand that spots are limited and it is best to apply early. We participate in VSLO; all applications should be processed through this system.
We hope you will come join our community for a month, and look forward to getting to know you!
If you have received confirmation from Vanderbilt but have not received an e-mail from Radiation Oncology yet, please email our Program Coordinator at shannon.l.lewis@vumc.org.  (Sometimes there are errors with the automated messaging system.)
Zak Kohutek, MD, PhD
Medical Student Clerkship Director & Assistant Program Director
Natalie Lockney, MD
Program Director
 
Research
The Department of Radiation Oncology is active in basic science and clinical research. Vanderbilt students interested in research opportunities should join the VUSM Radiation Oncology Interest Group and meet with residents or faculty in the department to develop a research project. The Interest Group also holds information sessions in collaboration with the residents and faculty in our department, including a brief presentation, Q&A, and tour of the department.
Medical students who have worked on research projects with us have had great success. Projects have resulted in first author publications, and oral and poster presentations at national conferences including ASTRO. Here are some examples of our medical students' research productivity: 
Wharton D, Kim E, Pagan J, Small W, Jaboin JJ, Ayala-Peacock D. Patterns of care and outcomes
for small cell carcinoma of the cervix: a retrospective analysis of 542 cases. 2019 
Fakhoury K, Stavas MJ. A novel integrative medicine educational program for radiation oncology patients: feasibility and patient-reported outcomes. J Clin Oncol 2017;35(15)e.
Li B, Niermann KJ, Shinohara ET, Stavas MJ. Palliative radiation oncology: a new direction in care. IJROBP 2017;99(2):S87. Oral presentation at ASTRO 2017 Annual Meeting.
Muhlestein W, Farris M, McTyre E, Pajewski NM, Attia A, Chambless LB, Braunstein SE, Hepel JT, Chung C, Contessa JN, Chao ST, Fiveash JB, Chan MD, Ayala-Peacock DN. Using a novel machine learning technique to predict brain metastasis velocity following stereotactic radiosurgery for brain metastases. IJROBP 2017;99(2):e96. Poster presentation at ASTRO 2017 Annual Meeting.
Li B, Dudzinski S, Cameron B, Chen H, Chambless LB, Weaver K, Luo G, Morales M, Thompson R, Cmelak AJ, Kirschner AN, Attia A. Driver oncogene mutations in non-small cell lung cancer correlate with burden of intracranial metastatic disease and survival. IJROBP 2017;99(2):e89. Poster presentation at ASTRO 2017 Annual Meeting.
Abana CO, Bingham BS, Cho JH, Graves AJ, Koyama T, Pilarski RT, Chakravarthy AB, Xia F. IL-6 variant is associated with metastasis in breast cancer patients. PLoS One 2017;12(7):e0181725.
​Ning MS, Perkins SM, Borinstein SC, Holt GE, Stavas MJ, Shinohara ET. Role of radiation in the treatment of non-metastatic osseous Ewing sarcoma. J Med Imaging Radiat Oncol 2016;60(1):119-28.
​Ning MS, Perkins SM, Dewees T, Shinohara ET. Evidence of high mortality in long term survivors of childhood medulloblastoma. J Neurooncol 2015;122(2):321-7.
VUSM specialty "speed dating"
Come meet us at specialty speed dating!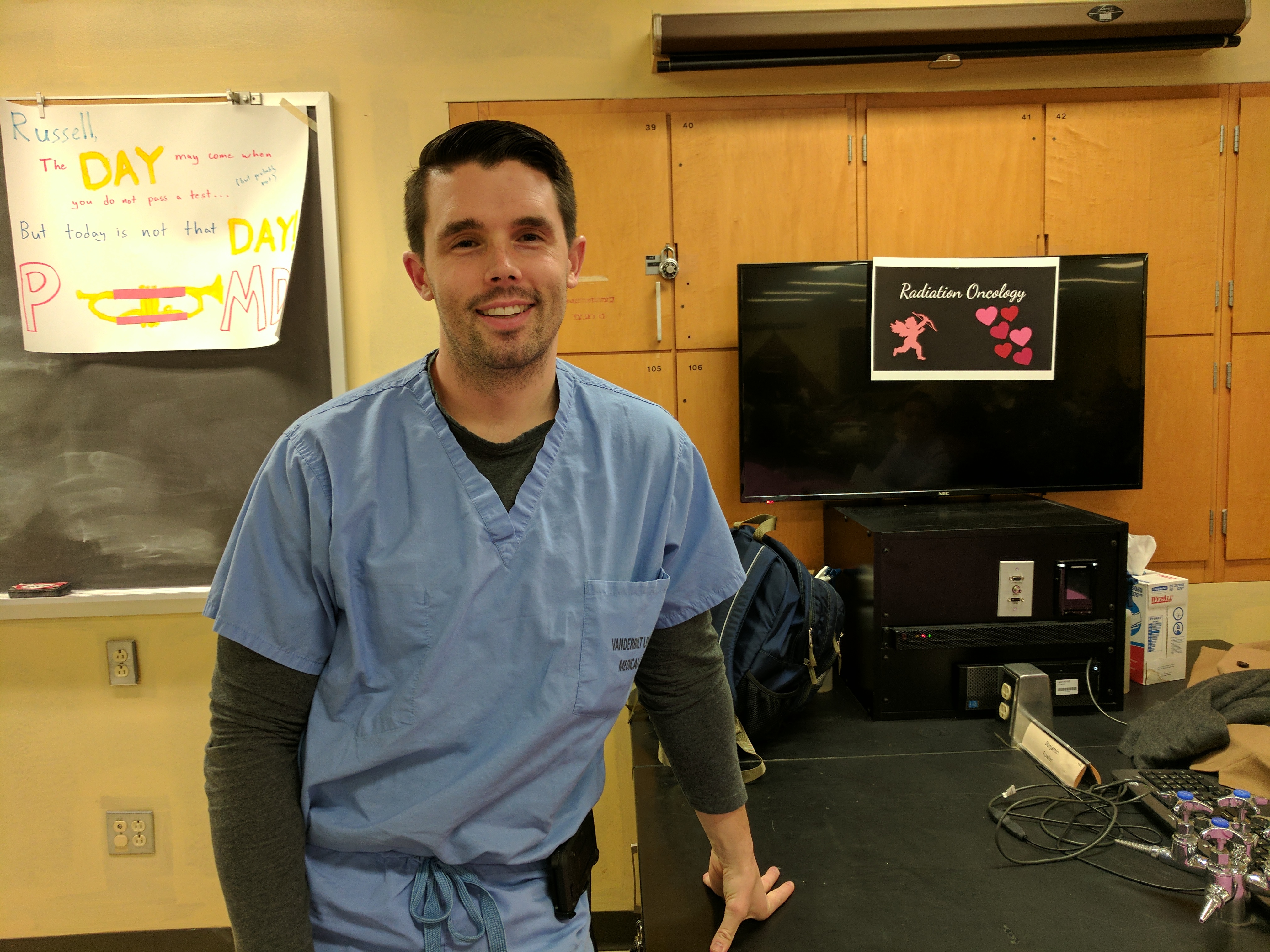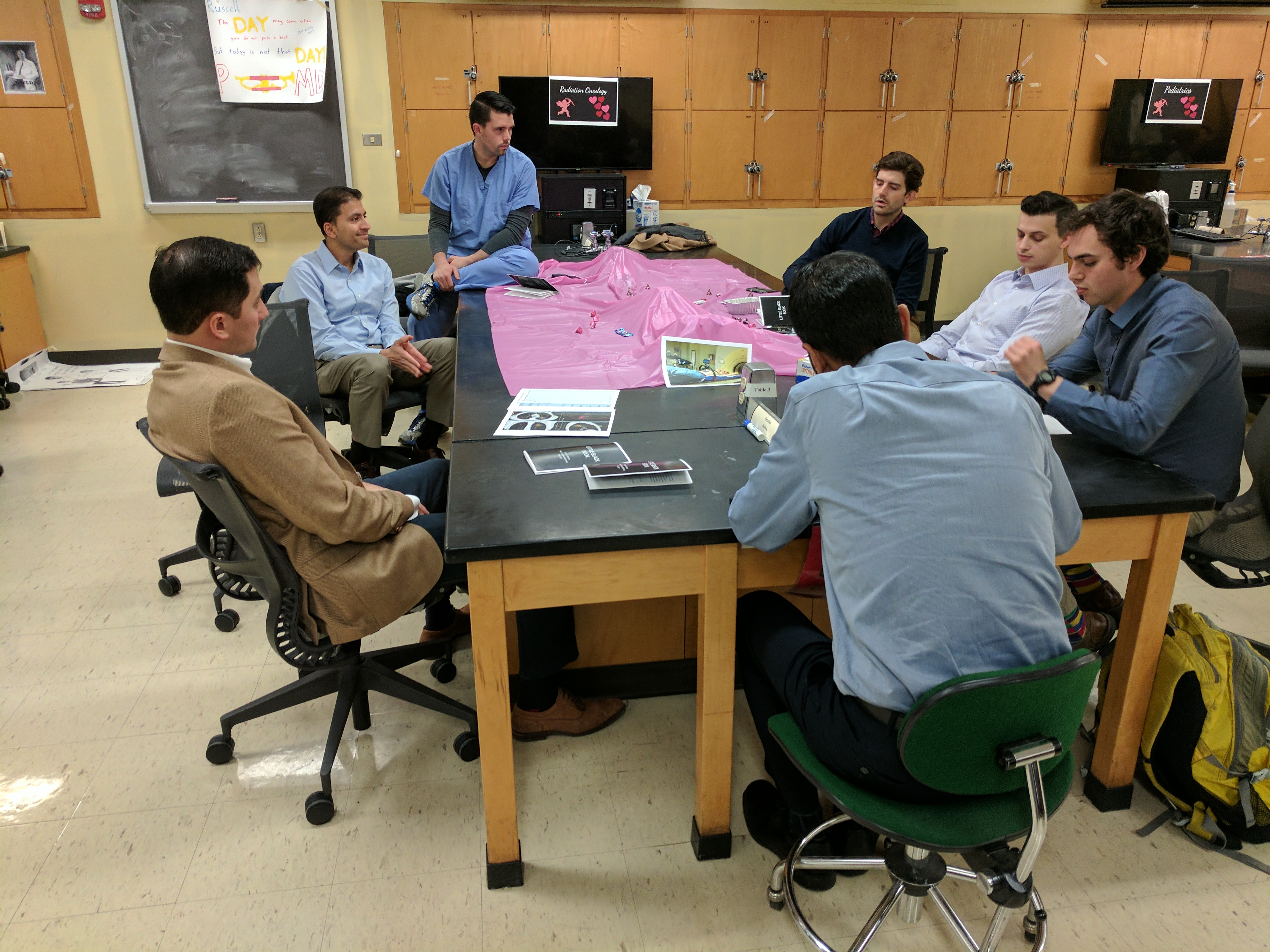 Brent and all of our residents at Specialty Speed Dating event at VUSM, Spring 2017
Return to the main Residency Program page