CLINICAL ROTATIONS
Residents spend approximately 36 of their 48 months of training rotating through the various clinical services (the remaining 12 months are spent on research/elective during PGY-4 year). Rotations change every 2 months. All rotations are completed at the main campus, including pediatrics. Generally, residents work one-on-one with an attending who specializes in a specific disease site unless there are 2 faculty members with <50% clinical time each (ie, physician-scientist or chair). Residents always maintain at least 1 academic day per week. Residents remain under the guidance of attendings for their entire four years of training, with gradually increasing expectations and responsibilities. 
Clinical Disease Sites

| | | | |
| --- | --- | --- | --- |
| Breast | CNS | Gastrointestinal (GI) | Gynecologic |
| Head & Neck | Lymphoma | Genitourinary (GU) | Sarcoma |
| Thoracic | Pediatric | Benign (Tremor, AVM, Keloid) | Palliative |
Residents cover home call for 1 week at a time. PGY-2 residents don't begin to take call until the Fall. During clinic days, the palliative inpatient service (with its own dedicated attending and NP +/- rotating resident) handles inpatient consults. The resident on call primarily helps to triage and answer questions during nights and weekends, which is uncommon. Attendings are also on call for one week at a time, so there is continuity and clear supervision. 
 
DIDACTICS
Didactic coursework consists of classes in clinical radiation oncology, cancer and radiation biology, and medical physics. Residents are protected from pages or clinical duties during the below educational times.
Didactics Schedule (2023-2024)

| | | | | | |
| --- | --- | --- | --- | --- | --- |
| Time | Monday | Tuesday | Wednesday | Thursday | Friday |
| 8-9 AM | Clinical Didactics | Physics (7:30-9:00AM) | Clinical Didactics | Radiation Biology (8:30-9:30AM) | Clinical Didactics |
Clinical Didactics
Residents attend didactics led by faculty, residents, and special guest speakers. Clinical didactics are organized by disease site. Residents are not expected to provide lectures until PGY-4 or PGY-5.
Physics
We have structured weekly medical physics didactics with lectures, exercises, and exams. This course is repeated by all residents annually until passing the boards. The syllabus was recently revised for 2021-2022 by Dr. Kenneth Homann, who is VUMC Chief of Medical Physics, and our Chief Residents. Content is tailored to a level of understanding appropriate for physicians and for board certification. In the Spring, our faculty lead additional study sessions for the seniors to assist with board exam preparation, including reviewing practice questions and a concise boards review course.
Radiation Biology
We have structured weekly cancer and radiation biology didactics with interactive sessions led by our faculty who are also actively involved in research. This course is repeated annually by all residents until passing the boards. The course is primarily built around the standard radiobiology textbook and question sets. The format and content is fluid each year, so that residents of all learning styles can learn (e.g. powerpoint, chalk talks, question and answer). The course director is Dr. Michael Freeman. 
Other
In addition, residents attend specialty-specific multidisciplinary tumor boards, quality assurance (chart rounds), and morbidity & mortality conferences. Special sessions include:

Guest lectures from other specialties (e.g. radiology, neurosurgery, plastic surgery, medical oncology, etc)
Resident wellness sessions
Career planning and financial advising
Research seminars (e.g. how to write NIH grants)
Palliative Care Education Curriculum (PCEC) with guest lecturers from the palliative care department
Visiting professorship lectures with thought leaders in the field of radiation oncology (e.g. Silvia Formenti, MD; Drew Moghanaki, MD; David Raben, MD; Robert Timmerman, MD; Bill Mendenhall, MD; Vanderbilt alumni, etc)
ORAL BOARDS PREPARATION
Every Spring, we invite new alumni to join our current residents in practicing oral boards style practice sessions ("mock orals") led by our current faculty and prominent alumni. This provides invaluable test preparation as well as networking opportunities. The event is co-sponsored by our department and the Vanderbilt Medical Alumni Association.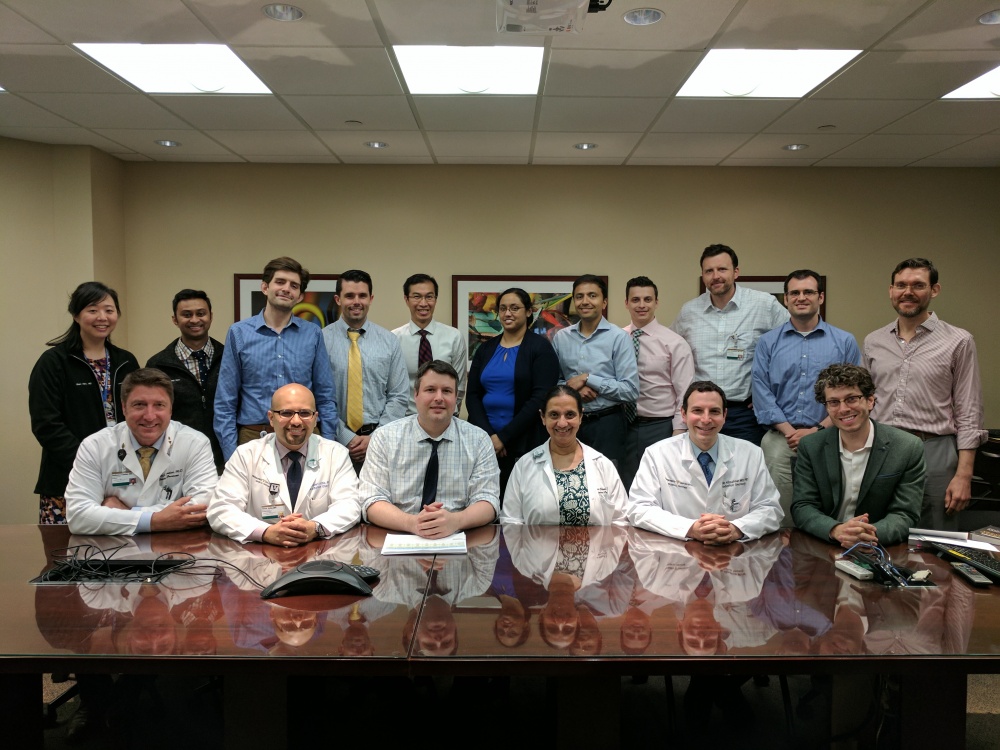 EDUCATIONAL FUNDING
Residents receive $2,000 per year in funding from the department to support their educational enrichment. This can be used for attendance at national research meetings or educational conferences, purchase of textbooks or question banks for test preparation, etc.
Return to the main Residency Program page