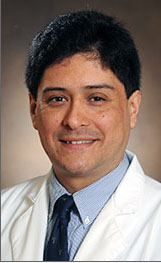 Manuel Morales-Paliza, PhD
Dr. Manuel Morales is a medical physicist and Associate Professor in Radiation Oncology at Vanderbilt University Medical Center. Since September 2015, he is the Program Director of Medical Physics Graduate Programs. Originally from Cuzco, Peru, he received his B.Sc. in Electronic Engineering from National University of Engineering in Lima-Peru (1990), and his M.Sc. (1997) and Ph.D. (2001) in Physics from Vanderbilt University. He completed his Medical Physics Residency at Vanderbilt University in 2008, and joined the Vanderbilt faculty immediately after.
Dr. Morales is certified in Therapeutic Medical Physics by the American Board of Radiology (ABR), and is a member of the American Association of Physicists in Medicine (AAPM) where he serves in several working committees, the Society of Directors of Academic Medical Physics Programs (SDAMPP), the Pan American Health Care Exchanges (PAHCE), and the National Society of Hispanic Physicists (NSHP).
Before entering to the Medical Physics career, Dr. Morales held a tenured faculty appointment at the Pontifical Catholic University of Lima-Peru in the Electrical Engineering and Physics Schools becoming a Tenured Associate Professor in 2004, holding teaching, research, and leadership responsibilities. Dr. Morales has taught physics, engineering, and medical physics courses to more than one thousand undergraduate and graduate students as well as other professionals for more than 25 years. He has directed more than 10 theses at B.Sc., M.Sc. and Ph.D. level in physics and engineering. Dr. Morales also has collaborated as a columnist in the Peruvian newspaper Expreso publishing opinion articles (1999-2001).
Dr. Morales has been honored with the 2015-2016 Association of Residents in Radiation Oncology (ARRO) Educator of the Year Award, the World Laboratory Scholarship from Switzerland (2004), the Fulbright Scholarship (1995), and the CONCYTEC National Prize to the Technological Innovation (1994). 
Click here to view information on Dr Morales's research.