We are pleased that you are interested in the radiation oncology residency program at Vanderbilt University Medical Center. We are committed to providing quality graduate medical education for tomorrow's radiation oncologists. VUMC offers a teaching facility with diverse patient populations, state-of-the art technology, cutting edge research, and outstanding faculty.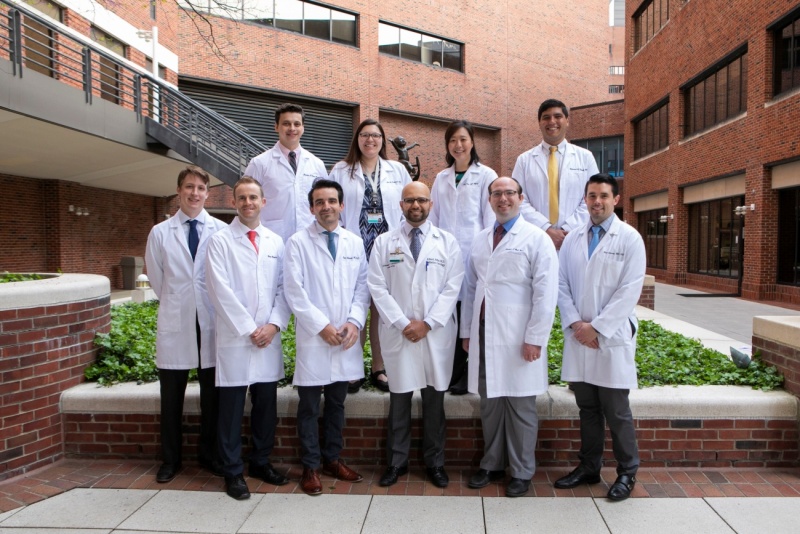 Residents, Spring 2019
Clinical experience
Residents spend approximately 36 of their 48 months of training rotating through the various clinical services. Rotations change every 2 months. All rotations are completed at the main campus, including pediatrics. Generally, residents work one-on-one with an attending who specializes in a specific disease site. Residents remain under the guidance of attendings for their entire four years of training, with gradually increasing expectations and responsibilities. 
Residents gain a broad exposure to the entire spectrum of oncology patients and their treatment, including:
Intensity modulated RT (IMRT)
Volumetric arc therapy (VMAT)
Stereotactic body RT (SBRT) / Stereotactic ablative RT (SABR) 
Stereotactic radiosurgery (SRS) / Stereotactic RT (SRT)
Image-guided RT (IGRT)
3D conformal RT (3D CRT)
4D CT and treatment planning
Deep inspiratory breath hold (DIBH)
Total body irradiation (TBI)
Total skin electron therapy (TSE) with rotisserie technique 
Electronic brachytherapy for breast 
Low dose rate brachytherapy (LDR) for prostate, sarcoma, ocular melanoma
High dose rate brachytherapy (HDR) for gynecologic malignancies 
Hydrogel spacer and fiducial placement for prostate
Unsealed sources 
Pediatric through geriatric aged patients 
Curative to palliative intents 
Clinical sites include:
Benign (tremor, AVM, keloid, etc) 
Breast 
CNS
Gastrointestinal (GI)
Genitourinary (GU)
Gynecologic
Head and neck 
Lymphoma 
Sarcoma 
Thoracic
Palliative inpatient service 
Pediatric
Proton therapy 
Residents cover home call for 1 week at a time. PGY-2 residents don't begin to take call until the Fall. During clinic days, the palliative inpatient service (with its own dedicated attending and NP +/- rotating resident) handles inpatient consults. The resident on call primarily helps to triage and answer questions during nights and weekends, which is uncommon. Attendings are also on call for one week at a time, so there is continuity and it is easy to know with whom to discuss concerns. 
Clinical didactics
Didactic coursework consists of classes in clinical radiation oncology, cancer and radiation biology, and medical physics. Residents attend daily didactics led by both residents, faculty, and special guest speakers; PGY-2 residents don't start to present didactics until the Fall. In addition, residents attend specialty-specific multidisciplinary tumor boards, quality assurance (chart rounds), morbidity & mortality, and clinical didactics. Special sessions include:
Guest lectures from other specialties (e.g. radiology, neurosurgery, plastic surgery, medical oncology, etc);
Resident wellness sessions;
Career planning and financial advising;
Research seminars (e.g. how to write NIH grants);
Thought leaders in the field of radiation oncology (e.g. Silvia Formenti, MD, Drew Moghanaki, MD, David Raben, MD, Vanderbilt alumni, etc).
See information for current residents for up-to-date details on our didactics schedule. 
Physics
We have structured weekly medical physics didactics with lectures, exercises, and exams. This course is repeated by all residents annually until passing the boards. As of 2018-2019, we have a new curriculum designed specifically for us by our physics faculty led by Dr Price, which has been very well-received. Content is tailored to a level of understanding appropriate for physicians and for board certification. In the Spring, our faculty lead additional study sessions for the seniors to assist with board exam preparation, including reviewing practice questions and a concise boards review course.
Cancer and radiation biology
We have structured weekly cancer and radiation biology didactics with interactive sessions led by our faculty who are also actively involved in research. This course is repeated annually by all residents until passing the boards. The course is primarily built around the standard radiobiology textbook and question sets. The format and content is fluid each year, so that residents of all learning styles can learn (e.g. powerpoint, chalk talks, question and answer). 
Research / Elective
Resident research may be undertaken in the following disciplines: clinical sciences, physical sciences, and/or biological sciences. Residents are expected to participate in research and publish at least 1 peer-reviewed paper during the course of their residency. Many of our residents apply for The Holman Pathway which is designed for the exceptional trainee who has both strong clinical abilities and a background in research. If accepted for this program residents spend 18 months performing research; all residents are guaranteed 12 months of dedicated research time (part of this time can also be used for other electives). Residents are encouraged to attend and present their work at national scientific conferences. Our residents routinely are invited to give oral presentations at these conferences and many garner prestigious awards. For more details, please see the Research section. 
Dr Attia and our department are extremely supportive of each of our career goals. Having 12 months of consecutive research / elective time available facilitates completion of additional degrees (e.g. MBA, MS in Clinical Investigation, MA in Bioethics, MPH). Electives can also be used to spend time in Radiology, Pathology, Medical Oncology, or surgical subspecialties. Electives can also be used for the optional rotation in Inpatient / Palliative Radiation with Dr Kohutek, or a proton therapy away rotation. 
Oral board prep
Every Spring, we invite new alumni to join our current residents in practicing oral boards style practice sessions ("mock orals") led by our current faculty and prominent alumni. This provides invaluable test preparation as well as networking opportunities.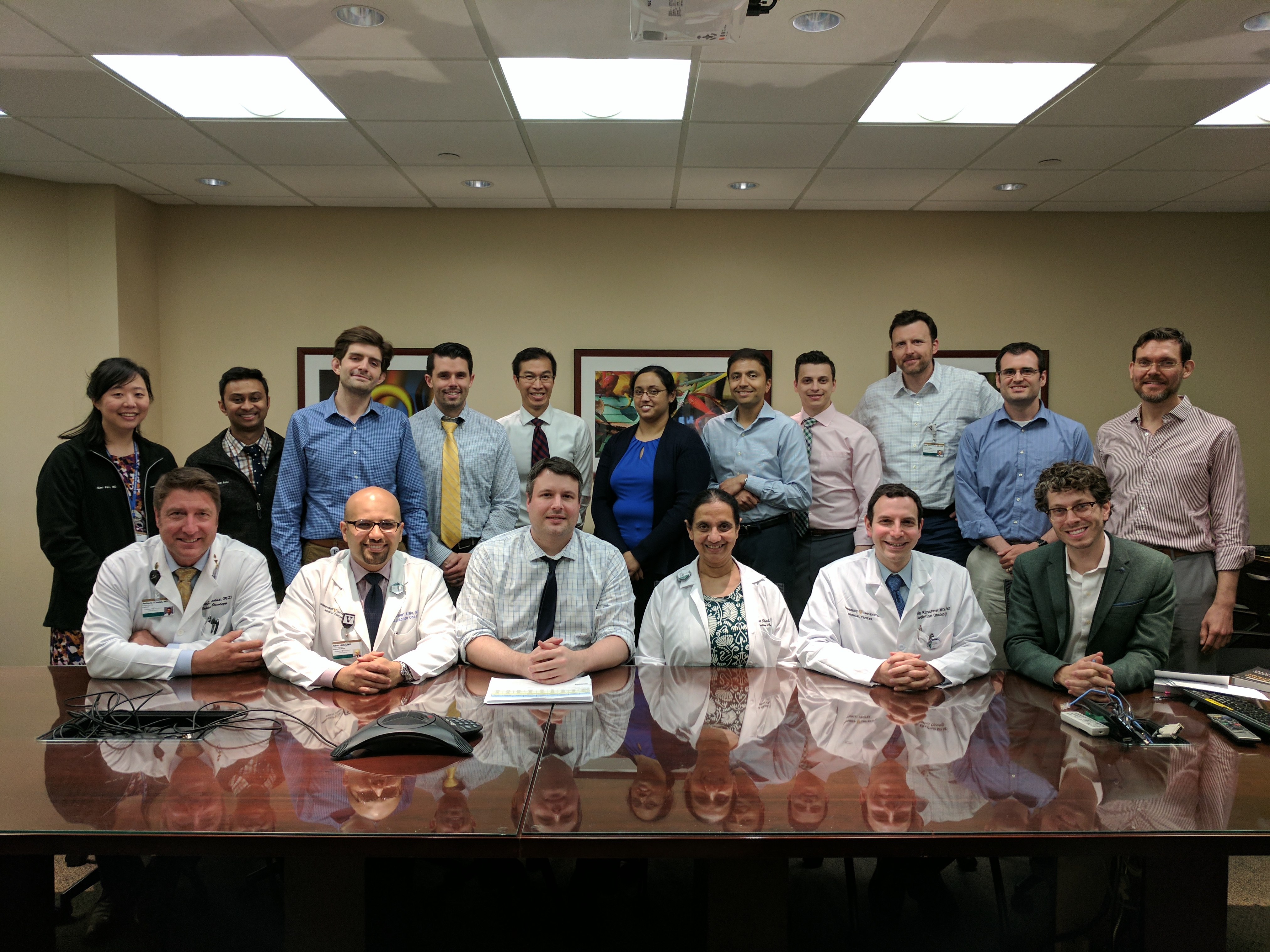 Group photo from mock oral boards
Program Director: Albert Attia, MD
Assistant Program Directors: Diandra Ayala-Peacock, MD, and Zachary Kohutek, MD, PhD
Program Coordinator: Betsy Amell
Application requirements
Individuals applying for residency in radiation oncology must hold a medical degree from an accredited institution. We are a 4-year training program accredited by the Accreditation Council for Graduate Medical Education (ACGME). All applicants must have completed a minimum of an internship, at an accredited institution, prior to beginning their PGY-2 year with us. Your program director will be contacted and written documentation of successful completion of the PGY-1 year is required. If you hold a foreign medical degree, a valid certificate from the Educational Commission for Foreign Medical Graduates (ECFMG) is also required. If you graduated from a medical school outside of the US, Canada or Puerto Rico, a copy of a valid ECFMG Certificate is required. The Administrative Director for GME at Vanderbilt is the designated Training Program Liaison for ECFMG Graduates. If you are a foreign national, a copy of a valid J-1 or H-B visa is required.
In compliance with federal law, including the provisions of Title VII of the Civil Rights Act of 1964, Title IX of the Education Amendment of 1972, Sections 503 and 504 of the Rehabilitation Act of 1973, the Americans with Disabilities Act (ADA) of 1990, the ADA 29 Amendments Act of 2008, Executive Order 11246, and the Uniformed Services Employment and Reemployment Rights Act, as amended, and the Genetic Information Nondiscrimination Act of 2008, Vanderbilt University does not discriminate against individuals on the basis of their race, sex, religion, color, national or ethnic origin, age, disability, military service, or genetic information in its administration of educational policies, programs, or activities; admissions policies; scholarship and loan programs; athletic or other University-administered programs; or employment. In addition, the University does not discriminate against individuals on the basis of their sexual orientation, gender identity, or gender expression consistent with the University's nondiscrimination policy.
Vanderbilt University is an equal opportunity institution offering excellent benefits for all employees. A partial listing of benefits can be viewed on our website. On acceptance to our program all residents must successfully pass reference and background screenings.
We accept applications through the Electronic Residency Application Service (ERAS). We participate in the National Residency Matching Program (NRMP).
Return to main Education page