Reunite, Relax, Refresh
The 2022 Department of Biostatistics Retreat 
Friday, November 11
Nelson Andrews Leadership Center, 3088 Smith Springs Road, Nashville, TN 37013

Join your teammates and colleagues at the VUMC Department of Biostatistics' first in-person retreat since 2019! The theme is Reunite, Relax, Refresh.
A priority of this retreat is giving you opportunities to connect with other members of the department, many of whom you may not have seen in person recently and some whom you'll be meeting for the first time.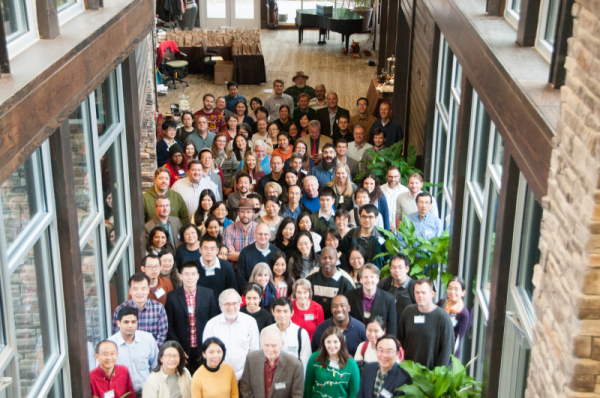 Photo of the full department at the 2018 retreat
This year's retreat has been designed with an emphasis on fun and interaction, with speeches and lectures kept to a minimum in favor of social activities. We hope the day will also provide enough of a break from your everyday routines so that you can go back to them recharged, with fresh perspectives and new energy. 
Printable PDF of the below instructions.

For those driving

The address is Nelson Andrews Leadership Center, 3088 Smith Springs Road, Antioch, TN 37013 (36.0880851,-86.5881031).

If you put the street address into Google Maps, it will take you directly to the building, NOT to the parking lot, so follow these directions below from Smith Spring Road:

Turn onto the main driveway from Smith Spring Road. The Nelson Andrews Leadership Center and Camp Widjiwagan share the same main driveway.

Drive straight, approximately ¾ of a mile. You will park at the first parking area on the RIGHT, the Main Parking. There will be an attendant to help direct you.

After parking: You will see the YMCA Camp Office across the street from the parking lot (big blue building). There will be a walking path leading you past the building to the Nelson Andrews Leadership center path entrance.

Walk alongside the right of the YMCA Camp Office building, and you will see the entrance to the path to the venue.

Continue along the walking path to the Nelson Andrews Leadership Center!

An aerial view of these directions:

 

For those carpooling

Follow the directions above to park and walk to the venue. We have one person who has offered to drive others. If you would like to offer to drive or need a ride, fill out your info here (click Open > Microsoft Excel Online to add your info).

 

For those getting dropped off

Anyone out-of-town whom we're providing a car service for, they know to drop you off directly to the left of the building. (The address is Nelson Andrews Leadership Center, 3088 Smith Springs Road, Antioch, TN 37013.) For those taking a Lyft/Uber, you can give them the address, which should take them directly to the building venue, where there is a small parking lot/roundabout where they can drop you off.
View/download the day's agenda, with session descriptions and locations (Word doc). 

time (CST)
session/topic
speakers/facilitators
notes
8:30–9:00 a.m.
Check-in and Breakfast 
 
Boxed food provided by the department
9:00–9:20 a.m.
Welcome & Overview
Cindy Chen & Yu Shyr
 
9:20–11:00 a.m.
Introductions, Icebreakers, and Interactions
Cindy Chen & Jena Altstatt
 
11:00–11:45 a.m.
Wellness
Jim Kendall & Bridgette Butler, Vanderbilt Health & Wellness

How to work in a hybrid/remote environment and retain work/life balance

Stretching

11:45 a.m.–12:30 p.m.
Group portraits
Susan Urmy, photographer; Chazlie Miller, coordinator
See below for list of groups to be photographed
12:30–1:30 p.m.
Lunch
 
Boxed food provided by the department
1:30–2:45 p.m.
Group activities (4 options)
 
Venue staff
Involves a 10-minute walk to and from the outdoor range
 
Grad students
Games & art supplies provided
 
Nerdy Talk Trivia
Compete on teams of up to 6 people 
 
Mario Davidson
 
2:45–3:00 p.m.
Wrap-up
Cindy Chen
 

Throughout the day: prize drawings • Look Book on display

Some groups and teams are arranging additional activities (such as Thursday or Friday night dinner/entertainment) in conjunction with the retreat. Check your inbox and with your colleagues.
Cindy Chen, chair

Jena Altstatt, primary administrative contact

Cole Beck, Mario Davidson, Tan Ding, Alese Halvorson, Jamie Joseph, Yaomin Xu, Alex Zhao

 
Who will be at the retreat?
All current department members are strongly encouraged to attend: primary, secondary, and adjunct faculty members; administrative, analytical, and IT staff; postdocs, students, and other trainees.

Will we be going over the strategic plan, research directions, etc.? 
These topics will be covered in depth at future gatherings, particularly in conjunction with the department's 20th anniversary in 2023. This retreat is all about team-building and strengthening connections among us. 

What should I wear? 
Comfortable business casual. A VUMC photographer will be shooting group portraits for the department website and other publications, so please plan to wear something appropriately professional for those, but the day's agenda will also include a lot of sitting and standing and moving around. The photo shoot will take place outdoors unless rain or snow is coming down. 

Also: there is a slide from the second floor to the first. If you wish to travel down the slide, please wear jeans or khakis or other non-slippery material, and be ready to brake with your hands and feet. (There are also stairs and elevators for individuals who don't wish to slide, and all the official activities are on the first floor or outdoors.)

           

Will there be food? 
Breakfast and lunch will be served. Snacks and drinks/coffee will be available throughout the day. 

What accommodations will you make for food allergies/intolerances? 
If you specified your food allergies when you registered, your meals will be labeled with your name.

I live out of state—what should I do? 
The department will cover travel expenses incurred by your attendance at the retreat, including hotel lodging for one night (checking in Thursday, November 10). We will coordinate your flight and local transportation as well. You can seek reimbursement for meals not provided at the retreat. Please let Jena Altstatt know if you are not local so that she can work directly with you on your travel arrangements.

I'd like to carpool—are there options? 
We're collecting the names of those interested in carpooling via this worksheet (to enter your information, click the down arrow next to the "Open" drop-down button at the top, and select Microsoft Excel Online to edit).

I am unable to stay the entire time—may I leave early? 
We'd like for everyone to attend the entire retreat, but the activities during the last hour were scheduled to accommodate unavoidable early departures. If this is your situation, please let us know when you RSVP so we can best plan.

Is there a wireless network at the venue?
Yes. You'll find the password posted in the lobby.

What is the policy on masks?
VUMC requires them only in clinical settings, so wearing one during the retreat is optional. There will be masks available at check-in.

Speaking of respiratory health...
List updated 11.10.2022. Numbers reflect expected attendance in each group.

1. Full department (132)

2. All faculty & staff (97)

3. All staff (59)

4. Analytical/research staff (38)

5. All faculty (47)

6. Full graduate program (students, leaders, advisors, etc.) (29 + advisors)

7. All students (24)

8. PhD students (16)

9. MS students (9)

 
A photograph of yourself, if you'd like something different than your official headshot. It can be informal, and you can include family, pets, slide rules, etc.
Your name. You are encouraged to include pronunciation tips.
Your pronouns (e.g., they/them, she/her, he/him)
A brief description of yourself (2-3 sentences). How would you introduce yourself to someone in the break room? What personal details might you share?
Your website and/or social media handles if you are comfortable sharing them.

Some sample pages from the retreat slideshow: