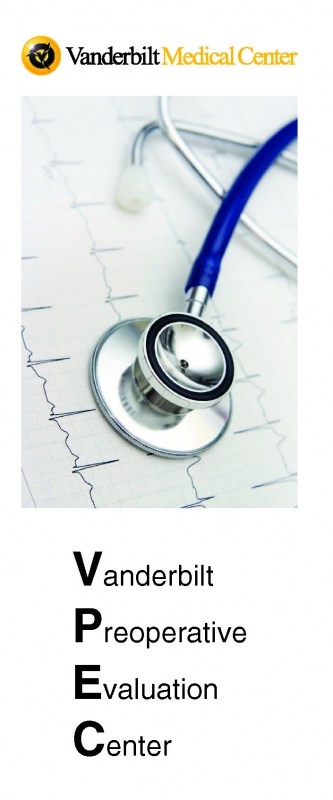 Procedure delays due to patient cancellation, missing labs or incomplete patient records, are a headache at any medical center, but at VUMC, the Vanderbilt Preoperative Evaluation Center (VPEC) is a critical tool for reducing those delays. VPEC, open Monday-Friday from 8 am-5 pm, offers a free evaluation and consultation service for surgical patients in order to ensure their safety and prevent surgical delays and cancellations.
VPEC has grown rapidly since its inception in 1996. Its main campus location currently has 11 exam rooms and is adjacent to outpatient lab and radiology on the 1st floor of the The Vanderbilt Clniic (TVC), 1301 Medical Center Drive, TVC Suite # 1501. VPEC added a second location in 2009 at the Vanderbilt Health at One Hundred Oaks campus, 719 Thompson Lane, Suite # 21100. This location has seven exam rooms and is adjacent to outpatient lab and radiology services. 

VPEC faculty and staff perform comprehensive preoperative assessment, including interfacing with primary care physicians, specialist consultants, and surgeons while also making direct decisions regarding preoperative testing. Once the patient report is complete, it becomes part of the patient's electronic medical record and is viewable by any Vanderbilt provider with Internet access.

As clear evidence that VPEC works, in 2013 - for the fifth year in a row - VPEC received a Professional Research Consultants, Inc. patient satisfaction award, the coveted 5-Star Award for Overall Quality of Care. This means the center scored at the 90th – 99th percentile based on the previous calendar year's results and as compared to similar centers nationwide.

VPEC has received several additional significant industry accolades and was included in the February 2007 Hanover Research Council Report on Preoperative Assessment Practices. VPEC also received the 2009 Top Performer Award given by Professional Research Consultants, Inc. VPEC is frequently consulted by other hospitals wanting to improve their preoperative processes.

Medical co-directors are Jonathan Wanderer, MD, MPhil, and Michael Pilla, MD. The manager for VPEC is Julie Hamm, BSN, MSN, ACNP-BC.