In Focus: Meet Our Female Faculty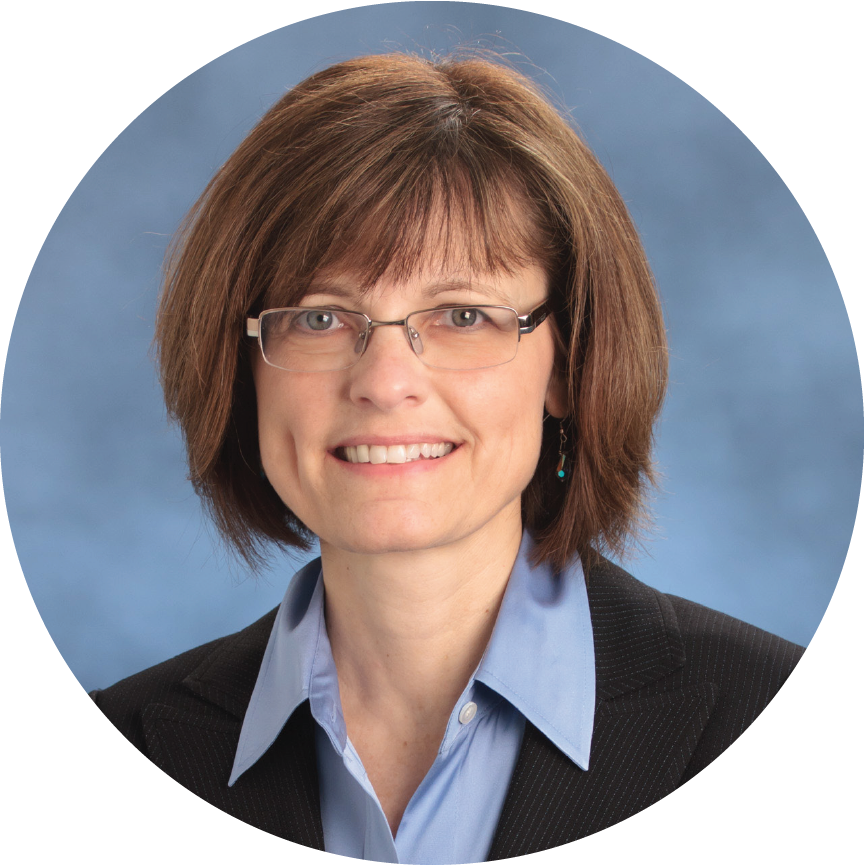 Lori Deitte, MD, Professor of Clinical Radiology and Radiological Sciences and Vice-chair of Education, is a subspecialist in body imaging and ultrasound with expertise in emergency, oncologic, urologic, gynecologic, transplant and gastrointestinal imaging. She is a nationally recognized speaker, faculty development facilitator, and co-author of more than 30 articles. Dr. Deitte is very active with teaching at all levels: medical students, residents, fellows and practicing physicians and currently serves as the Chair of the American College of Radiology Commission on Publications and Life Long Learning.
Tell us a little about your journey before joining the faculty at Vanderbilt University Medical Center (VUMC). 
As a child growing up in Fond du Lac, Wisconsin, I could never have predicted my future career path. Early on, my parents instilled a strong work ethic and "can do" attitude into each of us siblings. It was during grade school that I first discovered that I had a pension for math, which ended up being one of my undergraduate majors. The other subject was physics, an unusual major for a woman during the 70's. In fact, I was the only woman in my upper-level physics classes. Fortunately, I was able to connect with some incredible mentors along the way, including a physics professor, Dr. Phil Chute, who helped guide me through my decision to pursue medicine. I decided to only apply to one medical school so that I could live in the same city as my future husband. Although my application looked great on paper, the interview didn't go well, and I felt like a complete failure when I was not accepted. In retrospect, this experience made me more determined and appreciative than ever when I reapplied and was accepted the following year.
My career has been more of an adventure than a predetermined path. After completing our training at the University of Wisconsin, my husband, Mark Rice, an anesthesiologist, and I left our family and friends in Wisconsin and moved to northeast Tennessee to join private practice groups in Johnson City. Our second child, Kevin, was only three days old during the move. The first six months were tough, starting our careers far from our friends and family with two young children; however, we ended up really enjoying Johnson City and stayed there for 12 years. 
While we were in Tennessee, our daughter Amanda, a competitive swimmer, talked us into letting her attend a boarding school in Florida. At the start of her second year of boarding school, the tragedy of the 9/11 attacks made us rethink our family situation. We decided to move to Florida so that our family could all be together and I joined the University of Florida (UF) faculty. The transition from a senior partner in private practice to a newbie in academic medicine was both humbling and exhilarating. I had been away from the academic scene for more than a decade but soon discovered a passion for my new roles as educator, mentor, and eventually residency Program Director and medical student Clerkship Director. I was fortunate to work with an outstanding and supportive group of faculty in the Body Imaging section. We became good friends and enjoyed spending time together outside of work, dubbing ourselves the "Bod Squad." 
Why did you choose VUMC?
My first trip to VUMC was in 2011 when I was visiting our son, Scott, a freshman at Vanderbilt University. At the time, I had heard terrific things about the Vanderbilt radiology program. I decided to stop by the hospital, out of my own curiosity to see the clinical training environment first hand. I never could have predicted that I would someday join the Vanderbilt faculty. 
Three years later, my husband and I had the opportunity to interview for leadership positions at Vanderbilt. It was a tough choice since it meant leaving behind friends and colleagues at UF; however, the decision to join forward-thinking departments with tremendous resources was absolutely the right one. I remember one of my first conversations with Dr. Reed Omary, radiology department Chair, where he expressed his passion for creativity and innovation. The prospect of working in this high-energy innovative department as the Vice Chair of Education was very exciting. 
Additionally, the department was in the early stages of bringing ultrasound into the body imaging section. Drs. Rochelle Andreotti and Art Fleischer were very supportive of having me join their high-level ultrasound practice and assist with this transition, which also influenced my decision to join VUMC.
What have you been able to achieve at VUMC?
I will never know what my career path might have looked like if I had not joined VUMC. However, the decision to join VUMC opened the door to multiple opportunities almost immediately. Dr. Omary helped me connect with education leaders and members of the informatics team to discuss innovative ways to integrate learning into the workplace. This led to the development of QuizTime, a web-based app for texting or emailing daily questions to learners. We successfully piloted QuizTime with radiology residents, which led to a VU School of Medicine (SOM) Fellowship for the Advancement of Education (FAME) Award with Meaghan Magarik, radiology resident, and members of the Anesthesiology Department. I subsequently received the 2017 Geoffrey David Chazen Award for contributions to the educational program at VU SOM through the development and implementation of effective innovation in medical education.     
Dr. Omary's innovative leadership led to the introduction of Design Thinking, a human-centered approach to creative problem solving, into our department. I soon became intrigued about potential opportunities for Design Thinking in radiology education. When I expressed this interest to Dr. Omary, he suggested that I attend a four-day hands-on Design Thinking workshop at the Stanford d.school. Since then, our team has given multiple Design Thinking workshops at Vanderbilt and nationally, including a pop-up course at the 2017 RSNA meeting and two workshops at the 2018 AUR meeting. Prior to joining the Vanderbilt faculty, I didn't think of myself as being particularly creative or innovative. The radiology department culture of innovation has completely changed my mindset.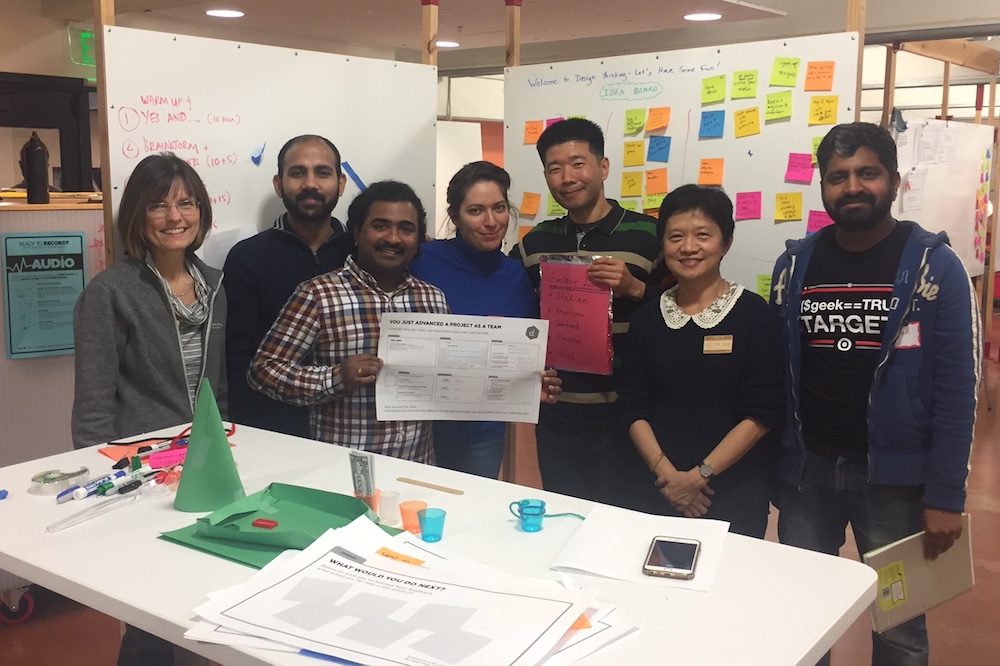 Dr. Deitte at the Standford d.school.
Since joining the Vanderbilt faculty, I have had the opportunity to connect with radiologists and trainees across the country through service as the President of the Association for Program Directors in Radiology (APDR), Associate Editor for the Training and Education Section of the JACR, and co-director of the Clinician Educator Development Program (CEDP) at the annual ARRS meeting. Recently, I was appointed to the ACR Board of Chancellors as the Chair of the new Commission for Publications and Lifelong Learning. These leadership positions have provided a forum for me to help connect our faculty and trainees with other leaders, creating new opportunities to advance their careers.
What are three things that have allowed you to have success in your field?
Relationships with family and friends outside of work help me stay connected and grounded. My husband and I share a "work hard, play hard" philosophy, and family time is a top priority for us. Intentionally setting aside time to recharge has contributed to any successes we have experienced.
Some of my most memorable and rewarding moments involve celebrating the achievements of my current and former mentees. Whether it's clinical work, teaching, mentoring, or leadership, it's the opportunity to make a difference that consistently motivates me.
Finally, curiosity and a willingness to try something new have contributed to eventual successes and some early failures. Looking back, when I transitioned from private practice to academic radiology, my initial attempts at teaching were quite dismal. I actively sought feedback from my medical students, residents and peers, and tried to learn from my mistakes. With hard work and perseverance, I was able to improve my teaching skills and eventually ended up receiving multiple teaching awards. 
What is your greatest achievement? 
Mark and I have been married for 38 years, which feels like quite an achievement when I think about some of the challenges we faced. As a two-physician family raising three kids, there were tradeoffs between career and family, and we tried our best to get it right. I think our greatest achievement is the close relationship we have with each of our grown children, their spouses, and our three grandchildren. 
Is there a particular resident/junior faculty that you particularly enjoyed mentoring? How did you see them grow?
I've enjoyed mentoring many medical students, residents and faculty over the years. Some mentees were highly motivated to start with and my guess is that they would have been successful without my mentoring.
With this in mind, I'd like to share my very first mentoring experience. It was early in my academic career. Faculty members were discussing Taylor (fictitious name), a resident who had failed the written board exam, and a comment was made that Taylor "would never pass the exam." I offered to mentor Taylor. We met and put together a study plan and then met every two weeks to review progress. When Taylor subsequently passed the exam, I was absolutely thrilled! That experience motivated me to start a mentorship program for all trainees in our residency program. 
What challenges did you face 10 or 20 years ago that are no longer experienced by women in science? 
I majored in math and physics when STEM was not cool, particularly for women. Fortunately, I felt very supported throughout my undergraduate career and honestly don't recall facing any pushback or barriers. 
Life became more challenging when we added children to the equation. Our daughter, Amanda, was born in August of my first year of radiology residency. My maternity leave consisted of three weeks of vacation and two weeks of sick leave, for a total of five weeks. There was no such thing as paternity leave. Approximately three weeks into my maternity leave, I remember stopping by the department to pick up mail and one of the faculty members asked how I was enjoying my "vacation." He just didn't seem to get it…maternity leave was no vacation. When I returned to work as a new mom, lactation rooms were non-existent and duty hours were long (32 consecutive hours when on call).
While there has been some progress in the parental leave (maternity and paternity) issue since the '80s, there is still considerable room for improvement. In fact, a robust discussion about parental leave occurred at the AAWR caucus during the recent ACR meeting. The AAWR is sponsoring a panel discussion on this topic at the 2018 RSNA meeting and I look forward to serving as one of the panelists.
A little over a year ago, I suggested that we create a lactation room in our department, which was immediately supported by Reed Omary, Rich Pierce, and Kate Gibson. A group of female residents, faculty and staff came together to design the room. Thanks to everyone involved, particularly the very talented Drs. Glynis Sacks and Kim Sandler, we now have a very beautiful lactation room in our department.
What are your current and next goals you are working towards?
I am currently focused on my new area of service as Chair of the ACR Commission on Publications and Lifelong Learning.  I'm excited to learn from an extraordinary role model and mentor, Dr. Geraldine McGinty, the first woman Chair of the ACR Board of Chancellors. I anticipate that the upcoming months will be very busy and I will need to be more intentional than ever about staying connected with family and friends, and taking time to recharge.
What is your advice to other females (faculty, residents, medical students)?
I hope there is something to be learned from my story of challenges, successes, and failures. 
My advice: take time for yourself, don't let fear of failure hold you back, support each other, and bring the next generation of women up. Most importantly, stay connected with family and friends. 
Over the years, I've heard many Gold Medal and Achievement Award acceptance speeches by radiologists. There is often that poignant moment when the awardee's voice starts cracking and their eyes well up with tears as they thank family and friends. In the end, it's relationships that really matter. 
published June 2018