Radx 
Radx is the Department of Radiology's healthcare innovation and entrepreneurship incubator. Its mission is to foster and support the development and commercialization of creative healthcare technology solutions.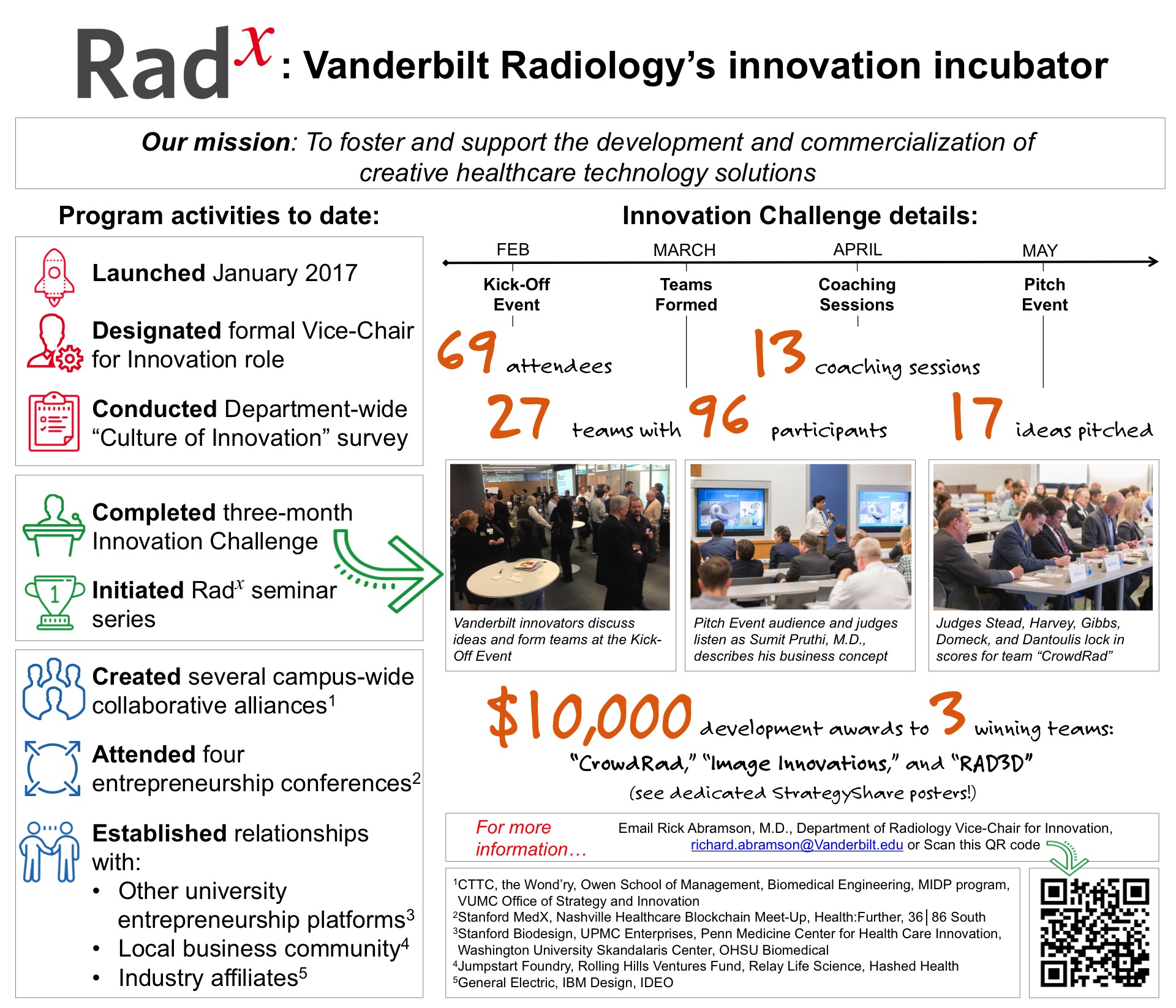 Radx Innovation Challenge
The Radx Innovation Challenge invites participants to devise creative solutions for unmet needs in health care. Contestants are encouraged to form multi-disciplinary teams and are offered individualized coaching and mentoring. Teams compete in a live pitch event to win development funding.
Sponsorship
The 2017 Radx Innovation Challenge is sponsored by the Vanderbilt Radiology Radx program in collaboration with the Wond'ry and the Center for Technology Transfer and Commercialization (CTTC), with generous funding support from the Evelyn Selby Stead Fund for Innovation.
Objectives 
The programmatic objectives of the Radx Innovation Challenge are:
a. To help foster a growing culture of entrepreneurship across Vanderbilt
b. To stimulate multidisciplinary collaboration around innovation
c. To pilot the use of a design challenge format to engage the community in generating viable business ideas
d. To promote awareness of campus innovation resources including Radx, the Wond'ry, and the CTTC
e. To identity additional resource needs for Vanderbilt innovators
Competition Goal 
Teams compete to create a commercially-viable solution to an unmet need in healthcare.
Advisory Committee
Robert Grajewski, M.B.A., M.P.A., Executive Director of the Wond'ry 
Chris Harris, Ph.D., Director of Licensing, Center for Technology Transfer and Commercialization

Reed Omary, M.D., M.S., Carol D. and Henry P. Pendergrass Professor and Chair, Department of Radiology and Radiological Sciences

David Owens, M.S. Ph.D., Professor of the Practice of Management and Innovation, Owen Graduate School of Management

Bill Stead, M.D., McKesson Foundation Professor of Biomedical Informatics and Chief Strategy Officer, Vanderbilt University Medical Center
Teams compete in two parallel tracks:
Challenge-Directed Track: Teams respond to one of three specific directives established by the Program Committee. The specific directives for this Challenge are:
Create a consumer-facing imaging technology that empowers patients to improve their health or healthcare [examples: hand-held portable imaging device; consumer-facing 3-D medical printing]
Create a product or process that uses radiology information at scale to promote an aspect of public health or population health [examples: solution for reducing smoking-related morbidity; artificial intelligence technology; data analytics for health systems]
Create a solution to improve radiology workflow [examples: smart radiologist or technologist workflow engine; mobile digital technology solution for improving communication with patients and/or referring clinicians]
Open Track: Teams respond to any unmet need in healthcare.
Timeline  
February 16, 2017: Kick-off Event
March 17, 2017: Team rosters due
May 25, 2017: Pitch Event with presentations, and award ceremony
Kick-off Event 
A Kick-Off Event was held at the Wond'ry on Thursday, February 16, 2017. Attendance at the Kick-Off Event was not required for participation in the Challenge. It was really fun, though.
Teams
Contestants are encouraged to form multi-disciplinary teams from different Vanderbilt schools and to include members from outside the Vanderbilt community. All teams are required to include at least one member from the Department of Radiology. Teams were allowed to be any size.
Entry 
To participate in the Challenge, teams are required to submit a statement of intent and a team roster by March 17 (i.e., one month after Kick-off). 
Mentorship 
During the Challenge, teams receive active mentoring and networking support facilitated by the Program Committee.
a. The Wond'ry has a network of mentors available. Consult the website for a list of mentors and their office hours.
b. The CTTC dedicated office hours at the Wond'ry, Tuesdays and Fridays 1-3 pm.
c. Ken Holroyd, M.D., M.B.A., Assistant Vice Chancellor for Research and Medical Director for the CTTC,  volunteered his availability for consultation. 
d. The Program Committee made coaching sessions available by appointment at the Department of Radiology RAD Studio.
Development vouchers 
At any time after submitting their application, teams have the opportunity to apply for a one-time development voucher of up to $1,000, to be used to support articulation of concept. An overall total of $10,000 is available for these vouchers, with vouchers awarded at the discretion of the Program Committee. 
Workspace
Teams are encouraged to use the Wond'ry or the Department of Radiology RAD Studio for workspace/makerspace during the Challenge.
Culmination 
The Challenge culminated in a final Pitch Event where teams presented their business concepts to our panel of judges in front of a live audience. The Pitch Event was held at the Vanderbilt Engineering & Science Building on Thursday, May 25, 2017. 
Judging criteria  
Teams are judged on the following criteria:
a. Quality and clarity of the presentation
b. Disruptive potential of the concept
c. Market potential of the concept
d. Cost and timeline of next step in concept development
e. Use of Vanderbilt technology, resources, or domain expertise
2017 Judging Panel
Kelly Dantoulis, Manager, New Ventures, Vanderbilt Center for Technology Transfer and Commercialization 
Steve Domeck, M.B.A., Process Impact Leader for GENIUSLINKTM, General Electric Global Operations

Landon Gibbs, Managing Partner, Rolling Hills Ventures, LP

H. Benjamin Harvey, M.D., J.D., Assistant Professor of Radiology, Harvard Medical School; Director of Quality Improvement, Department of Radiology,Massachusetts General Hospital; Chief Medical Officer, MedAppTech

Bill Stead, M.D., Chief Strategy Officer, Vanderbilt University Medical Center; McKesson Foundation Professor of Biomedical Informatics and Professor of Medicine 
Awards
One winner from each of the two tracks was selected. Each winning team received a $10,000 award to be used as proof-of-concept funding for continuing their project. In a surprise announcement, due to the large number and high quality of the team projects, the Evelyn Selby Stead Fund for Innovation agreed to fund three rather than two $10,000 business development awards.
Teams will be expected to spend their development awards over a three month period. They will receive ongoing coaching and support from the Radx Advisory Committee during the award period.
Confidentiality 
The Program Committee will take reasonable steps to protect the intellectual property rights of participants while respecting VU/VUMC technology transfer policies. Radx has a policy of non-disclosure of information submitted as part of its programming. Challenge participants and attendees of the Pitch Event may be asked to certify that they will keep confidential any non-public information to which they are exposed during the Challenge.
Spring 2017 Winners
1) CrowdRad (Marty Jordanov, Isaac Osei, Jason Lerner) - A web/mobile app allowing radiologists to post challenging unknown cases and obtain independent answers from his/her peers around the world
2) Image Innovations (Bennett Landman, Allen Newton, John Gore, Taylor Davis, Steve Damon, Jasmine Greer) - A platform for translation of medical image processing tools into the clinical practice environment
3) RAD3D (Sumit Pruthi, Amy Whigham, Kelly Brown, Beth Malow, Althea Robinson, Allen Newton, Pennington Grubb, Raghu Upender, Hansen Bow) - 3D printing of customized CPAP masks for children with craniofacial abnormalities
 
Radx also congratulates the "Not an Emergency" team (Anne-Marie Danko, Lori Deitte, Geoff Wile, Amy Fleming, Jay Wellons, Christina Estrada, Bobby Otten, Clint Brown, Jennifer Head, Trelise Askew-Gibson, Annie Neu, Melissa Tomlin, Melinda Buntin), whose proposal for reducing Emergency Department volumes has been selected for sponsorship and funding by VUMC senior leadership.

Click here to learn more about innovation activities in the Department of Radiology.