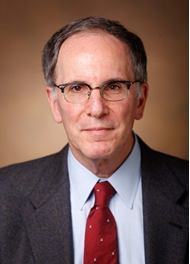 Steven G. Meranze, M.D.
Radiology and Radiological Sciences
Office Address
Medical Center North
1161 21st Avenue South, CCC-1118
Nashville
Tennessee
37232-2675
Steven Meranze, MD, is a specialist in vascular and interventional radiology. He earned his medical degree from Thomas Jefferson University School of Medicine and completed a residency in Radiology and a fellowship in Vascular and Interventional Radiology at the Hospital of the University of Pennsylvania, where he then served on the faculty with a strong emphasis in gastrointestinal interventions. He joined the Vanderbilt faculty in 1992. He is currently the vice chair of Faculty Affairs, associate dean for Faculty Affairs and chair of the VUH credentials committee. His current clinical and research interests focus on the treatment of primary and metastatic liver malignancies through either percutaneous or endovascular regional therapies.

Section: Interventional Radiology
 
Publications
Kensinger CD, Sexton KW, Baron CM, Lipnik AJ, Meranze SG, Gorden DL. Management of portal vein thrombosis after liver transplantation with a combined open and endovascular approach. Liver Transpl. 2015 Jan; 21(1): 132-4. PMID: 25262999, DOI: 10.1002/lt.24011, ISSN: 1527-6473.

Benson AB, D'Angelica MI, Abrams TA, Are C, Bloomston PM, Chang DT, Clary BM, Covey AM, Ensminger WD, Iyer R, Kelley RK, Linehan D, Malafa MP, Meranze SG, Park JO, Pawlik T, Posey JA, Scaife C, Schefter T, Sigurdson ER, Tian GG, Vauthey JN, Venook AP, Yen Y, Zhu AX, Hoffmann KG, McMillian NR, Sundar H. Hepatobiliary cancers, version 2.2014. J Natl Compr Canc Netw. 2014 Aug; 12(8): 1152-82. PMID: 25099447, PII: 12/8/1152, ISSN: 1540-1413.

Vedantham S, Thorpe PE, Cardella JF, Grassi CJ, Patel NH, Ferral H, Hofmann LV, Janne d'Othée BM, Antonaci VP, Brountzos EN, Brown DB, Martin LG, Matsumoto AH, Meranze SG, Miller DL, Millward SF, Min RJ, Neithamer CD, Rajan DK, Rholl KS, Schwartzberg MS, Swan TL, Towbin RB, Wiechmann BN, Sacks D, . Quality improvement guidelines for the treatment of lower extremity deep vein thrombosis with use of endovascular thrombus removal. J Vasc Interv Radiol. 2009 Jul; 20(7 Suppl): S227-39. PMID: 19560003, PII: S1051-0443(09)00313-3, DOI: 10.1016/j.jvir.2009.04.016, ISSN: 1535-7732.

Brown DB, Cardella JF, Sacks D, Goldberg SN, Gervais DA, Rajan DK, Vedantham S, Miller DL, Brountzos EN, Grassi CJ, Towbin RB, , Angle JF, Balter S, Clark TW, Cole PE, Drescher P, Freeman NJ, Georgia JD, Haskal Z, Hovsepian DM, Kilnani NM, Kundu S, Malloy PC, Martin LG, McGraw JK, Meranze SG, Meyers PM, Millward SF, Murphy K, Neithamer CD, Omary RA, Patel NH, Roberts AC, Schwartzberg MS, Siskin GP, Smouse HR, Swan TL, Thorpe PE, Vesely TM, Wagner LK, Wiechmann BN, Bakal CW, Lewis CA, Nemcek AA, Rholl KS. Quality improvement guidelines for transhepatic arterial chemoembolization, embolization, and chemotherapeutic infusion for hepatic malignancy. J Vasc Interv Radiol. 2009 Jul; 20(7 Suppl): S219-S226, S226.e1. PMID: 19560002, PII: S1051-0443(09)00333-9, DOI: 10.1016/j.jvir.2009.04.033, ISSN: 1535-7732.

Rajan DK, Patel NH, Valji K, Cardella JF, Brown DB, Brountzos EN, Clark TW, Grassi CJ, Meranze SG, Miller DL, Neithamer CD, Rholl K, Roberts A, Schwartzberg MS, Swan TT, Thorpe PE, Towbin RB, Sacks D, . Quality improvement guidelines for percutaneous management of acute limb ischemia. J Vasc Interv Radiol. 2009 Jul; 20(7 Suppl): S208-18. PMID: 19560001, PII: S1051-0443(09)00307-8, DOI: 10.1016/j.jvir.2009.04.010, ISSN: 1535-7732.

Thomas BP, Bream PR, Milstone AP, Meranze SG. Treatment of SVC syndrome and hemoptysis in a patient with mediastinal fibrosis. Emerg Radiol [print-electronic]. 2006 Jul; 12(5): 240-3. PMID: 16572307, DOI: 10.1007/s10140-005-0442-z, ISSN: 1070-3004.

Anderson CD, Meranze S, Bream P, Gorden DL, Wright JK, Pinson CW, Chari RS. Contralateral portal vein embolization for hepatectomy in the setting of hepatic steatosis. Am Surg. 2004 Jul; 70(7): 609-12. PMID: 15279184, ISSN: 0003-1348.

Thomas KT, Bream PR, Berlin J, Meranze SG, Wright JK, Chari RS. Use of percutaneous drainage to treat hepatic abscess after radiofrequency ablation of metastatic pancreatic adenocarcinoma. Am Surg. 2004 Jun; 70(6): 496-9. PMID: 15212401, ISSN: 0003-1348.

Martin LG, Rundback JH, Sacks D, Cardella JF, Rees CR, Matsumoto AH, Meranze SG, Schwartzberg MS, Silverstein MI, Lewis CA, . Quality improvement guidelines for angiography, angioplasty, and stent placement in the diagnosis and treatment of renal artery stenosis in adults. J Vasc Interv Radiol. 2003 Sep; 14(9 Pt 2): S297-310. PMID: 14514837.

Brown NJ, Kim KS, Chen YQ, Blevins LS, Nadeau JH, Meranze SG, Vaughan DE. Synergistic effect of adrenal steroids and angiotensin II on plasminogen activator inhibitor-1 production. J. Clin. Endocrinol. Metab. 2000 Jan; 85(1): 336-44. PMID: 10634408, DOI: 10.1210/jcem.85.1.6305, ISSN: 0021-972X.

Frias PA, Meranze SG, Graham TP, Doyle TP. Relief of right ventricular to pulmonary artery conduit stenosis using a self-expanding stent. Catheter Cardiovasc Interv. 1999 May; 47(1): 52-4. PMID: 10385160, DOI: 10.1002/(SICI)1522-726X(199905)47:1<52::AID-CCD11>3.0.CO;2-N, ISSN: 1522-1946.

Rose DM, Chapman WC, Brockenbrough AT, Wright JK, Rose AT, Meranze S, Mazer M, Blair T, Blanke CD, Debelak JP, Pinson CW. Transcatheter arterial chemoembolization as primary treatment for hepatocellular carcinoma. Am. J. Surg. 1999 May; 177(5): 405-10. PMID: 10365881, PII: S0002-9610(99)00069-0, ISSN: 0002-9610.

Drougas JG, Anthony LB, Blair TK, Lopez RR, Wright JK, Chapman WC, Webb L, Mazer M, Meranze S, Pinson CW. Hepatic artery chemoembolization for management of patients with advanced metastatic carcinoid tumors. Am. J. Surg. 1998 May; 175(5): 408-12. PMID: 9600289, PII: S0002961098000427, ISSN: 0002-9610.

Vitola JV, Delbeke D, Meranze SG, Mazer MJ, Pinson CW. Positron emission tomography with F-18-fluorodeoxyglucose to evaluate the results of hepatic chemoembolization. Cancer. 1996 Nov 11/15/1996; 78(10): 2216-22. PMID: 8918417, PII: 10.1002/(SICI)1097-0142(19961115)78:10<2216::AID-CNCR25>3.0.CO;2-0, ISSN: 0008-543X.

Hallisey MJ, Rees JH, Meranze SG, Siegfeld A, Lowe R. Use of angioplasty in the prevention and treatment of coronary--subclavian steal syndrome. J Vasc Interv Radiol. 1995 Jan; 6(1): 125-9. PMID: 7703577, ISSN: 1051-0443.

Hallisey MJ, Meranze SG, Parker BC, Rholl KS, Miller WJ, Katzen BT, van Breda A. Percutaneous transluminal angioplasty of the abdominal aorta. J Vasc Interv Radiol. 1994 Sep; 5(5): 679-87. PMID: 8000115, ISSN: 1051-0443.

Lind CD, Malisch TW, Chong WK, Richards WO, Pinson CW, Meranze SG, Mazer M. Incidence of shunt occlusion or stenosis following transjugular intrahepatic portosystemic shunt placement. Gastroenterology. 1994 May; 106(5): 1277-83. PMID: 8174889, PII: S0016508594001484, ISSN: 0016-5085.