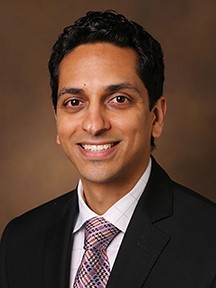 Rohan Chitale, MD
Associate Professor of Neurological Surgery
Rohan Chitale, MD Associate Professor of Neurological Surgery Associate Program Director
Rohan Chitale, MD, is the Neurosurgery Residency Associate Program Director and an Associate Professor of Neurological Surgery at Vanderbilt University Medical Center, with a specialty in open cerebrovascular and endovascular neurosurgery.
Dr. Chitale received his undergraduate degree from the University of Pennsylvania where he graduated magna cum laude. He received his medical degree from Jefferson Medical College in Philadelphia, PA and is a member of Alpha Omega Alpha.  He completed his neurosurgery residency and endovascular neurosurgery fellowship at Thomas Jefferson University Hospital in Philadelphia. His areas of clinical expertise include cerebral aneurysms, arteriovenous malformations, stroke, fistulas, cavernomas, intracerebral hemorrhage, and other neurovascular disorders of the brain and spine.
His academic interests focus on applications of engineering and robotics in medicine, clinical outcomes research, simulator training, and resident education. He has served as an investigator for multiple national clinical trials and registries.  He currently serves as Associate Residency Program Director for the Vanderbilt Neurosurgery Residency Program.