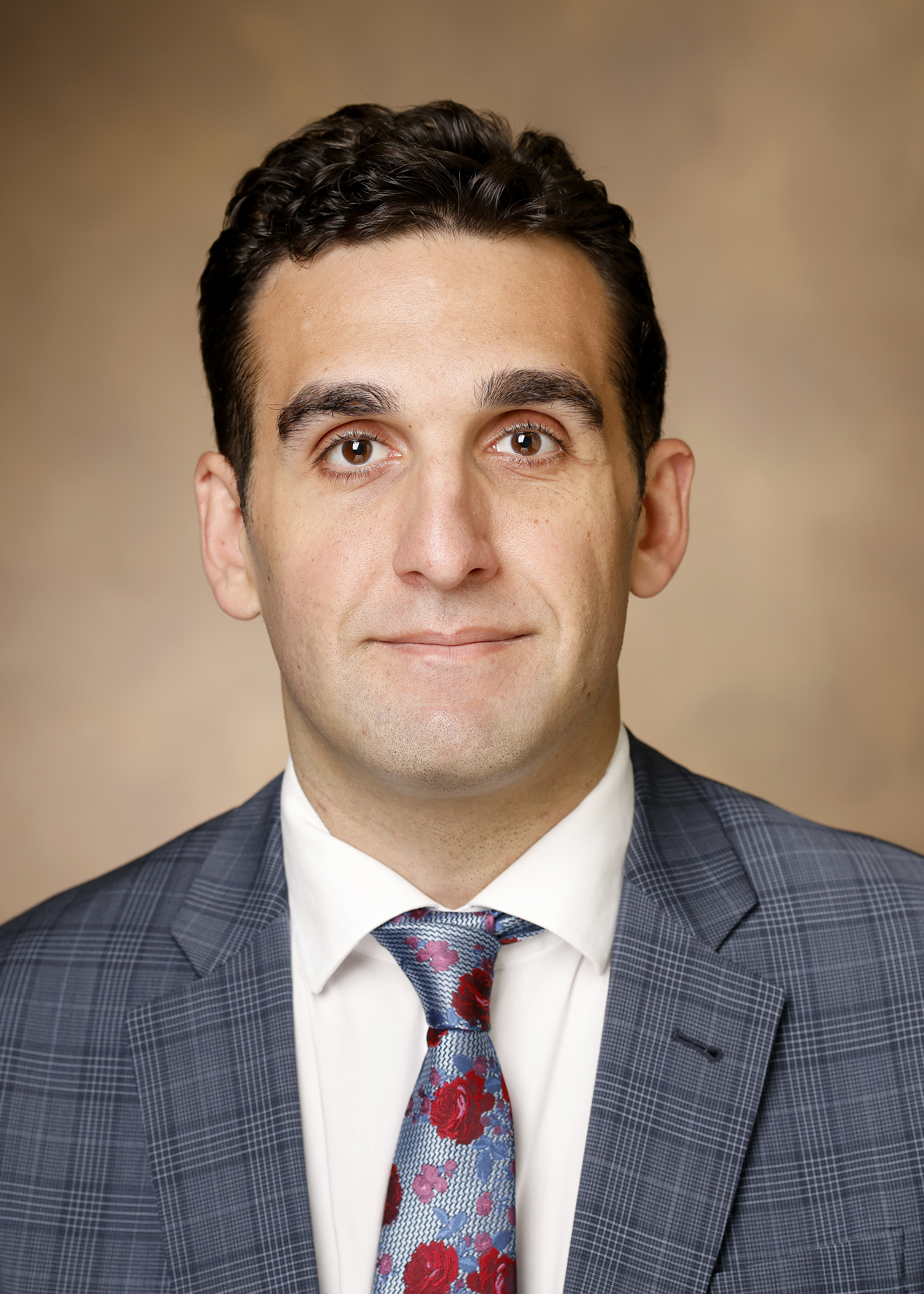 Nicholas Voutsinas, MD, RPVI
Radiology & Radiological Sciences
Assistant Program Director
Integrated Interventional Radiology Residency
Nicholas Voutsinas, MD, is an Interventional Radiology Attending and Assistant Professor in the Department of Radiology and Radiologic Sciences. Dr. Voutsinas grew up in Staten Island, New York. He attended the Sophie Davis School of Biomedical Education at the City College of New York (CUNY), a seven-year BS/MD Program in New York City.
After obtaining his BS degree in Biomedical Sciences, he received his MD degree from the SUNY Downstate College of Medicine. Dr. Voutsinas completed his internal medicine preliminary year at Staten Island University Hospital, and then moved on to the Icahn School of Medicine at Mount Sinai Hospital for his diagnostic radiology and interventional radiology residencies, serving as chief resident of the interventional radiology residency in his final year.
After working for one year as an attending interventional radiologist at Northwell Health in Long Island and Queens, New York, Dr. Voutsinas joined the Vanderbilt faculty as an attending and Assistant Program Director of the Integrated Interventional Radiology Residency. His clinical and research interests included interventional oncology (radioembolization, chemoembolization, ablation), women's health (uterine artery embolization, gonadal vein embolization), venous disease, and biliary endoscopy/lithotripsy. Dr. Voutsinas is excited to be at Vanderbilt and collaborate with his wonderful colleagues across not just radiology, but the entire hospital.
PUBLICATIONS
Lewis S, Ganti A, Argiriadi P, Rosen A, Hectors S, Semaan S, Song C, Peti S, Segall M, George K, Jaikaran V, Villa S, Kestenbaum D, Voutsinas N, Doucette J, Tewari A, Rastinehad AR, Taouli B. Prostate MRI using a rigid two-channel phased-array endorectal coil: comparison with phased array coil acquisition at 3 T. Cancer Imaging. 2022;22(1):15.
Galla N, Maron SZ, Voutsinas N, Sher A, Tangel M, Jue JS, Sharma H, Lookstein RA, Fischman AM, Rastinehad AR. "Adjunctive Coil Embolization of the Prostatic Arteries After Particle Embolization for Prostatic Artery Embolization." Cardiovascular Interventional Radiology. 2021. doi: 10.1007/s00270-021-02964-5
Gupta YS, Finkelstein M, Manna S, Toussie D, Bernheim A, Little BP, Concepcion J, Maron SZ, Jacobi A, Chung M, Kukar N, Voutsinas N, Cedillo MA, Fernandes A, Eber C, Fayad ZA, Hota P. "Coronary artery calcification in COVID-19 patients: an imaging biomarker for adverse clinical outcomes." Clin Imaging. 2021. doi: 10.1016/j.clinimag.2021.02.016
Kwon YJ, Toussie D, Finkelstein M, Cedillo MA, Maron SZ, Manna S, Voutsinas N, Eber C, Jacobi A, Bernheim A, Gupta YS, Chung MS, Fayad ZA, Oermann EK, Costa AB. "Combining Initial Radiographs and Clinical Variables Improves Deep Learning Prognostication of Patients with COVID-19 from the Emergency Department." Radiology: Artificial Intelligence. 2020. doi: 10.1148/ryai.2020200098
Voutsinas N, Sun J, Chung M, Jacobi A, Genes N, Nassisi D, Halton K, Delman B. "Improving Communication Between the Emergency Department and Radiology Department with a Novel Web-Based Tool in an Urban Academic Center." Current Problems in Diagnostic Radiology. 2021. doi: 10.1067/j.cpradiol.2020.09.016
Winoker JS, Wajswol E, Falagario U, Maritini A, Moshier E, Voutsinas N, Knauer CJ, Sfakianos JP, Lewis SC, Taouli BA, Rastinehad AR. "Transperineal versus transrectal targeted biopsy with use of electromagnetically-tracked MR/US fusion guidance platform for the detection of clinically significant prostate cancer." Urology. 2020; doi: 10.1016/j.urology.2020.07.072
Manna S, Maron SZ, Cedillo MA, Voutsinas N, Toussie D, Finkelstein M, Steinberger S, Chung M, Bernheim A, Eber C, Gupta YS, Concepcion J, Libes R, Jacobi A. "Spontaneous subcutaneous emphysema and pneumomediastinum in non-intubated patients with COVID-19." Clin Imaging. 2020; 67:207-213. doi: 10.1016/j.clinimag.2020.08.013
Goldman D, Voutsinas N, Carlon T, Cedillo M, Posham R, Young L, Marinelli B, Wang J, Fischman A. "Adaptation: An Interventional Radiology Residency Response to COVID-19." Acad Radiol. 2020; doi: 10.1016/j.acra.2020.06.007
Toussie D, Voutsinas N, Finkelstein M, Cedillo MA, Manna S, Maron SZ, Jacobi A, Chung M, Bernheim A, Eber C, Concepcion J, Fayad Z, Gupta YS. "Clinical and Chest Radiography Features Determine Patient Outcomes In Young and Middle Age Adults with COVID-19." Radiology. 2020; 297(1): E197-E206. doi: 10.1148/radiol.2020201754
Voutsinas N, Patel RS, Bishay VL, Ranade M, Nowakowski FS, Kim E, Fischman AM, Divino CM, Marin ML, Lookstein RA. "Pre-operative endovascular occlusion for unresectable metastatic carcinoid tumor: technique and initial results." Abdom Radiol. 2020; 45(8):2554-2560. doi: 10.1007/s00261-020-02534-2
Wajswol E, Winoker JS, Anastos H, Falagario U, Okhawere K, Martini A, Treacy P, Voutsinas N, Knauer C, Sfakianos J, Lewis S, Taouli BA, Rastinehad AR. "A Cohort of Transperineal Electromagnetically Tracked MR/US Fusion Guided Biopsy: Assessing the Impact of Inter-Reader Variability on Cancer Detection." BJU Int. 2020;125(4):531-540. doi: 10.1111/bju.14957
Webb RL, Landau E, Klein D, DiPoce J, Volkin D, Belman J, Voutsinas N, A Brenner. "Effects of Varying Serum Glucose Levels on 18F-FDG Biodistribution." Nuclear Medicine Communications 36.7 (2015): 717-21. doi: 10.1097/MNM.0000000000000319.
Moisello C, Meziane HB, Kelly S, Perfetti B, Kvint S, Voutsinas N, Blanco D, Quartarone A, Tononi G, Ghilardi MF. "Neural Activations during Visual Sequence Learning Leave a Trace in Post-Training Spontaneous EEG." PLoS ONE 8(6): e65882. doi: 10.1371/journal.pone.0065882 (2013)