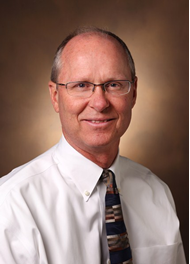 Gary T. Smith, M.D.
Radiology & Radiological Sciences
Delivery Address
Medical Center North
1161 21st Avenue South, CCC-1118
Nashville
Tennessee
37232-2675
Gary T. Smith, MD, is an honors graduate from the University of Tennessee. He earned his medical degree from the University of Texas Health Science Center at Dallas, Southwestern Medical School and completed residencies in Internal Medicine at the University of Tennessee Medical Center and in Nuclear Medicine at U.C.L.A. and U.T. Medical Center at Knoxville. He practiced at the University of Tennessee Graduate School of Medicine from 1990-2009 before joining the Vanderbilt faculty as Professor of Clinical Radiology and Radiological Sciences. He serves as the Chief, Nuclear Medicine and PET/CT at Nashville Veterans Administration Medical Center. His research interests include: PET/CT clinical applications and volumetric CT for quantification of lung nodule growth rate.

Section: Nuclear Medicine
Publications
Deppen SA, Liu E, Blume JD, Clanton J, Shi C, Jones-Jackson LB, Lakhani V, Baum RP, Berlin J, Smith GT, Graham M, Sandler MP, Delbeke D, Walker RC. Safety and Efficacy of 68Ga-DOTATATE PET/CT for Diagnosis, Staging, and Treatment Management of Neuroendocrine Tumors. J. Nucl. Med [print-electronic]. 2016 May; 57(5): 708-14. PMID: 26769865, PII: jnumed.115.163865, DOI: 10.2967/jnumed.115.163865, ISSN: 1535-5667.

Smith GT, Rahman AR, Li M, Moore B, Gietema H, Veronesi G, Massion PP, Walker RC. Reproducibility of Volumetric Computed Tomography of Stable Small Pulmonary Nodules with Implications on Estimated Growth Rate and Optimal Scan Interval. PLoS ONE. 2015; 10(9): e0138144. PMID: 26379272, PMCID: PMC4575025, PII: PONE-D-15-09876, DOI: 10.1371/journal.pone.0138144, ISSN: 1932-6203.

Drozdovitch V, Brill AB, Mettler FA, Beckner WM, Goldsmith SJ, Gross MD, Hays MT, Kirchner PT, Langan JK, Reba RC, Smith GT, Bouville A, Linet MS, Melo DR, Lee C, Simon SL. Nuclear medicine practices in the 1950s through the mid-1970s and occupational radiation doses to technologists from diagnostic radioisotope procedures. Health Phys. 2014 Oct; 107(4): 300-10. PMID: 25162420, PMCID: PMC4147674, PII: 00004032-201410000-00003, DOI: 10.1097/HP.0000000000000107, ISSN: 1538-5159.

Walker RC, Smith GT, Liu E, Moore B, Clanton J, Stabin M. Measured human dosimetry of 68Ga-DOTATATE. J. Nucl. Med [print-electronic]. 2013 Jun; 54(6): 855-60. PMID: 23516312, PMCID: PMC4472480, PII: jnumed.112.114165, DOI: 10.2967/jnumed.112.114165, ISSN: 1535-5667.