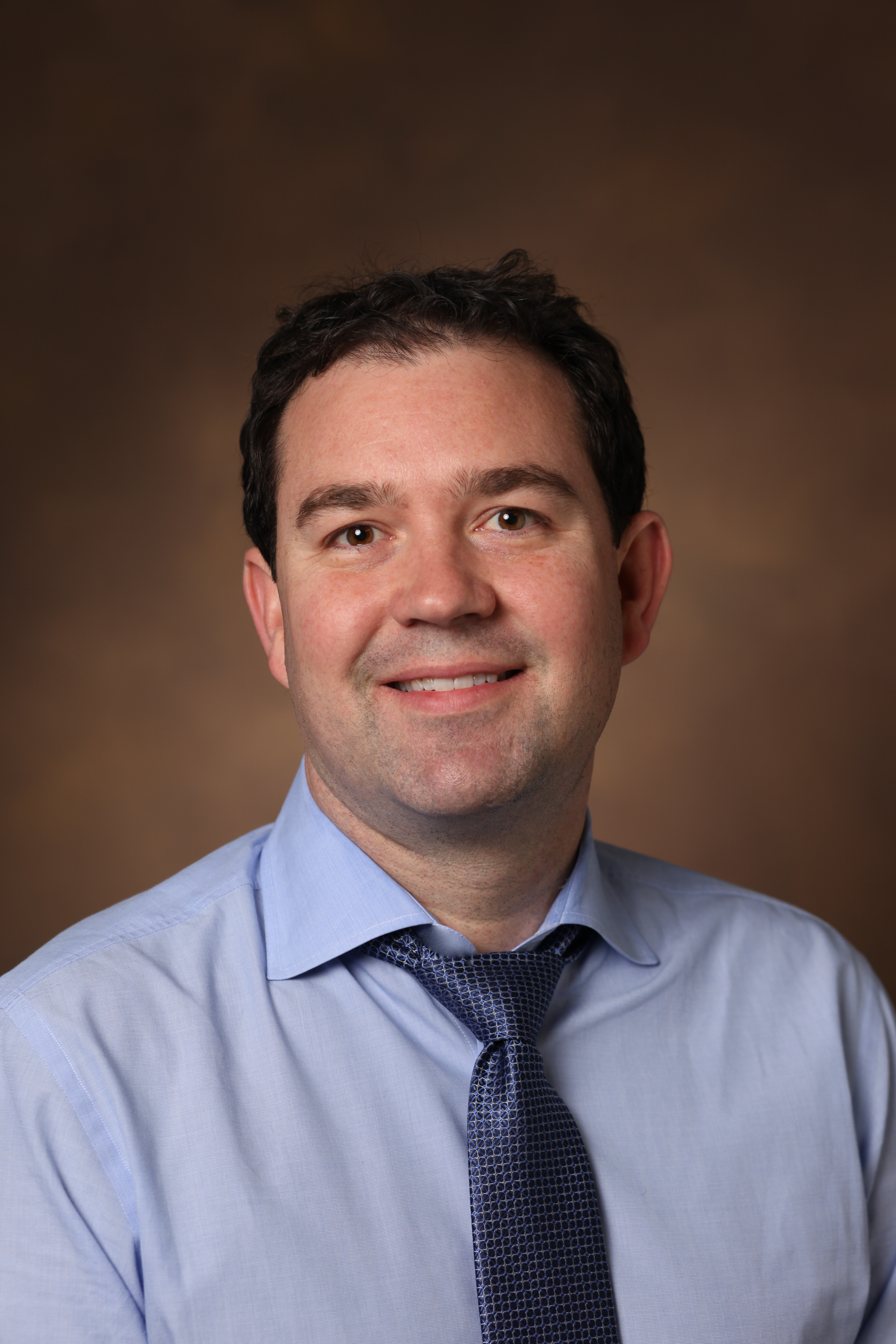 Colin D. McKnight, M.D.
Radiology & Radiological Sciences
Medical Center North
1161 21st Avenue South, CCC-1118
Nashville
Tennessee
37232-2675
Colin D. McKnight, M.D., is an Associate Professor of Radiology and Radiological Sciences within the division of Neuroradiology at Vanderbilt University Medical Center and Medical Director of Inpatient Radiology for Vanderbilt University Hospital. He joined the VUMC faculty as an Assistant Professor in 2016 and was promoted to Associate Professor in 2022.
Dr. McKnight graduated from Duke University in 2004 where he received a B.S. in biology with distinction and minors in economics and chemistry. He received an intramural research training award where he conducted neurogenetics research for one year at the National Institutes of Health. He subsequently returned to Oregon and attended Oregon Health and Sciences University where he obtained his M.D., graduated cum laude and received Alpha Omega Alpha membership.
Dr. McKnight conducted his diagnostic radiology and neuroradiology fellowship at the University of Michigan, where he received awards for Outstanding House Officer Research Excellence in 2014, the Radiological Society of North America Fellowship grant in 2015 and the Roentgen Research Award in 2016.
Since joining the faculty at Vanderbilt University Medical Center, Dr. McKnight has focused his research efforts on advanced imaging pertaining to the glympatic system (Glial LYMPHATIC system) which is a collection of emerging concepts pertaining to how cerebrospinal fluid functions to clear central nervous system waste products. He is a Co-Investigator on numerous related grants funded through the National Institutes of Health, the Department of Defense and the National Multiple Sclerosis Society. Dr. McKnight was awarded the VUMC Catalyst Research award in 2020. He received the 2021 Radiological Society of North America Research Scholar Award and is the primary investigator on a grant entitled: Magnetization Transfer Imaging of the Human Spinal Cord and Cerebrospinal fluid to Characterize Myelin Metabolism in Multiple Sclerosis.
Dr. McKnight serves on the Vanderbilt Radiology Resident Selection Committee and the Department or Radiology Amplifying innovation Committee. He is a member of the International Hydrocephalus Imaging Working Group, the Radiological Society of North America, the America Society of Neuroradiologists and the Association of University Radiologists.
Email: colin.d.mcknight@vumc.org
Selected Publications:
Devan SP, Jiang X, Luo G, Xie J, Quirk J, Engelbach JA, Cui J, Zu Z, Attia A, Garbow JR, Gore JC, McKnight CD, Kirschner AN, Xu J. New insights into differentiation of brain tumors and radiation necrosis using selective cell size MRI. Cancer Research, Accepted 7/22.
Hett K, McKnight CD, Eisma JJ, Elenberger J, Lindsey JS, Considine CM, Claassen DO, Donahue MJ. Parasagittal dural space and cerebrospinal fluid (CSF) flow across the lifespan in healthy adults. Fluids Barriers CNS. 2022 Mar 21;19(1):24.
Parra SP, Heckers SH, Wilcox WR, McKnight CD, Jinnah HA. The emerging neurological spectrum of AARS2-associated disorders. Parkinsonism Relat Disord. 2021 Nov 10;93:50-54
Spilseth B, McKnight CD, Li M, Fried J, Park C, Yi P, James B, Lehman CD, Wang XJ, Phalke V, Pakkal M, Baruah D, Khine P, Fajardo LL. AUR-RRA Review: Logistics of Academic-Industry Partnerships in Artificial Intelligence. Acad Radiol. 2021 Sep 21:S1076-6332(21)00355-X.
McKnight CD, Trujillo P, Lopez AM, Petersen K, Considine C, Lin Y, Yan Y, Kang H, Donahue M, Claassen DO. Diffusion along perivascular spaces reveals evidence supportive of glymphatic function impairment in Parkinson disease. Parkinson's Disease and Related Disorders 2021 Aug;89:98-104.
Schilling KG, Rheault F… McKnight CD et al. Tractography dissection variability: what happens when 42 groups dissect 14 white matter bundles on the same dataset? Neuroimage 2021Aug 22;243:118502.
Johnson SE, McKnight CD, Jordan LC, Claassen DO, Waddle S, Lee C, Garza M, Patel NJ, Davis LT, Pruthi S, Trujilio P, Chitale R, Fusco M, Donahue MJ. Choroid plexus perfusion in sickle cell disease and myoamoya vasculopathy: implications for glymphatic flow. J Cereb Blood Flow Metab 2021 Apr28 (ahead of print)
McKnight CD, Rouleau RM, Donahue MJ, Claassen DO. The Regulation of Cerebrospinal Fluid Flow and Its Relevance to the Glymphatic System. Curr Nuerol Neurosci Rep 2020 Oct;20(12):58.
Herr, K, George E, Agarwal V, McKnight CD, Jiang L, Jawahar A, Pakkal M, Ulano A, Ganeshan D. Aligning the Implicit Curriculum with Explicit Curriculum in Radiology. Acad Radiol 2020 Feb;27(9):1268-1273.
Johnson SE, McKnight CD, Lants SK, Juttukonda MR, Fusco M, Chitale R, Donahue PC, Claassen DO, Donahue MJ. Choroid plexus perfusion and intracranial cerebrospinal fluid changes after angiogenesis. J Cereb Blood Flow Metab 2019 Sep;40(8):1658-1671.
McKnight CD, Motuzas CL, Srinivasan A. Approach to Brain Neoplasms: What the Oncologist Wants to Know. Seminars in Roentgenology 2018 Jan;53(1):6-22.
McKnight CD, Parmar HA, Watcharotone K, Mukherji MK. Reassessing the Anatomic Origin of the Juvenile Nasopharyngeal Angiofibroma. Journal of Computer Assisted Tomography 2017 Jul/Aug;41(4):559-564.
McKnight CD, Kelly AM, Petrou M, Nidecker AE, Lorincz MT, Altaee DK, Gebarski SS, Foerster B. A Simplified Approach to Encephalitis and its Mimics: Key Clinical Decision Points in the Setting of Specific Imaging Abnormalities. Academic Radiology. 2017 Jun;24(6):667-676.
McKnight CD, Glastonbury CM, Ibrahim M, Rivas-Rodriguez F, Srinivasan A. Techniques and Approaches for Safe, High Yield CT Guided Head and Neck Biopsies. American Journal of Roentgenology. 2017 Jan;208(1):76-83.
Baer AH, McKnight CD, Ibrahim M, Parmar HA. Imaging of the Spinal Cord: Classic syndromes and Non-neoplastic lesions. Neurographics. 2015 Nov; 5(6):238-253.
McKnight CD, Watcharotone K, Ibrahim M, Christodoulou E, Baer AH, Parmar HA. Adaptive statistical iterative reconstruction: Reducing dose while preserving image quality in the pediatric head CT examination. Pediatric Radiology. 2014 Aug;44(8):997-1003.
Baer AH, Parmar HA, McKnight CD, Gemmete JJ, DiPietro MA, Kasten SJ, Mukherji SK. Head and neck Vascular Anomalies in the pediatric population. Neurographics. 2014 March;4:2-19.
McKnight CD, Winn SR, Gong X, Hansen JE, Wax MK. Revascularization of rat fasciocutaneous flap using CROSSEAL(R) with VEGF protein or plasmid DNA expressing VEGF. Otolaryngology Head Neck Surg. 2008 Aug;139(2):245-9.