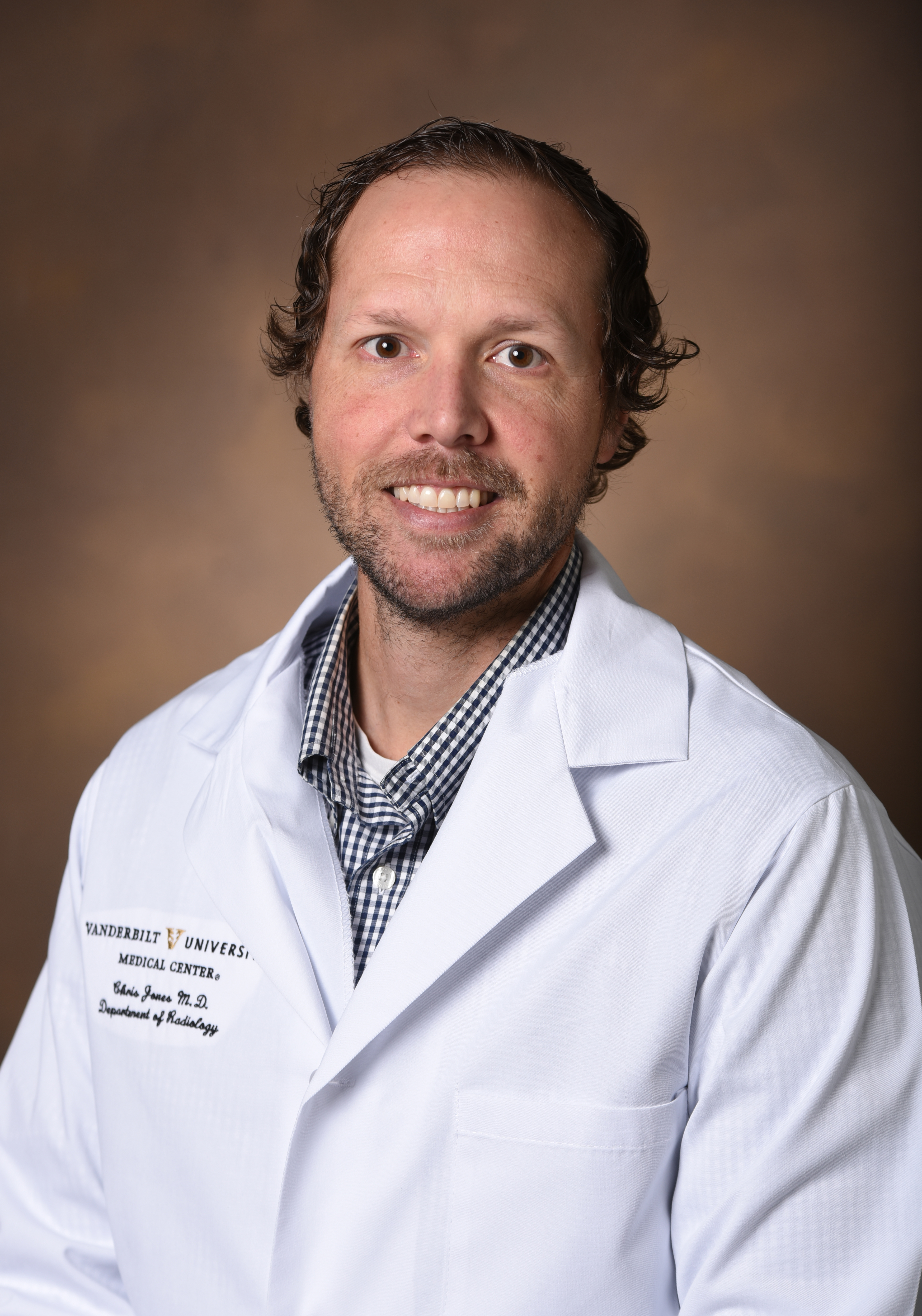 Christopher S. Jones, M.D.
Clinical Radiology & Radiological Sciences
Delivery Address
Medical Center North
1161 21st Avenue South, CCC-1118
Nashville
Tennessee
37232-2675
Christopher S. Jones, MD, is a graduate of Pennsylvania State University and earned his medical degree from Drexel University College of Medicine. He completed a residencies in Diagnostic Radiology and Transitional/Internal Medicine at Albert Einstein Medical Center and a fellowship in Cross Sectional Imaging at Johns Hopkins Hospital. He joined the Vanderbilt faculty in 2018 as Assistant Professor of Clinical Radiology and Radiological Sciences, and he was appointed Section Chief of Body Imaging in 2019. Dr. Jones is a member of the American College of Radiology, American Roentgen Ray Society and the Radiological Society of North America.

Section: Body Imaging
Publications
Sheikhbahaei S, Jones CS, Porter KK, Rowe SP, Gorin MA, Baras AS, Pierorazio PM, Ball MW, Higuchi T, Johnson PT, Solnes LB, Epstein JI, Allaf ME, Javadi MS. Defining the Added Value of 99mTc-MIBI SPECT/CT to Conventional Cross-Sectional Imaging in the Characterization of Enhancing Solid Renal Masses. Clin Nucl Med. 2017 Apr; 42(4): e188-e193. PMID: 28114223, DOI: 10.1097/RLU.0000000000001534, ISSN: 1536-0229.

Jones CS, Verde F, Johnson PT, Fishman EK. Nontraumatic Subclavian Artery Abnormalities: Spectrum of MDCT Findings. AJR Am J Roentgenol [print-electronic]. 2016 Aug; 207(2): 434-41. PMID: 27187867, DOI: 10.2214/AJR.15.15685, ISSN: 1546-3141.