TOXICOLOGY QUESTION OF THE WEEK
AUGUST 26, 2022
WHAT ARE THE PATHOPHYSIOLOGY AND CLINICAL MANIFESTATIONS OF SEROTONIN SYNDROME? (AND WELCOME TO THE QUESTION OF THE WEEK)
Welcome to the Toxicology Question of the Week. You are on a distribution list to receive these short toxicology discussions every week (or so). This is not intended to be a comprehensive review of anything, but to discuss a specific aspect of poisoning or exposures. Contributors to this discussion are the Poison Specialists, Fellows rotating on the Toxicology Service, Pharm Ds, and Toxicologists. If you would like to read some of the previous Questions go to the www.tnpoisoncenter.org web page and explore the Health Care Professionals tab. So let us begin.
Serotonin syndrome (SS) is caused by increased intra-synaptic serotonin (5-hydroxytyrptamine or 5-HT) in the Central nervous system (CNS). Serotonin (5-HT) is a neurotransmitter produced from L-tryptophan in the CNS. There are 14 serotonin receptor subtypes. Serotonergic neurons are found in both the peripheral and central nervous system. 5-HT receptors are found in the uterus, GI tract, heart, blood vessels, and platelets.
Drugs that cause 5-HT toxicity either increase pre-synaptic 5-HT by increasing the production and inhibiting the metabolism of 5-HT OR they amplify serotonergic effects by increasing 5-HT release into the synapse and inhibiting uptake from the synapse. (See attached below)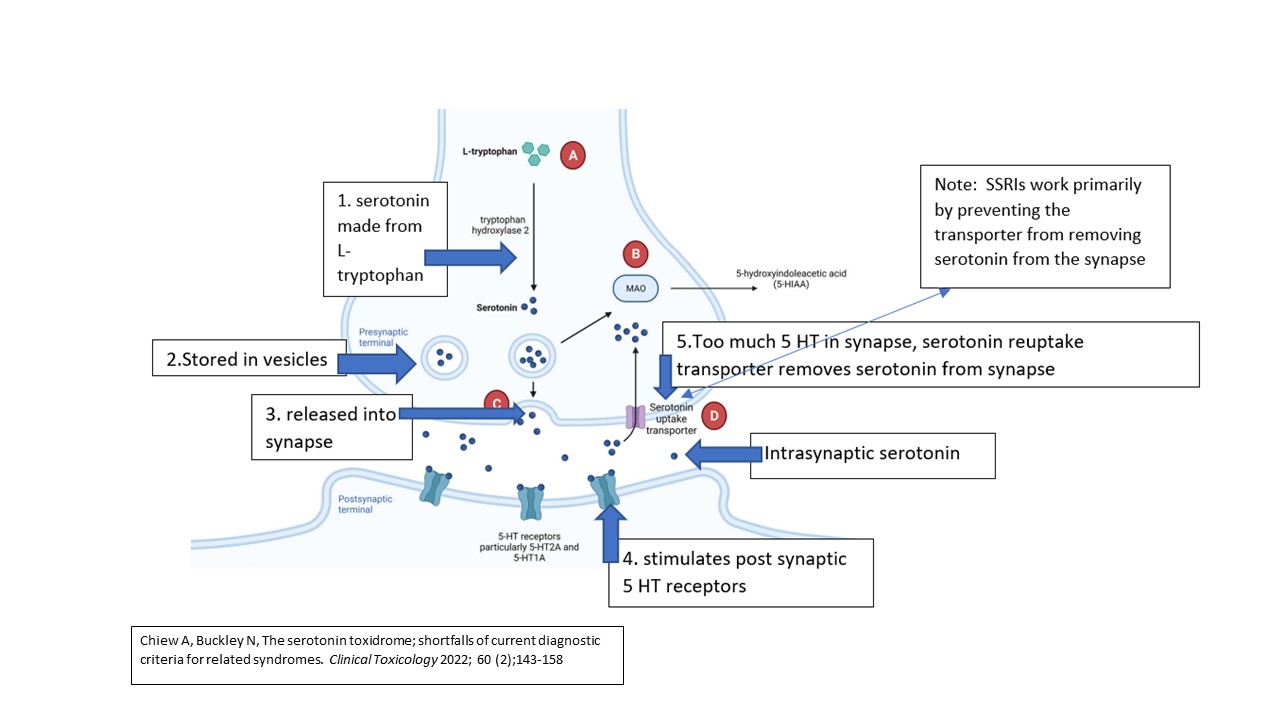 Clinical manifestations occur within 6 hours of the precipitating event in 60% of people. The classic triad of clinical features is neuromuscular excitation (clonus, hyperreflexia, myoclonus, rigidity), ANS excitation (hyperthermia, tachycardia), and altered mental status. Clonus and hyperreflexia are strongly associated with serotonin toxicity.
Severe toxicity is manifest by coma, rigidity, tonic-clonic seizures, and hyperthermia.
Treatment is primarily supportive (cooling measures, rehydration, benzodiazepines for agitation, treatment of seizures). Cyproheptadine, a nonspecific 5-HT blocker, is sometimes administered although efficacy in improving or shortening the symptoms has not been proven. It has the disadvantage of requiring oral administration.
---
Question by Donna Seger MD.
---
Comment: It is important to make the diagnosis of SS in a setting where there is a clear serotonergic pathophysiological mechanism. While case reports of potential drugs causing serotonin syndrome abound, the clinical features of serotonin syndrome are non-specific and easily mimicked by alternative etiologies (eg, sepsis). If a patient has signs and symptoms consistent with SS but the ingested drug does not increase serotonin, they don't have drug-induced serotonin toxicity. Clinically, there is a spectrum (from mild to severe) of toxicity related to increasing CNS serotonin concentrations. For example, hyperreflexia may be the only serotonergic symptom. At the other end of the spectrum is the manifestation of all the symptoms consistent with severe toxicity. ds
---
I am interested in any questions you would like addressed in the Question of the Week. Please email me with any suggestions at donna.seger@vumc.org.
DONNA SEGER, MD
Professor Emeritus
Department of Medicine
VUMC
Tennessee Poison Center
24/7 toll-free Poison Help Medical Hotline
1-800-222-1222
 @tnpoisoncenter