TOXICOLOGY QUESTION OF THE WEEK
September 2, 2022
HOW DOES THE NEW BOXED WARNING FOR BENZODIAZEPINES EFFECT CLINICAL PRACTICE? 
ABOUT BENZODIAZEPINES
Benzodiazepines (Figure 1) bind to post-synaptic gamma-aminobutyric acid (GABA) receptors within the brain leading to neuronal hyperpolarization and decreased neuronal activity.1 This binding causes anticonvulsant, anxiolytic, and hypnotic effects making them efficacious for the treatment of generalized anxiety disorder, panic disorder, insomnia, seizures, and social phobia. Common side effects include drowsiness, dizziness, weakness. Symptoms of benzodiazepine withdrawal include anxiety, delirium, insomnia, aches, and seizures. Currently, a Boxed Warning states that taking benzodiazepines concurrently with opioids can lead to extreme sedation, slow and ineffective breathing, coma, and even death.2
NEW BOXED WARNING
In September of 2020, the FDA required the Boxed Warning for all benzodiazepines to be updated to include warnings about the risks of abuse, misuse, addiction, physical dependence, and withdrawal reactions and to specifically address the issue of concomitant use of opioids.3 The FDA required prescribing information and Medication Guides to reflect these changes (Figure 2).
EVIDENCE SUPPORTING NEW BOXED WARNING
In 2018, approximately 50% of patients that were prescribed benzodiazepines received a two month or longer supply.3 In 2019, an estimated 92 million benzodiazepine prescriptions were dispensed, further demonstrating the widespread use nationwide.3 The FDA evaluated 104 cases from the FDA Adverse Event Reporting System database of abuse, dependence, or withdrawal involving a benzodiazepine as a single drug substance and found that approximately 80% of the cases described benzodiazepine withdrawal including CNS effects, cardiovascular effects, and gastrointestinal effects, even when tapered.4
CLINICAL PRACTICE TAKEAWAYS
• Prescribe the lowest dose of benzodiazepines for the shortest time possible as physical dependences may occur when taken consistently for several days or weeks, even as prescribed.
• Abruptly stopping or too quickly reducing the dosage can result in life-threatening withdrawal reactions, including seizures.3
• Taper benzodiazepines to avoid withdrawal:
o Use a gradual taper to discontinue benzodiazepines or reduce the dosage.

o There are no standard benzodiazepine tapering schedules suitable for all patients.

o A patient-specific plan should be used to taper the dosage of the benzodiazepine gradually.5

o If withdrawal symptoms occur, resume previous dose and discontinue on a less rapid schedule.1
Figure 1. BENZODIAZEPINES3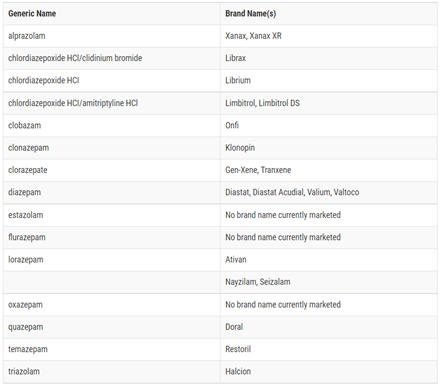 Figure 2. OLD VERES NEW FDA RECOMMENDATIONS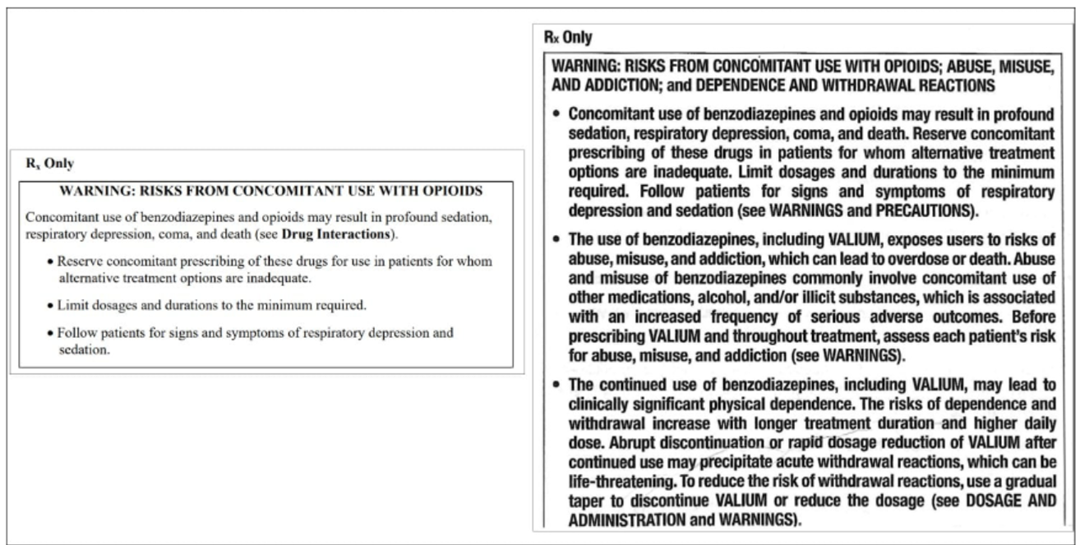 ---
REFERENCES
1. Lexi-drugs (electronic version). Lexicomp, Inc., Hudson, OH. 2022.
2. FDA warns about serious risks and death when combining opioid pain or cough medicines with benzodiazepines: FDA Drug Safety Communication. U.S. Food and Drug Administration. 2017.
3. FDA requiring Boxed Warning updated to improve the safe use of benzodiazepine drug class: Drug Safety Communication. U.S. Food and Drug Administration. 2020.
4. IQVIA, National Prescription Audit (NPA) ™; Mental health specialists consist of psychiatry, geriatric psychiatry, psychology, and addiction medicine. Symphony Health, Integrated Dataverse™. 2022.
5. Brett J MB. Management of benzodiazepine misuse and dependence. Australian Prescriber. 2015;38(5):152-155.
---
Question by  Andrew Harsh, PharmD, PGY2 Pharmacy Resident, VUMC.
Preceptor:  Bob Lobo, PharmD, BCPS, FCCP
Director, Medication Use / Education / Research
Department of Pharmacy, VUMC
---
Comment: The potential for withdrawal from short-use benzodiazepine use is under-recognized. Prescribe these drugs with caution. ds

Attached is a reference submitted by Reid Finlayson, MD, Professor of Clinical Psychiatry and Behavioral Sciences, Department of Psychiatry, VUMC
---
I am interested in any questions you would like addressed in the Question of the Week. Please email me with any suggestions at donna.seger@vumc.org.
DONNA SEGER, MD
Professor Emeritus
Department of Medicine
VUMC
Tennessee Poison Center
24/7 toll-free Poison Help Medical Hotline
1-800-222-1222
 @tnpoisoncenter