TOXICOLOGY QUESTION OF THE WEEK
JUNE 24, 2022
COULD OVER-THE-COUNTER CBD OR DELTA-8 SUPPLEMENTS CAUSE POSITIVE URINE DRUG SCREENS?
CBD: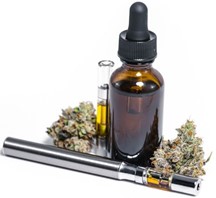 Cannabidiol (CBD) supplements have been increasing in popularity over the past few years, with one CBD product receiving an FDA-approved indication for the treatment of childhood seizures (Epidolex, Greenwich Biosciences). However, many of the commercially available CBD products vary in their purity and composition. One study of 84 available CBD products showed that less than 1/3 of products contained concentrations of drug within 10% of their labeled value. Additionally, 21% of products contained delta-9-tetrahydrocannabibolic acid (delta-9-THC).1 Urine drug screens (UDS) test for 9-carboxy-THC, a major metabolite of delta-9-THC.
In a separate study, all patients who consumed pure CBD products (no delta-9-THC detected in the sample) had negative confirmatory tests for marijuana metabolites. However, 1/3 of patients who consumed CBD that contained detectable delta-9-THC had UDS that were positive for marijuana metabolites.2
Takeaway: when using CBD products, what you see on the label may not be what you get. If a product contains any THC (whether that is disclosed on the label or not), you could potentially test positive for marijuana metabolites on a drug screen.
DELTA-8:
Delta-8-THC is structurally very similar to delta-9-THC but is known to have weaker attraction to the cannabinoid receptor type 1 (CB1). This leads to delta-8 having fewer psychotropic effects and fewer adverse effects than delta-9-THC. However, despite delta-8's fewer effects, it is still metabolized to a similar chemical compound to delta-9-THC, which frequently leads to a positive UDS for marijuana metabolites and could potentially lead to a positive confirmatory test, too.3
Takeaway: using delta-8 products carries a very high risk of testing positive for marijuana metabolites on a UDS. If you want to ensure negative UDS for marijuana metabolites, avoid these products.

---
REFERENCES:
1. Bonn-Miller MO, Loflin MJE, Thomas BF, Marcu JP, Hyke T, Vandrey R. Labeling Accuracy of Cannabidiol Extracts Sold Online. JAMA. 2017;318(17):1708. doi:10.1001/jama.2017.11909
2. Spindle TR, Cone EJ, Kuntz D, et al. Urinary Pharmacokinetic Profile of Cannabinoids Following Administration of Vaporized and Oral Cannabidiol and Vaporized CBD-Dominant Cannabis. Journal of Analytical Toxicology. 2020;44(2):109-125. doi:10.1093/jat/bkz080
3. Kruger JS, Kruger DJ. Delta-8-THC: Delta-9-THC's nicer younger sibling? Journal of Cannabis Research. 2022;4(1):4. doi:10.1186/s42238-021-00115-8
4. Crippa JAS, Zuardi AW, Hallak JEC, et al. Oral Cannabidiol Does Not Convert to Δ8-THC or Δ9-THC in Humans: A Pharmacokinetic Study in Healthy Subjects. Cannabis Cannabinoid Res. 2020;5(1):89-98. doi:10.1089/can.2019.0024
---
Question by Thomas Wert, PharmD, PGY1 Pharmacy Resident, VUMC
Preceptor:  Bob Lobo, PharmD, BCPS, FCCP
Director, Medication Use / Education / Research
Department of Pharmacy, VUMC
---
Comment: This is an important issue to understand when evaluating UDS for workplace employment. (Also, important to know for your employment). The issue with a positive UDS for marijuana metabolites has long been controversial because the metabolites can hang around for so long after exposure. Many workplaces have a no-tolerance policy. A positive screen is grounds for dismissal. What is extremely important for employees to know is that these over-the-counter products may cause a positive UDS and potentially grounds for dismissal.
---
I am interested in any questions you would like answered in the Question of the Week. Please email me with any suggestions at donna.seger@vumc.org.
If you are changing emails and would like to continue to receive the Question of the Week, send me your new email address and I will add it to the distribution list.
DONNA SEGER, MD
Professor Emeritus
Department of Medicine
VUMC
Tennessee Poison Center
24/7 toll-free Poison Help Medical Hotline
1-800-222-1222
 @tnpoisoncenter