The Department of PM&R Resident Research Day is an annual symposium to showcase resident research projects. This half-day event held in May includes an invited guest professor who kicks off the event with a lecture followed by resident presentations. At the end of the event, selected faculty judges score presentations based on categories of criteria for "Best Research" and "Best Oral Presentation."
5th Annual Resident Research Day 2023
This year's invited guest professor was Joel Press, M.D., Physiatrist-in-Chief, Joel and Anne Ehrenkranz Chair in Physiatry, Hospital for Special Surgery in New York City and Professor of Rehabilitation Medicine at Weill Cornell Medical College. He has published and edited multiple articles and textbooks, chaired numerous courses, and lectures on rehabilitation of spine and sports-related injuries on the national and international level.
For more information about this year's event, click here!
Congratulations to Our 5th Annual Resident Research Day Winners!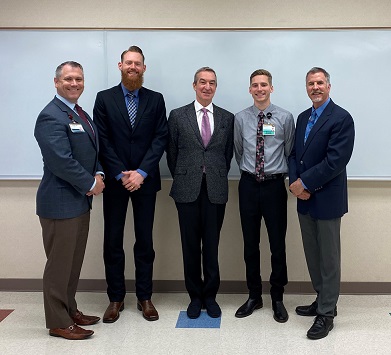 Best Research
James Gardner, M.D., Chief Resident, PGY-4
"Evidence for the Validation of a Single Item Recovery Question (SIRQ) in Children with Mild and Complicated Mild Traumatic Brain Injury." Abstract Available Here
Best Oral Presentation
Devon Shannon, M.D., PGY-2
"Top Medical Schools Producing PM&R Residents" Abstract Available Here