Dr. Paula Donahue, and her collaborators, are pleased to announce the publication of their work "3.0 T relaxation time measurements of human lymph nodes in adults with and without lymphatic insufficiency: Implications for magnetic resonance lymphatic imaging" in the journal of NMR Biomed. 

Dr. Gerasimos Bastas was an invited speaker
and experts' panel participant at this year's TSOP (Tennessee Society of
Orthotics & Prosthetics) 2018 Annual Meeting (Oct 11-13, Memphis, TN). He
presented on the "Medical Considerations for Prosthetic Candidacy,
Enduring Functional Enablement and Coordination of Care" and participated
in an interactive panel discussion surrounding appropriate Functional Outcome
Measurement testing metrics, and their framing and clinical use in relation to
overall prosthetic enablement and medicolegal use for device
approval/reimbursement. This was a very engaging meeting and well attended by
O&P allied health providers, industry partners and academics, from all over
the state and elsewhere.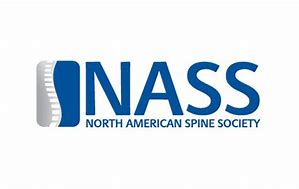 "NASS Recognized Interventional Spine / MSK Fellowship" now offered at VUMC Department of PM&R.

Dr. Gerasimos Bastas delivered two symposia on "Creating Real World Impact: Becoming Deliberate About Interdisciplinary Professional Identity Training" and "Medical Care of the Limb Restoration Patient: Cardiovascular Changes and Adaptations" at this year's 95th American Congress of Rehabilitation Annual Conference, held September 30th – October 3rd, 2018 (Dallas, TX).

Asst Professor Zelik, and his collaborators, are pleased to announce the publication of their work entitled "Effect of toe joint stiffness and toe shape on walking biomechanics."  This work will be appearing in the journal of Bioinspiration & Biomimetics. 

Dr. Byron Schnieder has been named one of SpineLine's Inaugural 21 Under 40. He will be recognized at the 2018 NASS Annual Meeting. SpineLine Article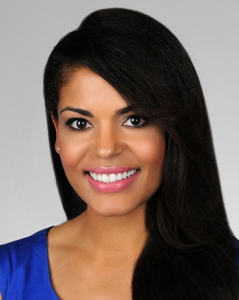 PM&R Resident Dr. Simone Maybin will present "The Impact of Postoperative Physical Therapy on Patient-Reported Outcomes in Patients Undergoing Spine Surgery" at the North American Spine Society's 33rd Annual Meeting in Los Angeles in September.  Dr. Maybin's paper was selected to receive a NASS 2018 Resident & Fellow Research Award.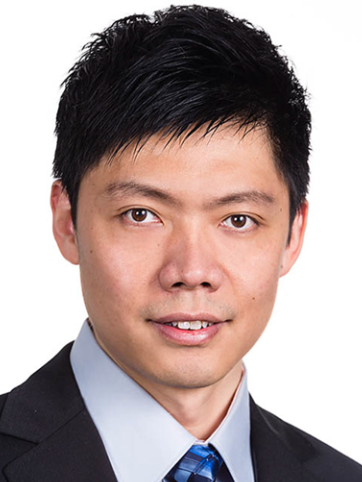 PM&R Resident Chan Gao, MD, PhD, has been named to the "Residents and Fellows Corner" editorial board of the American Journal of Physical Medicine and Rehabilitation.  Dr. Gao will contribute blogs and articles and review submissions to the "Residents and Fellows Corner."

Dr. Jeffery Johns has been invited to become an Associate Editor of the Journal of Spinal Cord Medicine, the official journal of the Academy of Spinal Cord Injury Professionals.  
Congratulations to Ryan Castoro, DO, on his award-winning abstract, "A Novel Compound Heterozygous Mutation in Titin Leads to Core Myopathy With Heart Disease."  The publication was awarded the 2018 President's Research Initiative and the Resident & Fellow Abstract awards by the American Association of Neuromuscular & Electrodiagnostic Medicine.  This recognition is given to the 10 best abstracts submitted on the topic chosen by the AANEM President each year.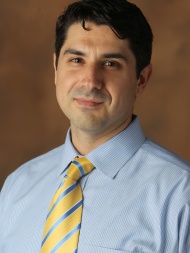 Dr. Gerasimos Bastas and his collaborators, are pleased to announce the publication of their work entitled "IMU-based gait analysis in lower limb prosthesis users: Comparison of step demarcation algorithms," Gait & Posture. 2018 May 22;64:30-37.
Dr. Bastas delivered the Ethics Grand Rounds at UT Southwestern Medical Center (Dallas, TX), on April 10th, 2018. His talk, entitled "Biomedical Ethics Considerations in Limb Loss and Prosthetic Enablement" re-examined the bioethics consult operationally, bringing into focus how aspects of intentionality and current limits of knowledge distill imperatives for overall professional conduct. The talk examined i) how to deal with the patient who is requesting an amputation of a healthy limb, ii) when and how amputations may be offered as medically advisable therapeutic options, and iii) contextualized emerging amputation procedures and prosthetic technologies.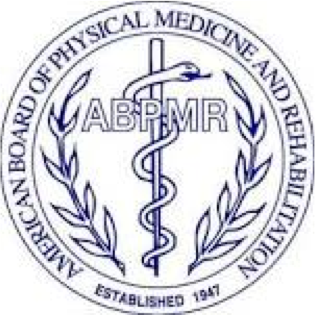 Jeffery Johns, MD, Medical Director of Vanderbilt Stallworth Rehabilitation Hospital, has been elected to the board of directors of the American Board of Physical Medicine and Rehabilitation.  Dr. Johns begins a six-year term in August. The board oversees the certification process for physiatrists, physicians who specialize in physical medicine and rehabilitation and its seven subspecialties. VUMC Reporter 04.12.18
VUMC Spine surgeon Byron Stephens, MD, works closely with physiatrists in offering patients nonsurgical options at Vanderbilt Bone and Joint Franklin.  Stephens works side by side with physiatrists Aaron Yang, MD, and Byron Schneider, MD.  "It's a coordinated approach, providing seamless, uninterrupted spine care...the full spectrum, starting with conservative care all the way to surgery," says Dr. Stephens.  Additionally, Becker's Hospital Review has recognized Vanderbilt University Medical Center (VUMC) as having one of the 100 best neurosurgery and spine programs in the nation.  The publication noted that VUMC has a 96 percent patient satisfaction rate for lumbar spine procedures and a 97 percent satisfaction rate for cervical spine procedures. Performing more than 5,000 procedures a year, VUMC is "one of the busiest academic neurosurgery centers in the country," the magazine said.  Reporter 02.08.18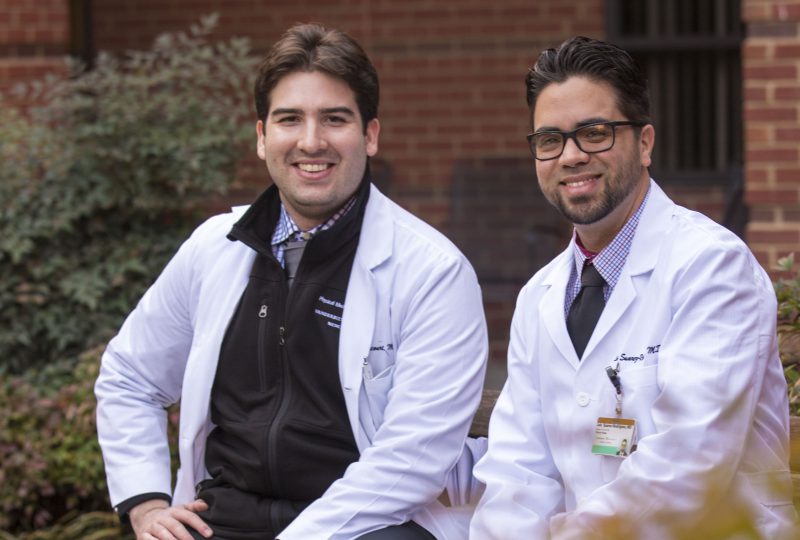 When their native Puerto Rico was devastated by hurricanes, VUMC resident physicians Jean Pierre Betancourt, MD, (left) and Luis Cesar Suarez, MD, spearheaded a Medical Center and University-wide supply drive that raised more than 1,000 pounds of donations for their native island.  VUMC Voice 02.06.18
Sec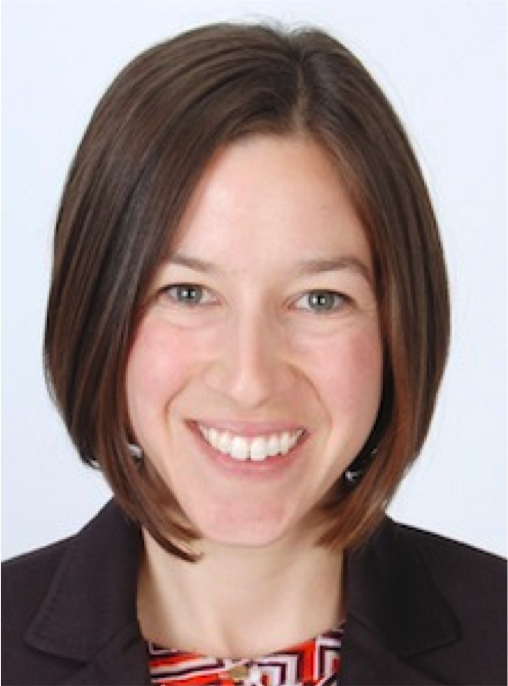 ond Year Resident Sarah Welch was named a Pre-Applicant in the Rehabilitation Medicine Scientist Training Program of the Association of Academic Physiatrists.   According to the AAP, "The program is intended for individuals who wish to pursue intensive research training toward a career in independent physiatric research.  RMSTP propels successful careers in rehabilitation research through mentoring, networking, and workshops."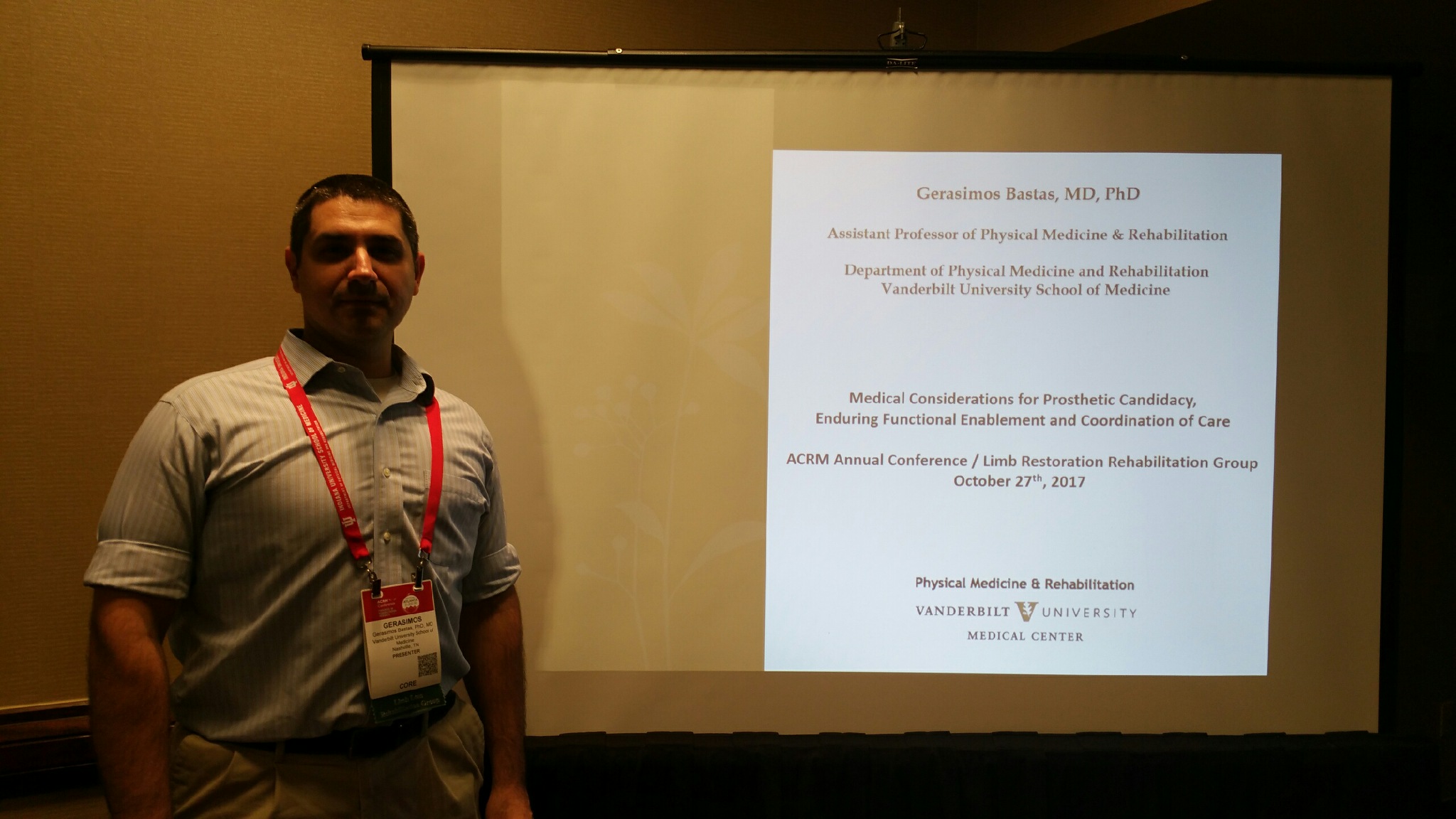 Gerasimos Bastas, MD, PhD, delivered a symposium on the Medical Considerations for Prosthetic Candidacy, Enduring Functional Enablement and Coordination of Care at this year's 94th American Congress of Rehabilitation Medicine Conference, held October 23 – 28 , 2017.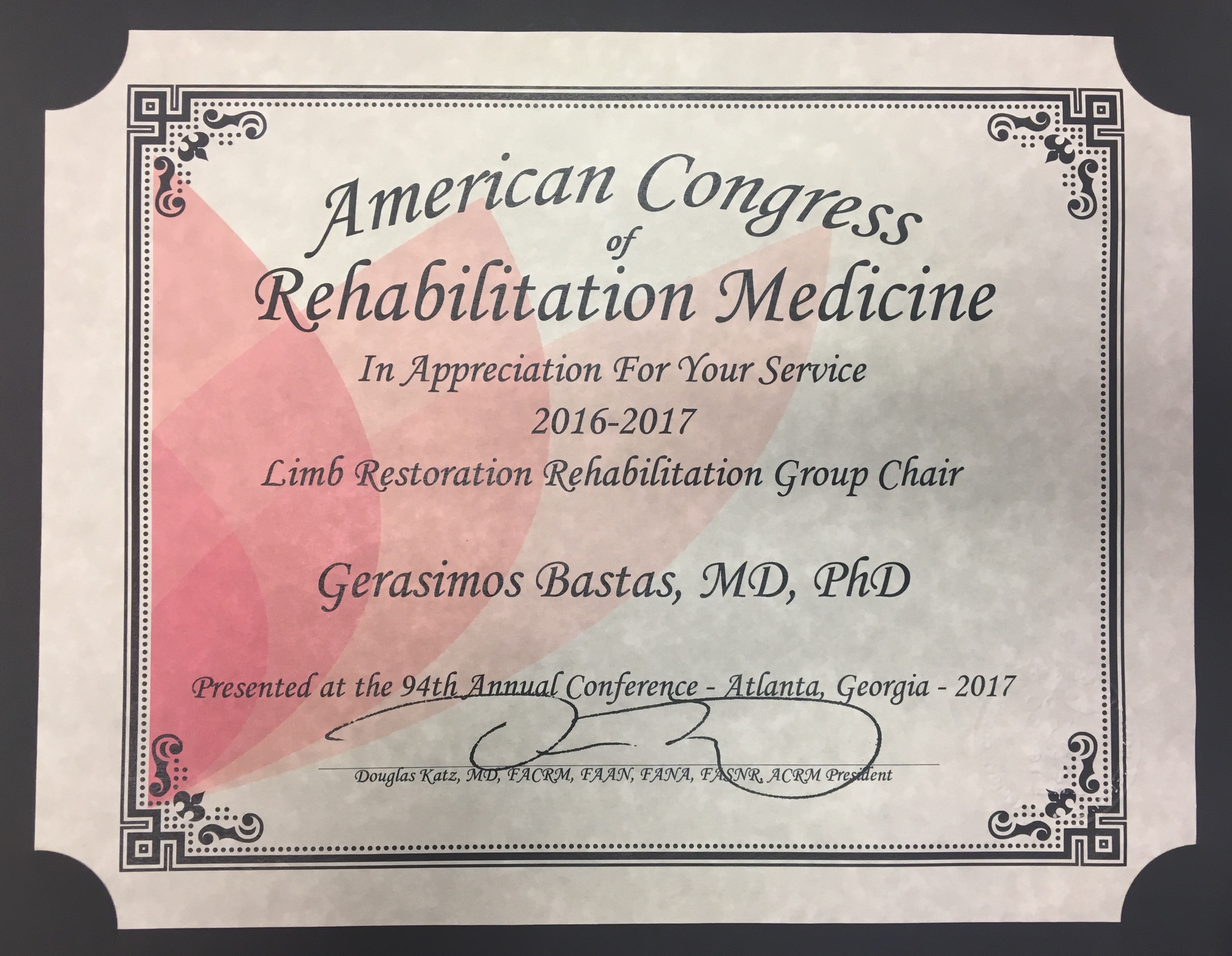 Dr. Bastas is a founding member and Inaugural Chair of the Limb Restoration Rehabilitation Group, an international interdisciplinary group aiming to bolster research endeavors, the clinical care delivery, and overall enablement outcomes for people with limb restoration needs.
The LRRG is a content-specific interest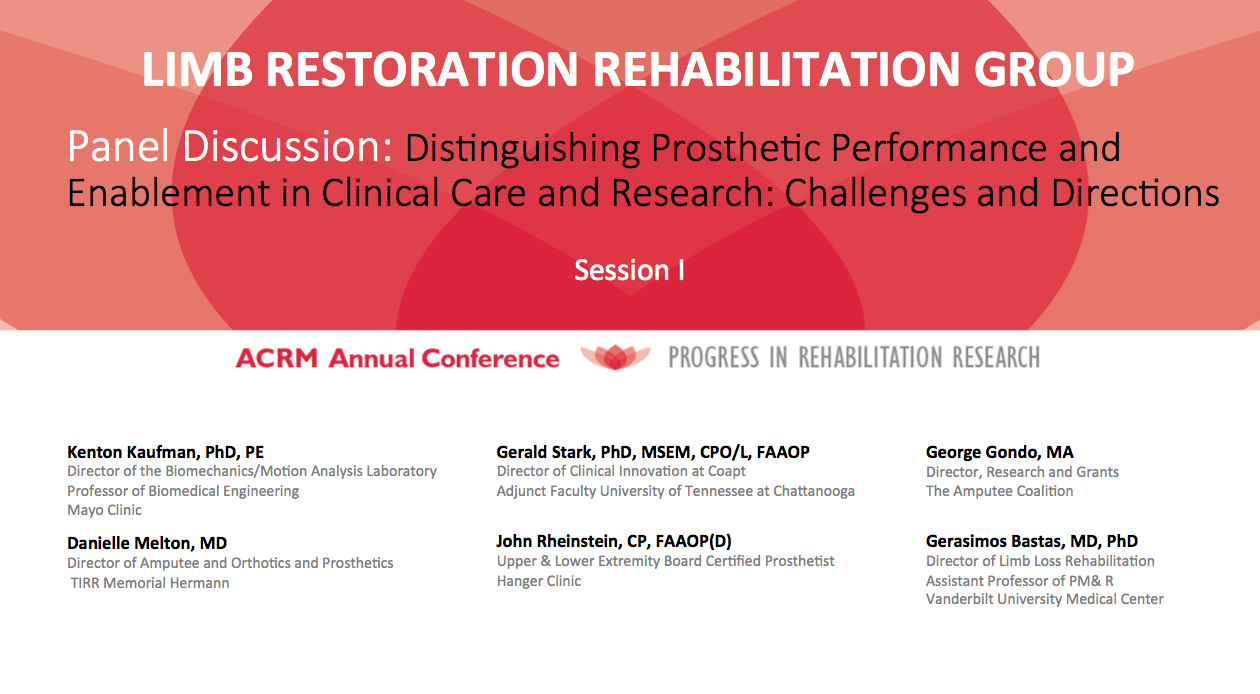 group within the American Congress of Rehabilitation Medicine (ACRM).  Dr. Bastas convened and moderated a panel of national experts focused on Distinguishing Prosthetic Performance and Enablement in Clinical Care and Research.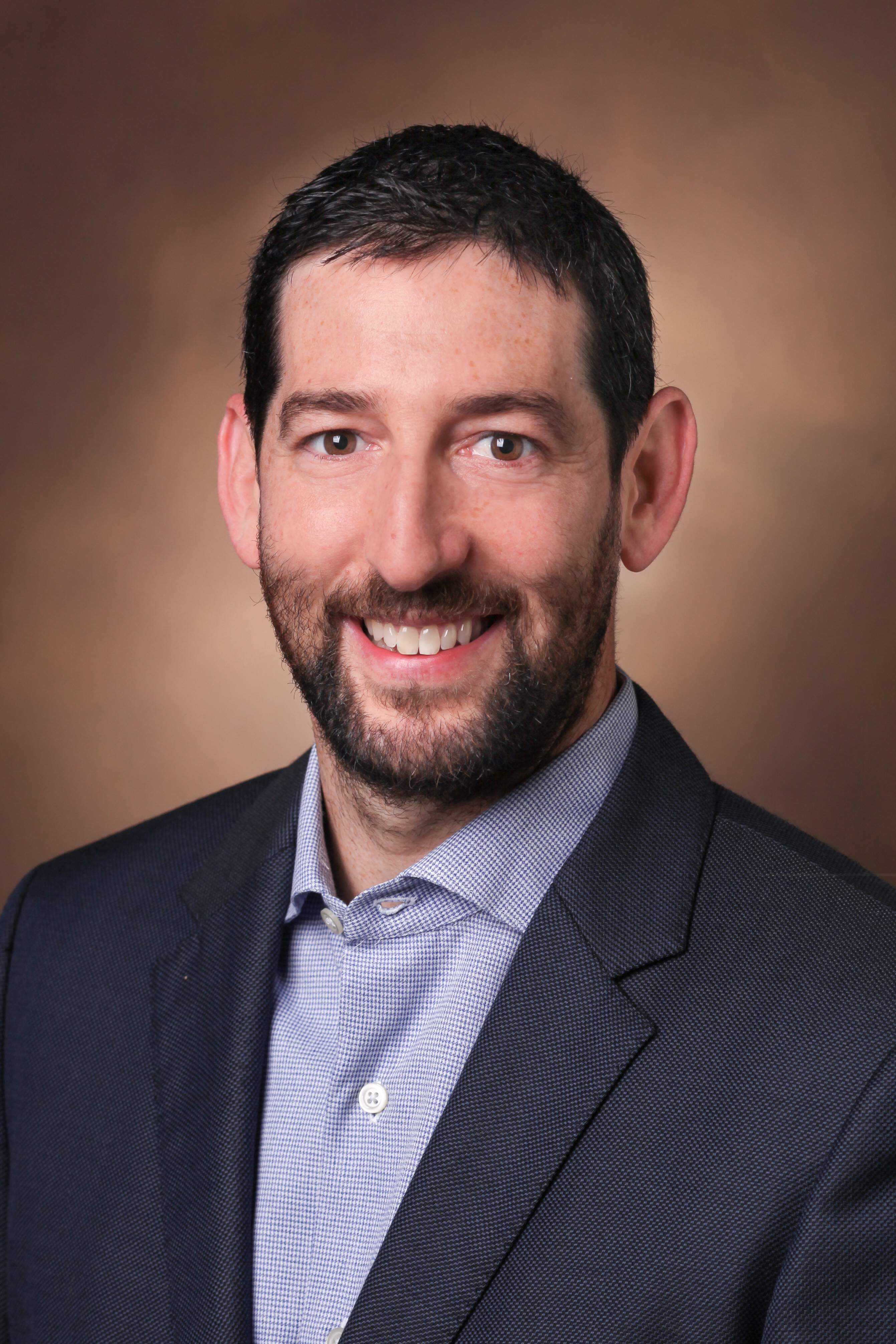 "Once considered "alternative" in American healthcare, integrative medicine is now a widely respected, evidence-based option for pain management, and The Osher Center for Integrative Medicine at Vanderbilt is leading the way...Research Director David Vago, PhD, said the holistic, interprofessional team helps patients adopt a somewhat non-traditional attitude toward chronic pain."  See The Osher Center: Healing Mind, Body & Spirit in Nashville Medical News (Sept 2017).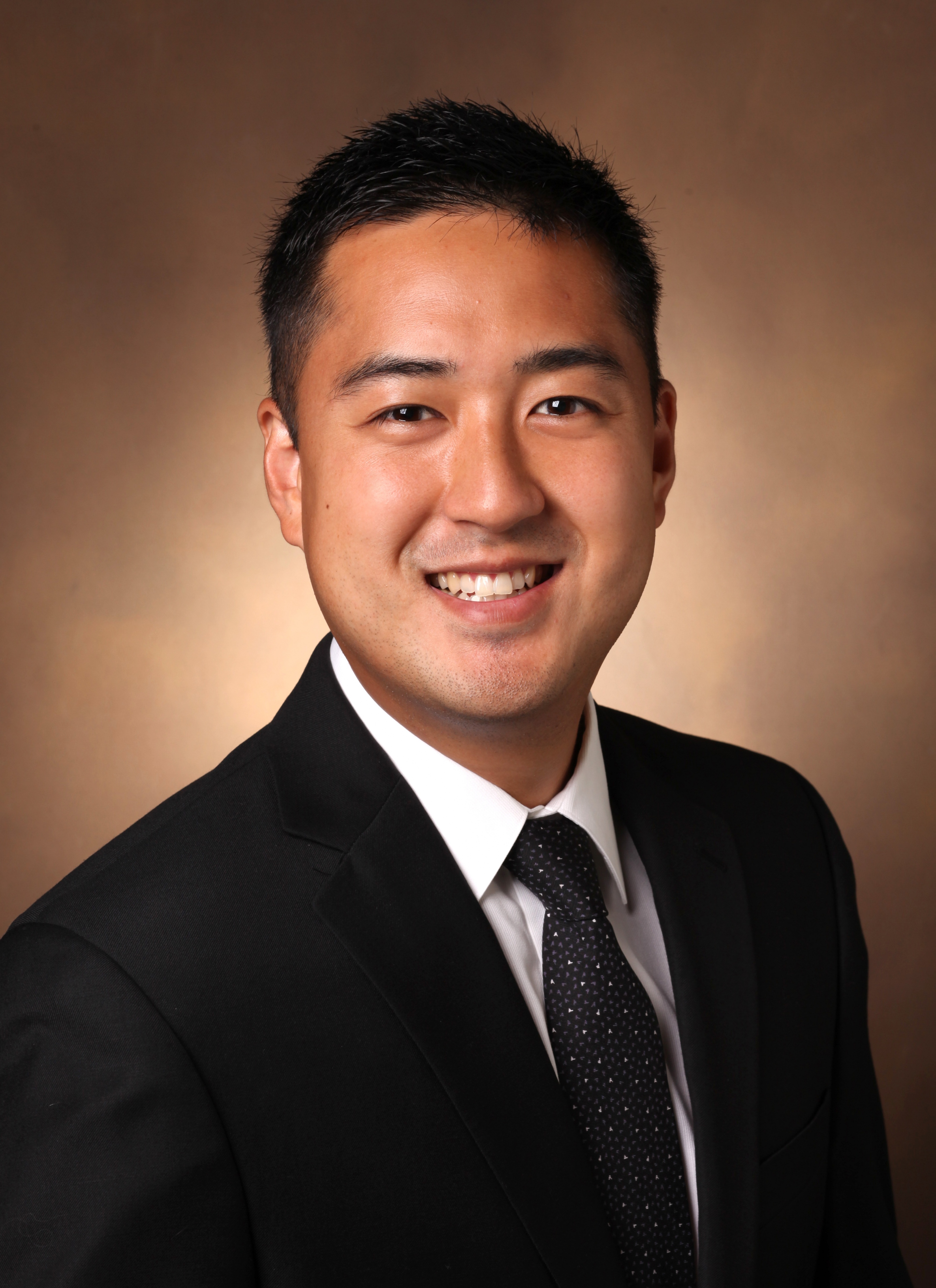 "Super-suits for back-pain sufferers?"  PM&R faculty members Aaron Yang, MD, and Karl Zelik, PhD, "are developing a device, designed to be worn under regular clothing, that would activate elastic bands to relieve stress on back muscles when people are doing physical tasks." (Stories in USA Today 08.03.17 and Tennessean 08.07.17.)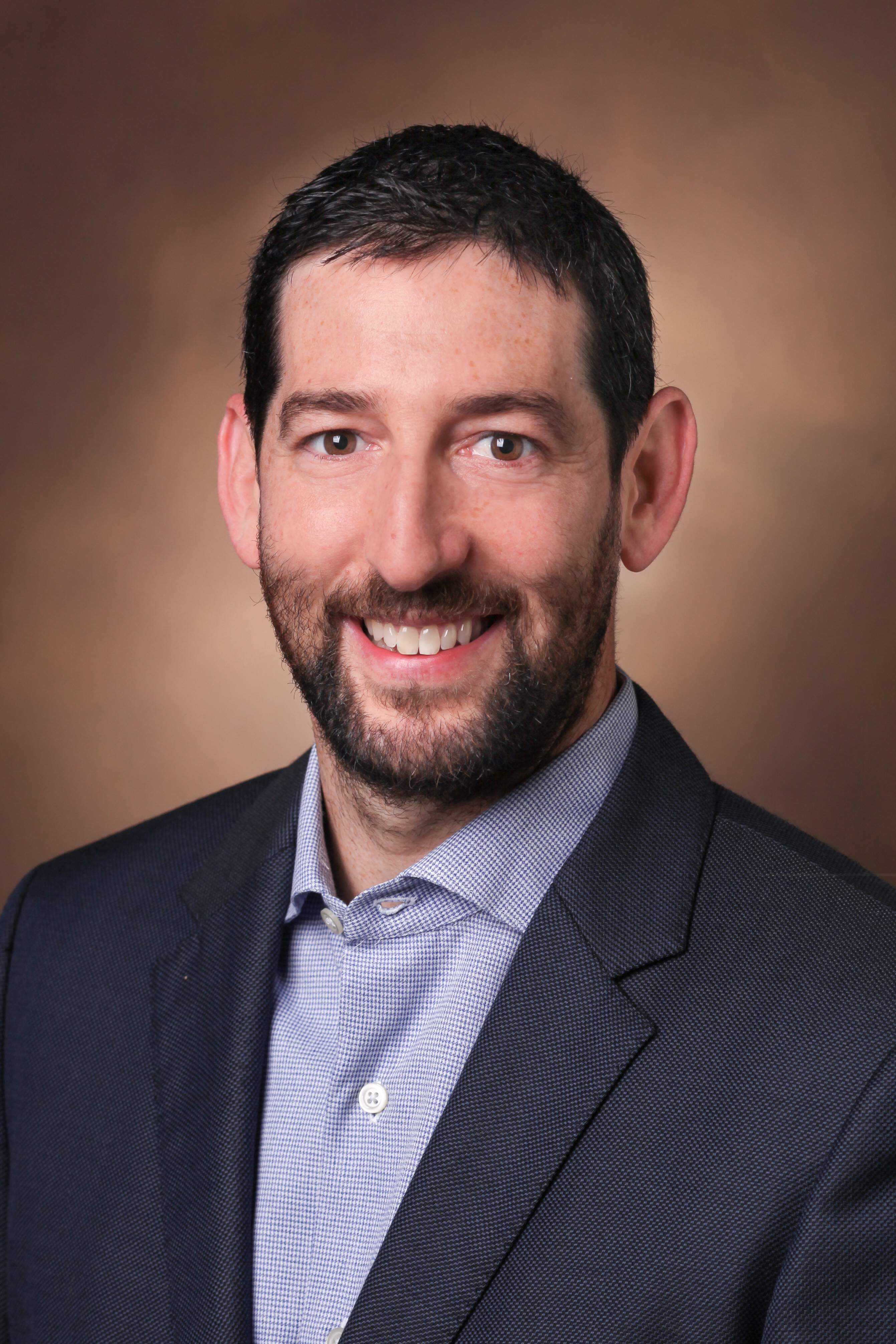 David R. Vago, PhD, presented "Self-Transformation Through Mindfulness," at TEDxNashville in mid-March, 2017.  His talk explores how meditation and mindful awareness has the potential to transform our self and our mental habits in a positive way. See Dr. Vago's Tedx talk on YouTube.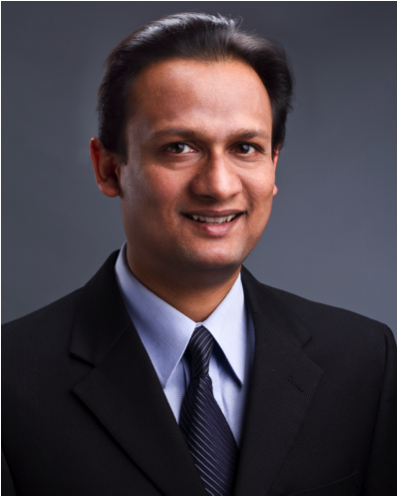 Nitin Jain, M.D., MSPH, associate professor of Physical Medicine and Rehabilitation and Orthopaedics, has been awarded a $7.5 million contract to determine whether surgery or non-operative therapy works better for a common age-related injury that costs the health care systems billions of dollars — rotator cuff tears. Reporter 03.30.17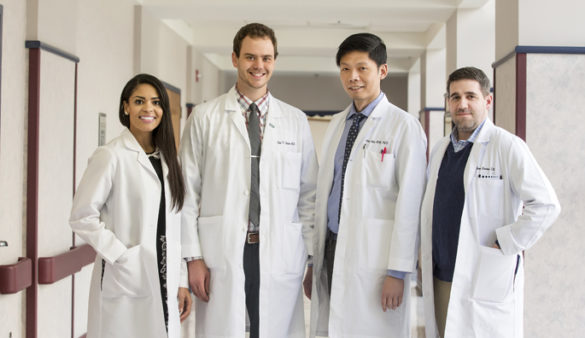 The inaugural class of the Physical Medicine and Rehabilitation residency program is making a big impact on patient care and research at Vanderbilt University Medical Center.  Reporter 02.23.17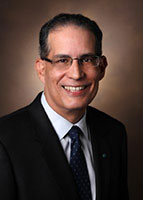 Walter Frontera, M.D., Ph.D., professor and former chair of the Department of Physical Medicine and Rehabilitation (PM&R) at Vanderbilt University Medical Center (VUMC), has stepped down from his role as the department's leader.  Dr. Frontera, who was recruited to VUMC in 2012 to be the department's inaugural chair, is departing to spend more time with family in Puerto Rico. Reporter 01.26.17
Dr. Frontera received the Distinguished Member Award at the 2016 AAPM&R Annual Assembly.  Established in 1994, the Distinguished Member Award honors AAPM&R members who have provided invaluable service to the specialty of PM&R primarily through participation in PM&R-related organizations other than the Academy.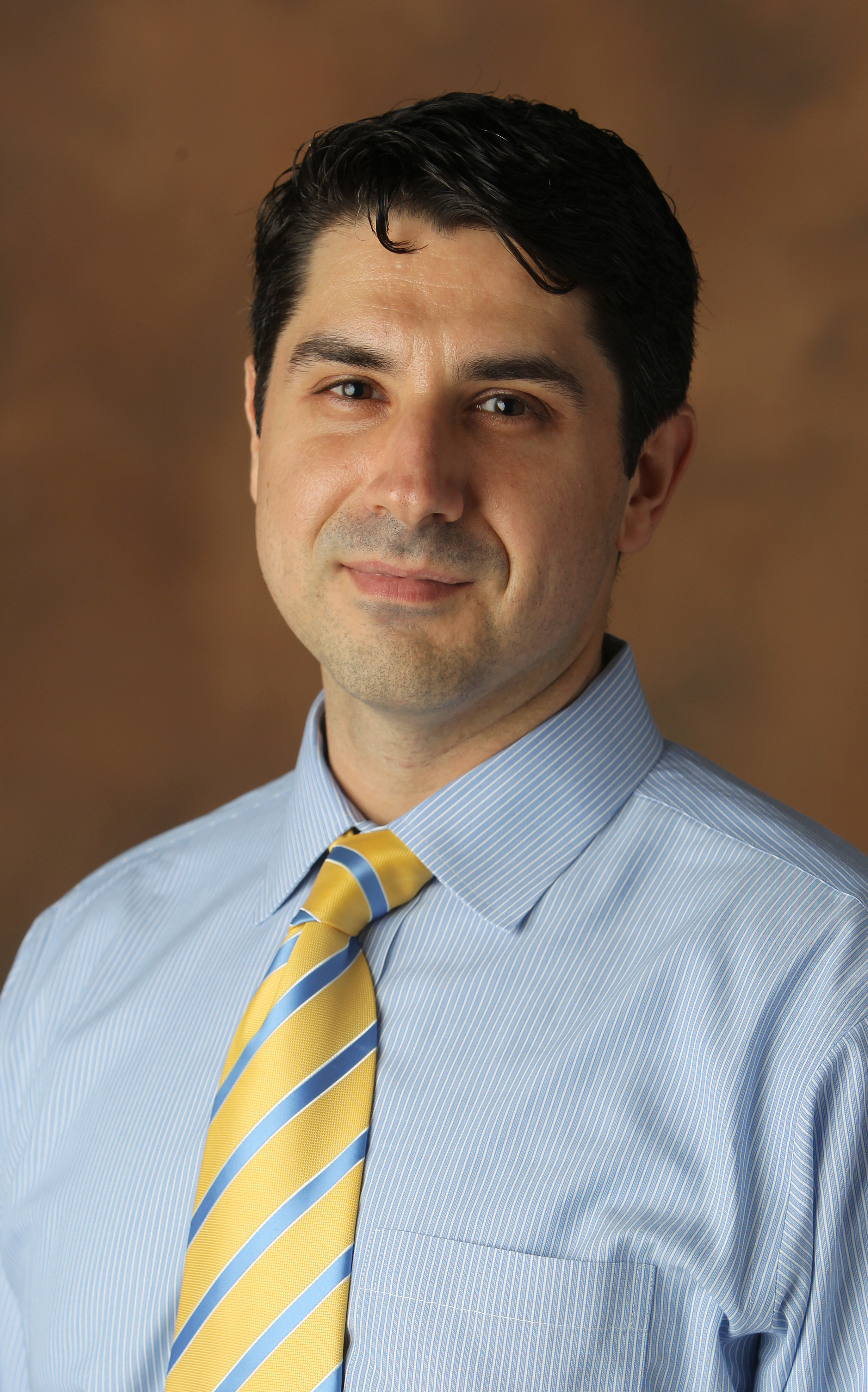 Gerasimos Bastas, MD, PhD, has been named the Inaugural Chairman of the Limb Restoration Rehabilitation Group for the American Congress of Rehabilitation Medicine.  He will be speaking during the welcome session at the ACRM annual conference in October, 2017.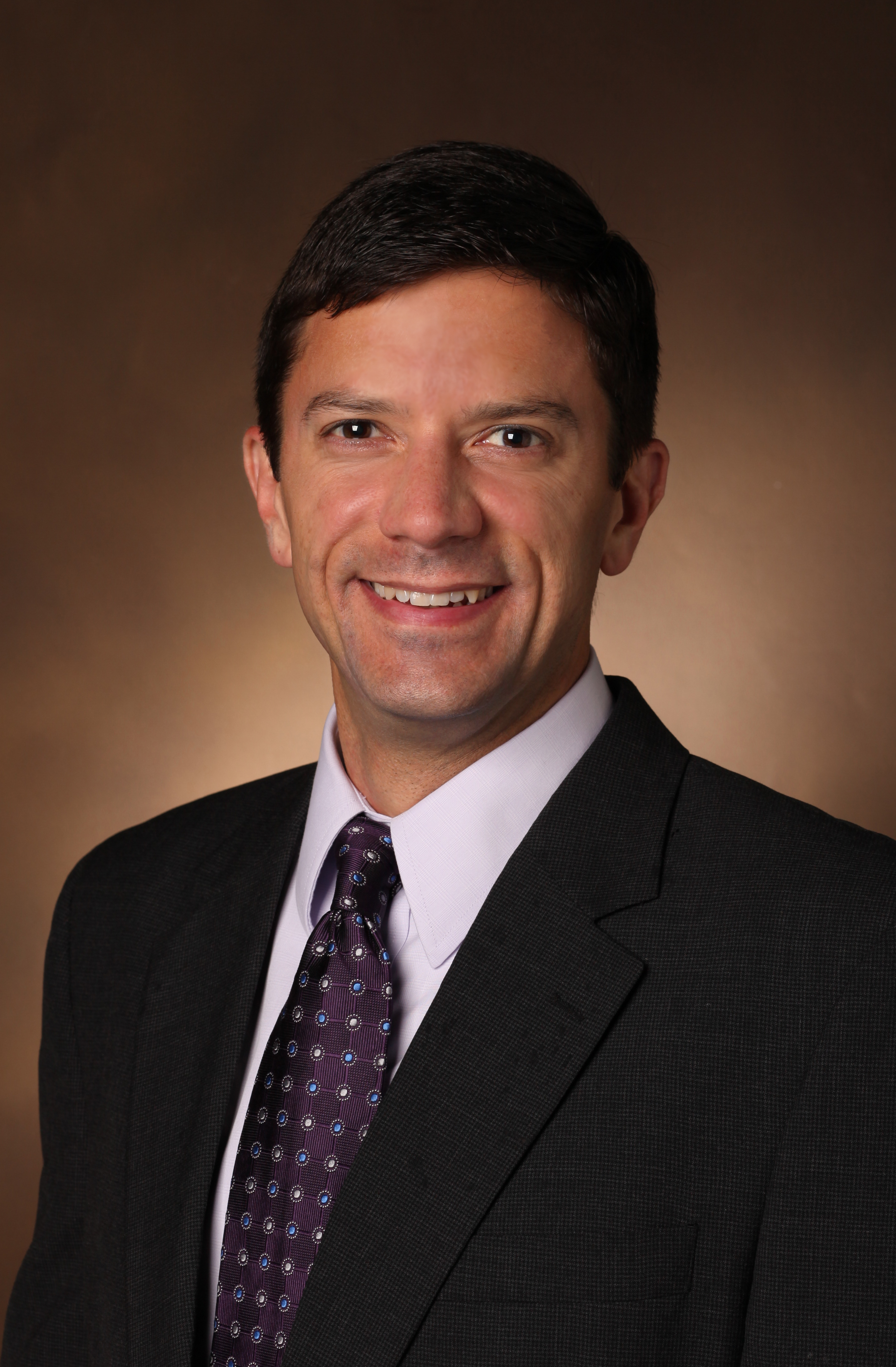 Dr. Jeff Johns has been named one of two Senior Reviewers for the ABPMR SCI Medicine certification examination item writing process.  In that role, he will also join the ABPMR SCI Medicine Committee as an Associate Member, participating in the committee's activities in exam assembly, oversight, and review.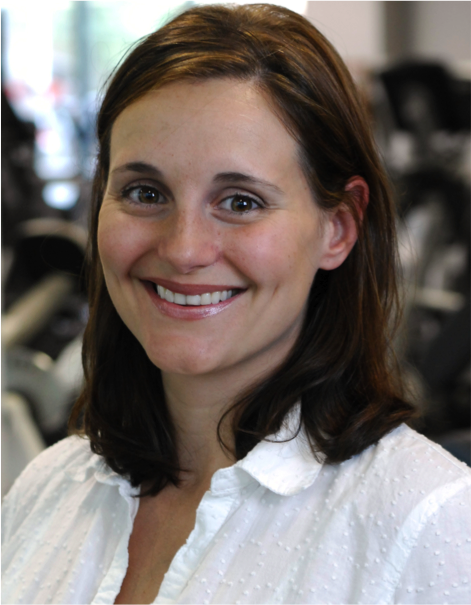 CONGRATULATIONS to Dr. Paula Donahue for winning the Best Research Award sponsored by the Lymphology Association of North America at the 2016 National Lymphedema Network Conference in Dallas.  Reporter 9.22.16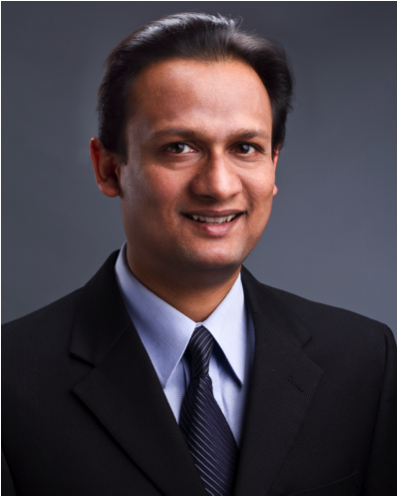 CONGRATULATIONS to Nitin Jain, MD, on receiving a 2015 Top 10 Paper award, given by the Vanderbilt Epidiemiology Center.  Dr. Jain's paper, Traumatic spinal cord injury in the United States, 1993-2012, was published by JAMA. 2015 Jun 9;313(22). 2236-43.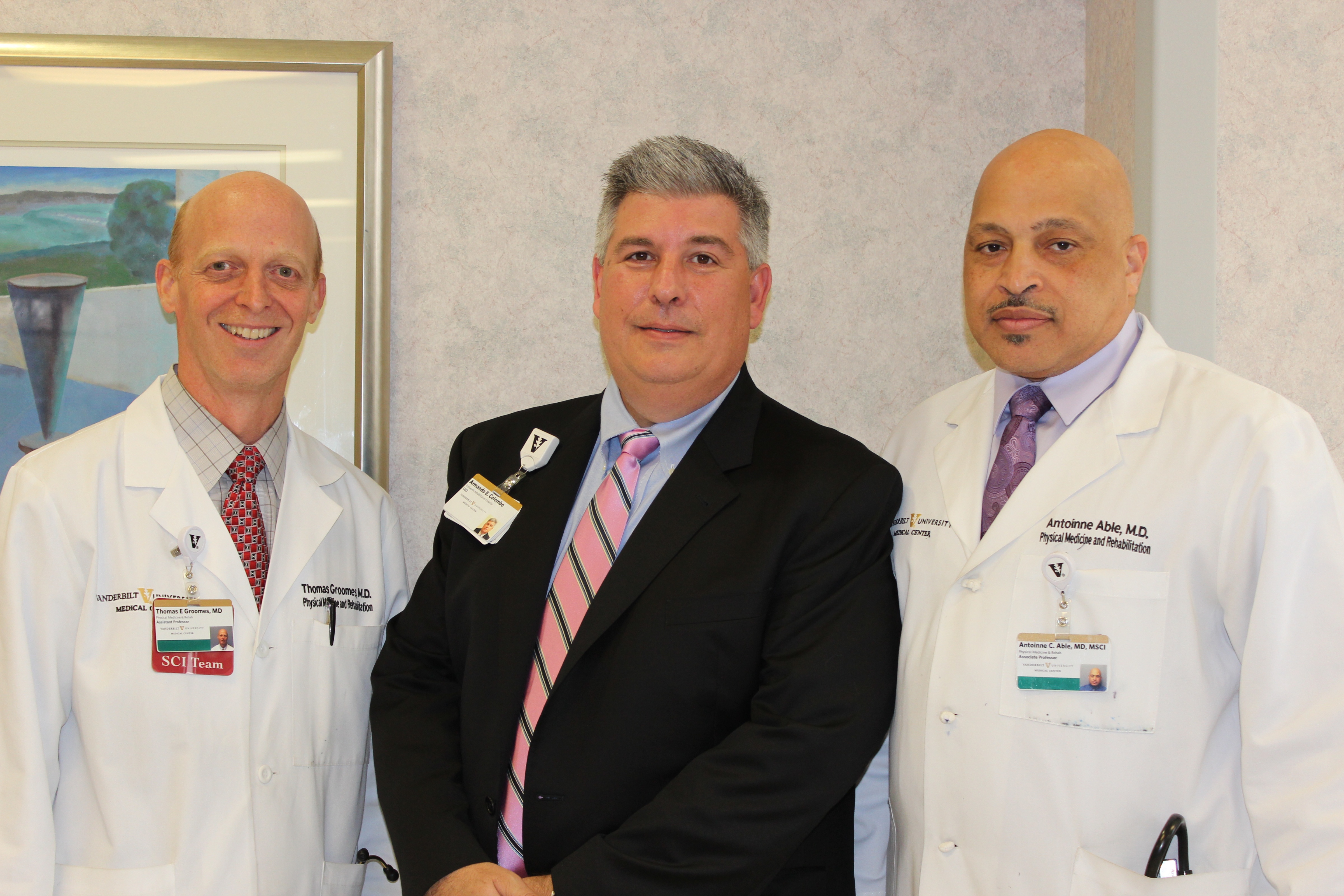 Vanderbilt Stallworth Rehabilitation Hospital had a very successful survey and renewed its certification from The Joint Commission for its Disease Specific Programs in Stroke and Spinal Cord rehabilitation.  Stallworth CEO Armando Columbo states, "I am extremely proud of our teams and the work they have done to establish and continue to grow these premier programs."  (Pictured: Tom Groomes, MD, Armando Colombo, and Antoinne Able, MD.)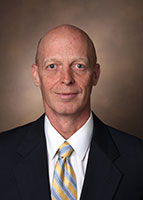 Congratulations to Thomas E. Groomes, MD, for his promotion to Associate Professor of Clinical Physical Medicine and Rehabilitation, clinical practice track, in the Vanderbilt University School of Medicine.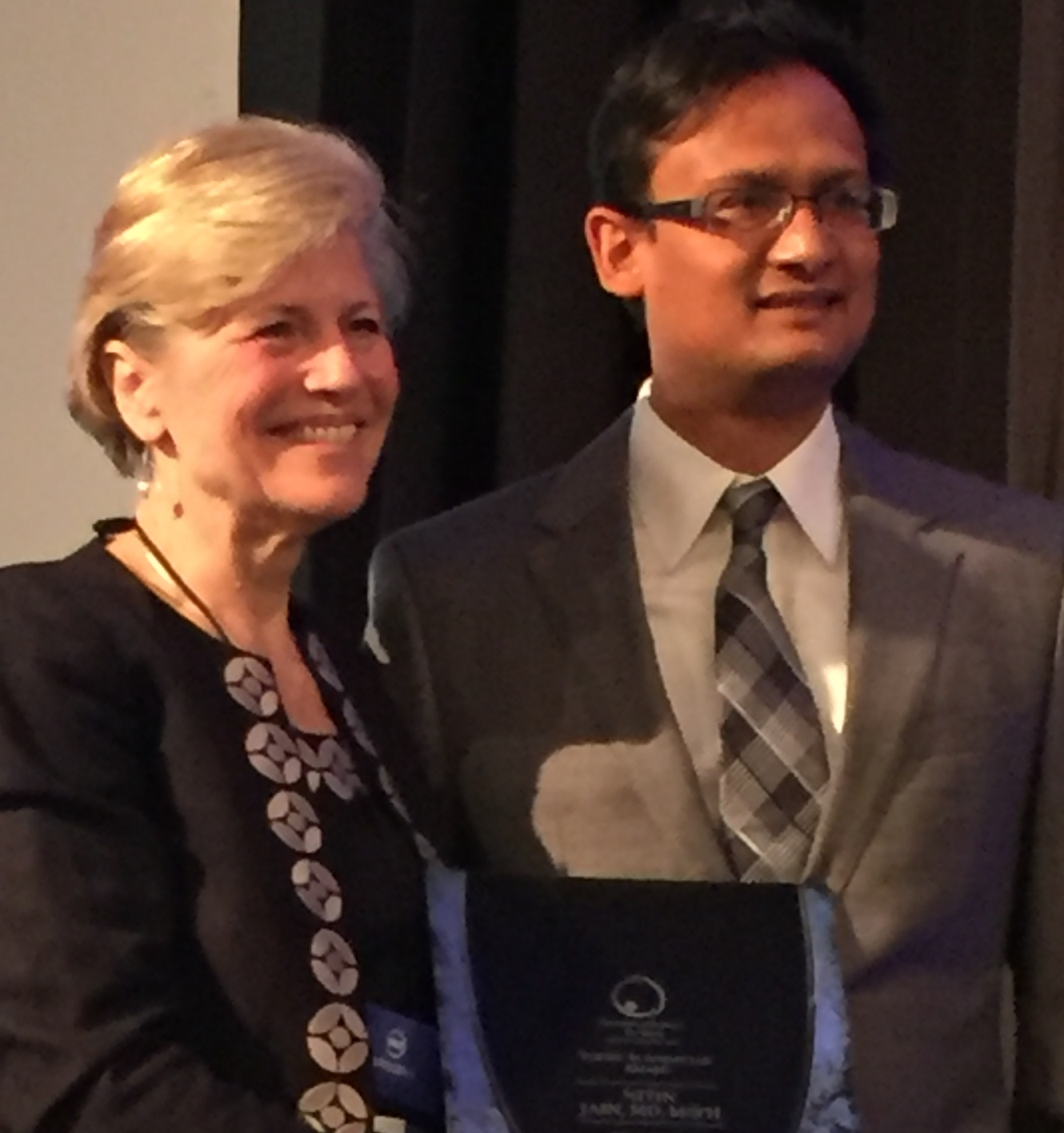 Nitin Jain, MD, MSPH, Associate Professor of PM&R and Orthopaedics at Vanderbilt University School of Medicine, was named the 2016 Young Academician by the Association of Academic Physiatrists during the organization's recent annual meeting in Sacramento, CA.  Dr. Jain was honored for his clinical practice, his research and his more than 50 articles in peer-reviewed leading medical journals.  Dr. Jain has received research funding from the National Institutes of Health (NIH) and several foundations and institutional sources. Vanderbilt Reporter 03.03.16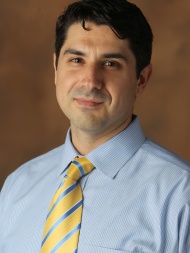 Gerasimos (Makis) Bastas, MD, has been named Director of Limb Loss Rehabilitation in the Department of PM&R and has opened a weekly clinic for patients with limb loss with the collaboration of professional prosthetists.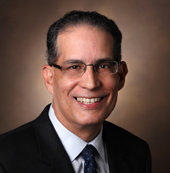 The Gerontological Society of America (GSA) — the nation's largest interdisciplinary organization devoted to the field of aging — recently presented Walter Frontera, M.D., Ph.D., chair of the Department of Physical Medicine and Rehabilitation, with its 2015 Excellence in Rehabilitation of Aging Persons Award. Vanderbilt Reporter 12.17.1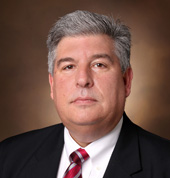 Armando Colombo, president and chief executive officer of InterMedical Hospital of South Carolina, has been named chief executive officer of Vanderbilt Stallworth Rehabilitation Hospital.  Colombo, who will be responsible for the day-to-day operations of the hospital, said the position gives him the opportunity to work for a nationally recognized rehabilitation program and with Vanderbilt's Department of Physical Medicine and Rehabilitation.  Vanderbilt Reporter 11.19.15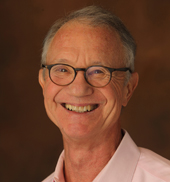 Roy Elam, M.D., will step down as medical director of the Osher Center for Integrative Medicine at Vanderbilt University following a search for a new director.  Elam has been the Center's medical director since it opened in 2006.  A member of the Vanderbilt faculty since 1976, Elam has filled several roles, including serving as Ombudsman for the School of Medicine, adviser to the Honor Council and as the first director of Vanderbilt Palliative Care. Vanderbilt Reporter 10.22.15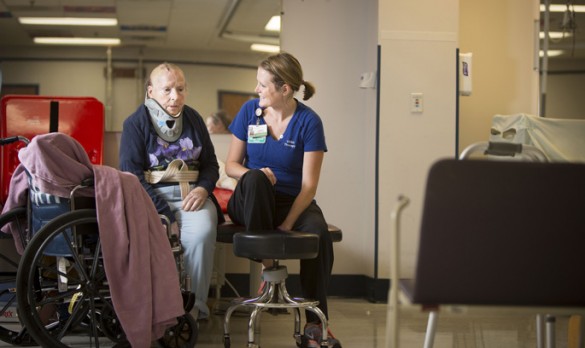 Stallworth makes select list of brain injury rehab centers.  Vanderbilt Stallworth Rehabilitation Hospital's performance at helping people with traumatic brain injuries reconnect with their lives has received Joint Commission recognition and is now one of only seven rehab centers to achieve specialty accreditation for "traumatic brain injury rehabilitation." Vanderbilt Reporter 09.24.15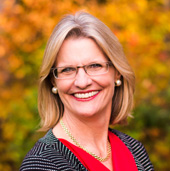 Osher Center adds health coaching expert Wolever.  Ruth Wolever, Ph.D., (at left) has joined the staff of Vanderbilt's Osher Center for Integrative Medicine, where she will share her expertise and knowledge in health coaching. Vanderbilt Reporter 09.24.15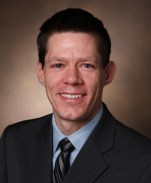 VUMC researchers received a $2.15 million grant from the NIH to study the amount and activity of brown adipose tissue in adults in order to understand its role in metabolic disease and to find therapeutic targets. Primary investigators are Brian Welch, Ph.D., MBA, assistant professor of Radiology and Radiological Sciences and Theodore Towse, Ph.D., (at left)  assistant professor of Physical Medicine and Rehabilitation.  Research News at Vanderbilt 06.25.15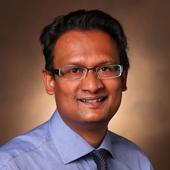 Traumatic spinal cord injuries are increasing with the population, and incidence is higher in older patients, according to a Vanderbilt study published in the Journal of the American Medical Association. The study of patients with acute traumatic spinal cord injury from 1993 to 2012 will help target specific populations for preventive measures, said lead author Nitin B. Jain, M.D., M.S.P.H, associate professor of PM&R.  Research News at Vanderbilt 06.25.15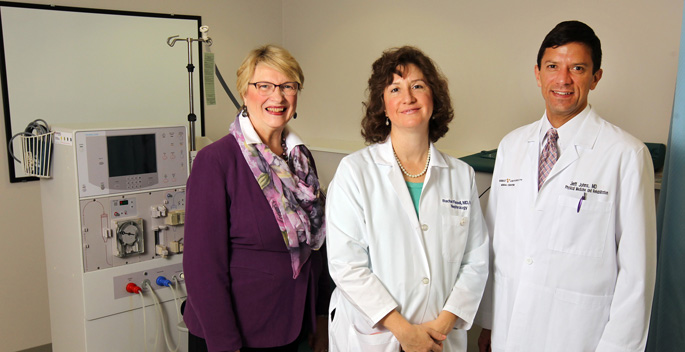 Vanderbilt Stallworth Rehabilitation Hospital now offers hemodialysis for its patients, eliminating the need to transport them off site for treatment.  The Department of PM&R and the Division of Nephrology are collaborating to offer this service to patients who are undergoing therapy at VSRH yet need to continue hemodialysis. Vanderbilt Reporter 09.04.14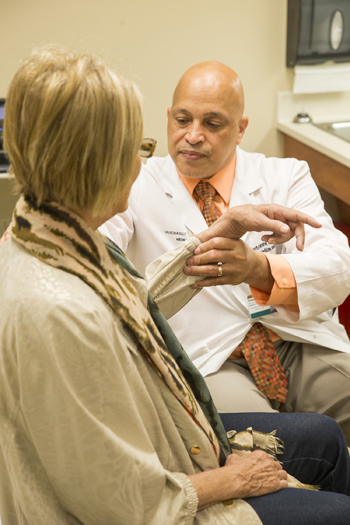 A new Physical Medicine & Rehabilitation Outpatient Clinic has opened on the first floor of the Vanderbilt Stallworth Rehabilitation Hospital, part of Vanderbilt University Medical Center's outpatient clinical services. Patients recovering from acute injuries or with neurological and musculoskeletal conditions can receive care from expert physicians, nurses and rehabilitation specialists whose focus is on the functional restoration aspects of a patient's rehabilitative care. Vanderbilt Reporter 08.14.14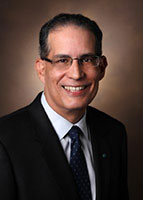 Vanderbilt's Department of Physical Medicine and Rehabilitation (PM&R) will welcome its first class of residents in July 2015.  The Accreditation Council for Graduate Medical Education (ACGME) approved the new  four-year program (including intern year) training residents in the PM&R specialty, which works to reduce impairments and optimize function after injury or illness. "We want to contribute to training the next generation of academic leaders in PM&R," said Walter Frontera, M.D., Ph.D., (at left) chair of the department.Vanderbilt Reporter 08.07.14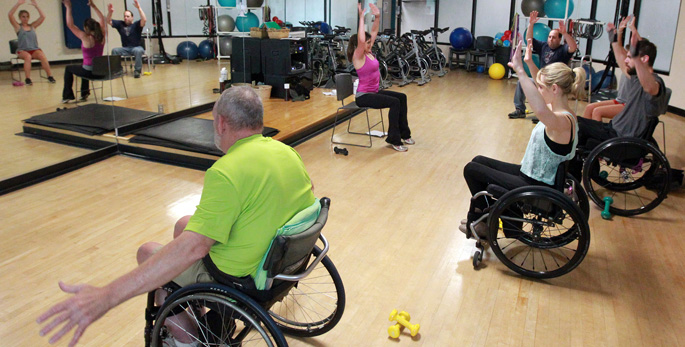 Vanderbilt's Dayani Center for Health and Wellness has been recertified by the Medical Fitness Association (MFA), a credential achieved by only 44 of approximately 1,200 hospital fitness centers in the United States. Dayani was first certified in 2010, and was the first center in Tennessee to achieve the credential. Vanderbilt Reporter 05.15.14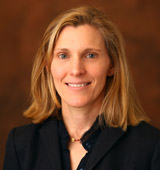 Kristin Archer, Ph.D., DPT, assistant professor of Orthopaedics and Physical Medicine and Rehabilitation at Vanderbilt University Medical Center, has received $1.7 million from the Patient-Centered Outcomes Research Institute (PCORI) to study postoperative management for degenerative spinal conditions. Vanderbilt Reporter 03.06.14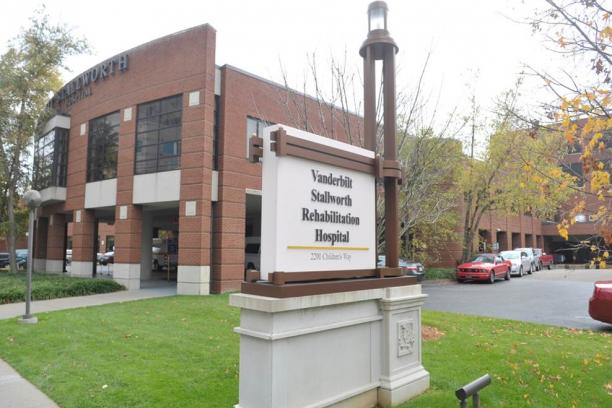 The Department of Physical Medicine and Rehabilitation has begun an adult inpatient consultation service to evaluate patients who may need rehabilitation and to assist with the transition from inpatient care to post-acute rehabilitation facilities.  The service will start primarily with trauma patients, given the high volume of patients requiring post-acute rehabilitation, and then build to other inpatient services at VUH as needed.  Vanderbilt Reporter 10.10.13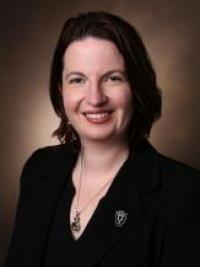 Stacy Stark, D.O., has been named medical director of Pediatric Rehabilitation Services at the Monroe Carell Jr. Children's Hospital at Vanderbilt. She is also assistant professor of Physical Medicine and Rehabilitation (PM&R).  A fellow of the American Academy of Physical Medicine and Rehabilitation, Stark is board certified in both pediatric and adult PM&R. She has expertise in spasticity management and the transition of children with disabilities into adulthood. Vanderbilt Reporter 09.26.13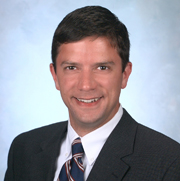 Jeffery Johns, M.D., has been named medical director of Vanderbilt Stallworth Rehabilitation Hospital.  He has also been appointed associate professor of Physical Medicine and Rehabilitation (PM&R).  Johns is board certified in PM&R and sub-specialty Board Certified in Spinal Cord Injury Medicine. Vanderbilt Reporter 08.01.13