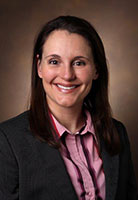 Paula Donahue, DPT, MBA, CLT
Physical Medicine and Rehabilitation
Vanderbilt Dayani Center for Health & Wellness
Office Address
Vanderbilt Stallworth Rehabilitation Hospital
2201 Children's Way
Suite 1318
Nashville
37212
Paula Donahue, PT, DPT, MBA, CLT-LANA, works as a physical therapist at the Vanderbilt Dayani Center for Health and Wellness, and has been a physical therapist since 2000 with experience in acute, outpatient and home care therapy. She is also an Assistant Professor in the Department of Physical Medicine and Rehabilitation at Vanderbilt University Medical Center. She received her training at Duke University (BS), Northwestern University Physical Therapy and Human Movement Sciences (DPT), The Johns Hopkins Carey Business School (MBA), and The Academy of Lymphatic Studies (CLT). She has administrative and clinical experience primarily addressing orthopedic, neurologic and oncologic conditions and has specialized training in lymphedema management. Her research interests are in the areas of lymphedema, lipedema and cancer rehabilitation. Her patient care focus is to ultimately assist patients in reaching their personal rehabilitation goal and optimize their quality of life.
Interests
Dr. Donahue's focus is on acute, outpatient, and home care therapy primarily addressing orthopedic, oncologic, and geriatric conditions.  She has a special research interest in the treatment of lymphedema in breast cancer survivors.

Education
CLT:                             
Certified Lymphedema Therapist, The Academy of Lymphatic Studies, Chattanooga, TN
2011
Graduate:                              
MBA, (Masters of Business Administration), The Johns Hopkins University Carey Business
School, Baltimore, MD                  
2007
DPT:                                      
Doctor of Physical Therapy, Northwestern University School of Medicine, Chicago, IL
2002
Undergraduate:                              
BS, Biological Anthropology and Anatomy, Duke University, Durham, NC
1998
Past Academic and Professional Appointments
Physical Therapist
Select Specialty Hospitals, Nashville, TN
2010-2011
Occupational Health Physiotherapist
Oxford Radcliffe Hospitals NHS Trust, Oxford, England
2008-2009
Web Articles:
Research Description
Dr. Donahue's research interests are in the areas of lymphedema, oncology, and manual techniques impacting tissue extensibility. She is collaborating with the Vanderbilt University Institute of Imaging Science (VUIIS) on breast cancer related lymphedema (BCRL) research, specifically development of non-invasive imaging techniques that are intended to better inform patient management and optimize lymphedema treatment interventions. While the reported incidence of lymphedema varies from 6-54% and the risk increases with time since treatment, currently it is not possible to determine a patient's specific risk for BCRL. If such a distinction could be made, early therapeutic intervention could be administered effectively to high-risk patients with the goal of preventing, or delaying, BCRL onset. Paula has helped demonstrate that new non-invasive MRI techniques that utilize "spin labeling" principles can measure lymphatic fluid flow dynamics and lymphatic node metabolic properties, which correlate with lymphatic obstruction. Importantly, as these methods utilize the magnetic properties of water as an endogenous tracer, they are completely non-invasive and therefore can readily be 1) implemented into standard clinical protocols, 2) applied in longitudinal studies, and 3) used to evaluate lymphatic property responses to therapeutic interventions.
Research Poster on Non-Invasively Measuring Lymphatic Flow: Clinical Implications