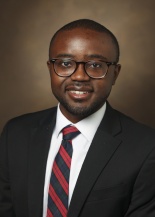 Clausyl "C.J." Plummer, MD
Physical Medicine and Rehabilitation
Vanderbilt Stallworth Rehabilitation Hospital
2201 Children's Way
Suite 1318
Nashville
Tennessee
37212
Clausyl "CJ" Plummer is an Assistant Professor in the Department of Physical Medicine and Rehabilitation  at Vanderbilt Stallworth Rehabilitation Hospital. He practices brain injury medicine, with a clinical interest in spasticity management, lifestyle medicine, and community reintegration for the full spectrum of patients who have sustained traumatic/acquired brain injuries. Dr. Plummer completed his residency in Physical Medicine and Rehabilitation at University of Texas Health in San Antonio, Texas where he served as administrative chief resident. He then completed his fellowship in Brain injury medicine at University of Washington in Seattle, Washington.
Dr. Plummer's area of interest in research is in Return to Learn protocol in concussion management and he was the recipient of the inaugural Richard Adler Attorney at Law and Adler Giersch Law Firm endowed research fund for Traumatic Brain Injury Research in Seattle, Washington.
Dr. Plummer is passionate about education, mentorship, and outreach and has served in various leadership roles. He has also been involved in both the American Academy of Physical Medicine and Rehabilitation (AAPM&R) and the Association of Academic Physiatrists (AAP), where he served as the first ever resident/fellow committee social media ambassador for AAP.