Nurse Leaders
Nurse Leaders play a critical role in the success of our informatics shared governance committees. We need you to identify strong eStar Reps to bea a voice for your unit and to share information with their team. We also need you to encourage and facilitate their involvement in the monthly committee meetings and in the submission of enhancement requests for system improvement. Overall, there are six areas of engagement for Nurse Leaders with the Nursing Informatics Committees. 
Communication: assist eStar Reps in establishing forums for communicating updates, facilitating discussion, and elevating concerns related to informatics and technology use; Review the Nursing IT System Update and VNIC Minutes for pertinent information
Collaboration: prioritize problems and issues and review and endorse enhancement requests
Participation: share feedback and priorities in nurse manager meetings with Nursing Informatics specialists; identify eStar reps and facilitate their attendance and participation in VNIC activities
Projects: take accountability for collaborating with eStar Reps and VNIS to ensure project deliverables are met and issues are identified for area-specific initiatives; lead area-specific logistical efforts for implementation and support, including identification of super users when needed
Education: lead area readiness for change; ensure education for informatics-related changes are completed in a timely manner and escalate identified educational needs to VNIS; understand the difference between Pegasus tickets, Enhancements requests, and Request for Nursing Informatics Services
Quality: take accountability for quality initiatives; collaborate with VNIS to track data, develop action plans, and set direction for potential solutions
eStar Reps
What is an eStar Rep? An eStar Rep is a liaison between the Nursing Informatics Specialist on the Vanderbilt Nursing Informatics Services (VNIS) team and the frontline clinical staff across the VUMC Enterprise. They participate in monthly subcommittee meetings, act as a subject matter expert for area-specific informatics-related workgroups and projects, and represent their peers for informatics-related concerns and needs. They collaborate closely with their Manager and the corresponding VNIS team to submit system enhancement requests, escalate problems, make recommendations, and more.
Who should be an eStar Rep? eStar Reps are ideally front-line staff involved in direct patient care. These are the individuals who have the most system-use experience and know the pain-points of the electronic medical record. Staff who are technically skilled, not afraid to share ideas, creative problem solvers, or excellent peer mentors make for great eStar Rep candidates! Our goal is to have at least one eStar Rep from every unit and clinic to best represent the broad range of specialties and workflows at VUMC. 
*To add or remove an eStar Rep for your department, email the appropriate VNIS Team Mailbox: Ambulatory or Inpatient/Periop.
This workflow diagram details the initial steps for identifying an eStar Rep and getting them engaged with VNIC.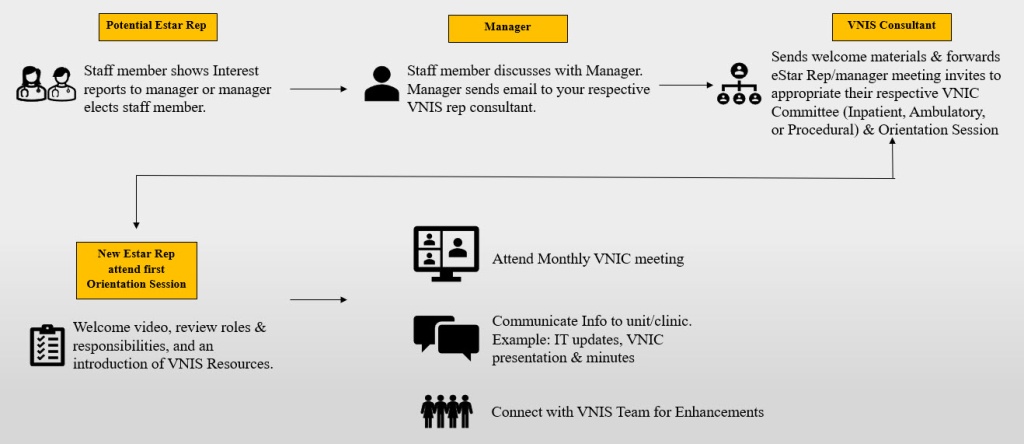 eStar Rep List and Attendance
If you are interested in reviewing the complete list of eStar Reps or looking at attendance for eStar Reps from your area, you may use the link below to review the VNIS team eStar Rep Tracker. You can filter this eStar Rep spreadsheet by PCC/Segment, Manager, Department, etc. You can also look at our Pivots tab for monthly pivot tables and charts by entity. For questions or updates, please email the appropriate support team mailbox.