Nursing Informaticists support customer use of the electronic health record, other technology, and associated workflows. We educate customers on the use of sound informatics principles, including problem shaping, troubleshooting, design requirements, system design life cycle, and change management. We utilize current evidence-based nursing knowledge, including research findings, to guide practice.​ We work with clinical and IT team members in evaluating the effectiveness of technologies that impact clinical users. 
Nursing Informaticists collaborate with clinical leaders and eStar Representatives on informatics needs, communicate eStar changes and issues, help manage Major Incidents, facilitate system enhancement requests, and serve as consultants for clinical technology projects.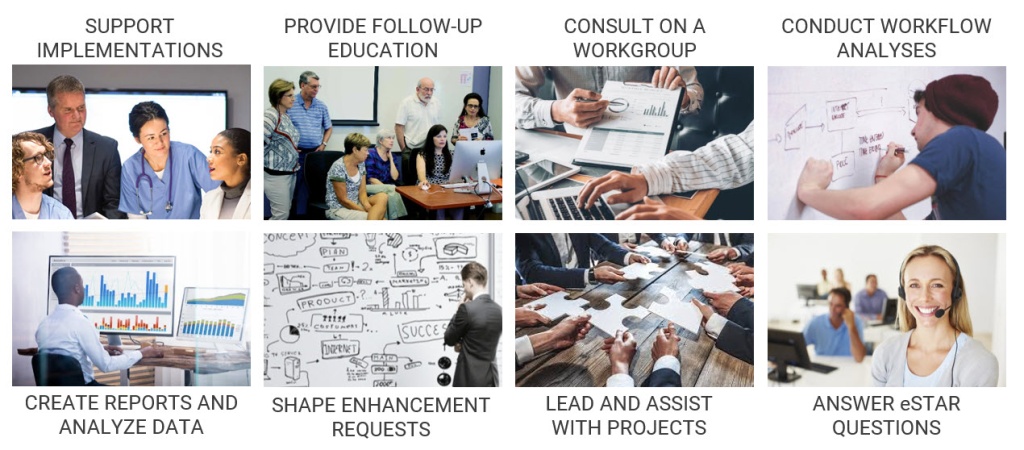 Consultation
Workflow Gap Analysis
End User Troubleshooting and Coaching
Implementation Support
Data Retrieval and Analysis
Our Customers
Nurses (RN and LPN)
Care Partners
Medical Receptionists
Medical Assistants
Respiratory Therapists
Case Managers
Our eStar Reps
We manage and track a comprehensive list of eStar Representatives from across the enterprise. These are direct-care nurses, medical assistants, or nurse leaders who are members of the Vanderbilt Nursing Informatics committees. Review all VUMC eStar Reps using the eStar Rep Tracker link below. You can filter this eStar Rep spreadsheet by PCC/Segment, Manager, Department, etc. For questions or updates, please email the appropriate support team mailbox.
Preceptorship and Mentoring
The VNIS team offers student preceptorship and mentoring for those interested in Nursing Informatics. We oversee student practicums for numerous students from various schools each year. If you are enrolled in an MSN program with a focus in informatics, or simply want to shadow a team member to learn more about what we do, please contact Shawn Coomer, Department Manager.