Welcome, we are excited to have you as an eStar Representative!
Whether you volunteered for this role because of an interest in technology or your Manager asked you to participate, we hope that being a part of the Vanderbilt Nursing Informatics Committees (VNIC) is a fulfilling way for you to participate in Shared Governance at Vanderbilt. Shared Governance is all about giving clinicians a voice - in this case, a voice in what changes and improvements are made to our Epic Electronic Medical Record, eStar. VNIC is focused on those changes that broadly impact users in nursing and clinical assistant roles.
What is an eStar Rep? An eStar Rep is a liaison between the Nursing Informatics Specialist on the Vanderbilt Nursing Informatics Services (VNIS) team and the frontline clinical staff across the VUMC Enterprise. They participate in monthly subcommittee meetings, act as a subject matter expert for area-specific informatics-related workgroups and projects, and represent their peers for informatics-related concerns and needs. They collaborate closely with their Manager and the corresponding VNIS team to submit system enhancement requests, escalate problems, make recommendations, and more.
Who can be an eStar Rep? *We focus on engaging front line staff for these positions when possible.
Nurses (RNs and LPNs)
Medical Assistants
Respiratory Therapists
Nurse Educators
Care Coordinators
Techs
Nurse Leaders (CSLs, Managers)
This workflow diagram details the initial steps for becoming an eStar Rep and getting started in this role: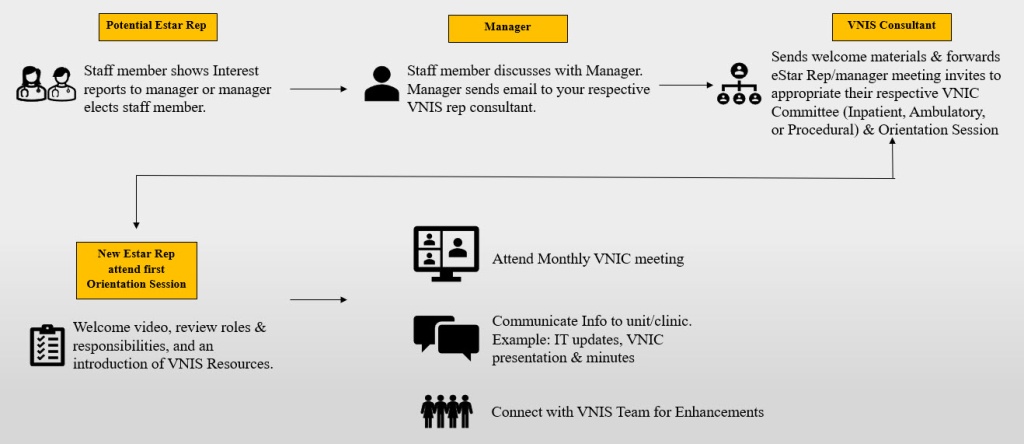 Spotlight on YOU
At every orientation session for new eStar Reps, we like to spotlight a current representative! If we choose to spotlight you, we would love to have you share your experiences as an eStar Rep with all of our newest members at an upcoming orientation session. This is a virtual session and a great opportunity to promote informatics literacy and involvement among others in the organization. To be considered, please email Mollie Boland or Angie Swinger Lockridge and let them know what you have done to stay engaged with VNIC and how you have supported your unit!