The Vanderbilt-Nigeria Biostatistics Training Program (VN-BioStat) has concluded its first year. The program, a collaboration between the Department of Biostatistics, the Vanderbilt Institute for Global Health, and Aminu Kano Teaching Hospital (AKTH) in Nigeria, aims to create a cohort of highly skilled Nigerian biostatisticians able to lead and supervise biostatistics activities for HIV research studies in West Africa. Professor Bryan Shepherd is one of the program's principal investigators.
The program's inaugural fellows were Abdurrahman Abdulhamid (PhD student, mathematics) and Yusuf Ibrahim Ibrahim (PhD student, statistics) from Bayero University Kano in Nigeria. Ibrahim has been working with professor Robert Greevy to study various randomization strategies for a proposed clinical trial in Nigeria. He is also doing a large epidemiology study looking at cytopenia among people with HIV in West Africa. Abdurrahman is looking at the interaction between sickle cell disease and renal disease among people with HIV using a cross-sectional dataset from northern Nigeria. They will continue this work when they return to Nigeria this month while they complete their PhDs at their home institution.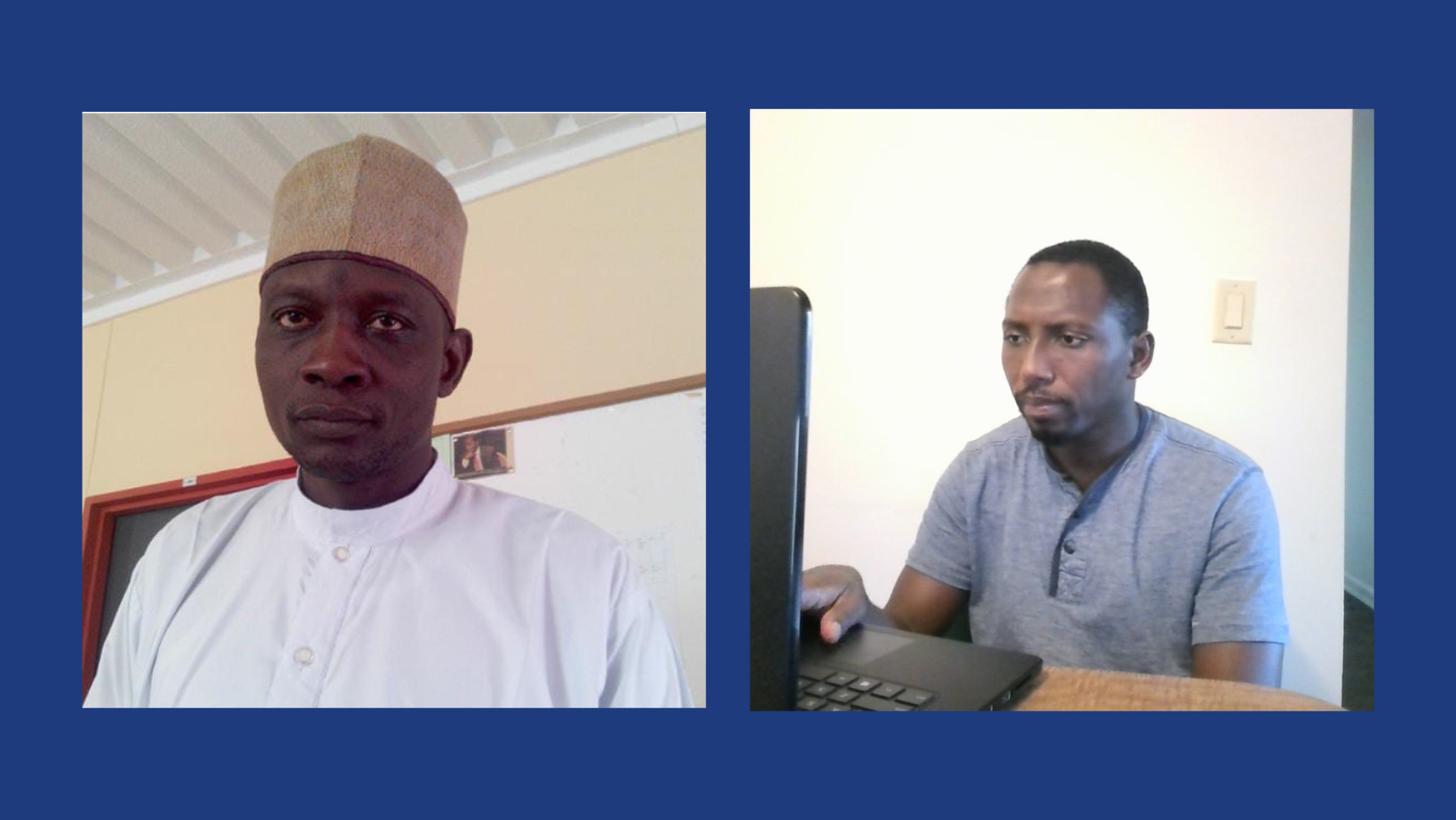 Left: Abdurrahman Abdulhamid; right: Yusuf Ibrahim Ibrahim
Below, Abdurrahman and Ibrahim share some of their experiences, insights, and advice for future fellows.
Abdurrahman Abdulhamid
Why did you want to join the program?
Assigned and provide analysis support to HIV-related research projects using AKTH data.
What did you like most about the program?
The unique responsibilities and project work associated with this program will absolutely help in developing the skills and experience required to work in a real job.
Did you learn anything that surprised you?
The whole idea of clinical trials, which is in every course in the six courses and weekly seminars, surprised me. Also, the professors are versed in excellent teaching methods.
What will you miss most about the program?
Resources that ease the study, and the prompt assistance from all the members of the Department of Biostatistics.
Do you have any advice for future fellows?
Try to harness the crude knowledge of the great scholars, and have helpful friends among the students.
What are you doing next?
To meet the target of the program by supporting projects at AKTH, and to continue and complete the project I started here and my PhD at Bayero University Kano.
Yusuf Ibrahim Ibrahim
Why did you want to join the program?
I applied this program because, in our country Nigeria, there is relatively a shortage of biostatisticians for the demand of biomedical research, resulting in generally overworked biostatisticians who work on multiple projects at the same time. This program will surely enable me to fill this gap.
What did you like most about the program?
It is great to study biostatistics in one of the focal points of biomedical research in the world. There are many brilliant and dedicated faculty here doing exciting research across a wide variety of critical areas. I admire all the staff of VUMC who are always ready to give you support whenever you need. I do like Nashville as a city. It's a great place to live, as I am from tropics, however, I like the winter in Nashville. It's nice seeing the snow for the first time. I will really miss the unique culture and hospitality of the people of Nashville.
Did you learn anything that surprised you?
Absolutely! I have had many wonderful experiences. For instance, before I came here, I looked at the R-software as a very complex and difficult thing to master. However, I was surprised by the ease I am now able to navigate many of its awesome features, courtesy of the fantastic teachers I have had here at Vanderbilt. I have been amazed by how they are able to make the seemingly difficult tasks so easy to master.  
What will you miss most about the program?
I will really miss the weekly seminar in the Department of Biostatistics where dedicated academics present interesting research in a wide range of topics and ideas. I will also miss the staff and students of the Biostatistics Department and the Institute for Global Health who supported me intellectually, morally, and socially. Moreover, I will miss playing soccer with Bryan, Dale and others. The time we spent together will forever remain in my memory. Furthermore, I will forever be grateful for the warm hospitality of the people of Nashville.
Do you have any advice for future fellows?
Learning at an advanced level in a new culture/environment could be quite challenging and Vanderbilt, despite its excellence and prestige among the world's universities, is no exception. I would like to advise the future fellows to prepare well in advance and work hard when they arrive. I have come to realize that the harder I work, the more I like and find ease in what I do. Moreover, they should always be open to meeting and learning from other people.
What are you doing next?
In six months, I just have a modes plan of finishing my PhD in Nigeria, after that, I will continue doing research in Statistics, especially "Causal Inference." In two years, I wish to come back to one of the academic institutions in the United State as postdoctorate student. In five years, I have more of visionary plan – professionally, I would like to lead my own research group in Nigeria.