Happy 2022, y'all! At the end of 2021, members of the Vanderbilt ACTIV-6 and IVY teams gathered online to celebrate the work they've collectively achieved in collaboration. Department members in the below gallery include Chris Lindsell, Wu Gong, Samuel Nwosu, Matt Shotwell, Yuwei Zhu, Zhouwen Liu, Dean Gibson, and Kim Hart.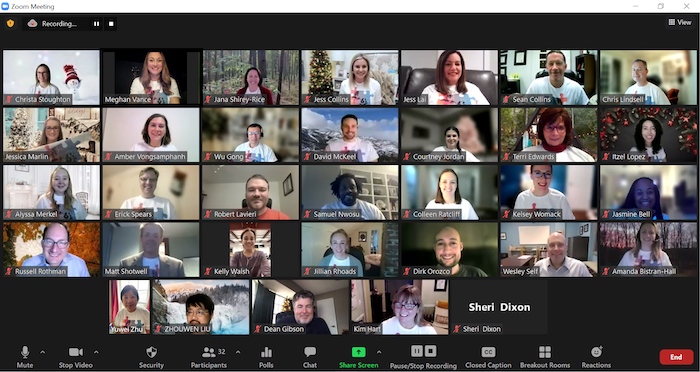 You can see most of the attendees wearing a t-shirt with a logo symbolizing the integration of the teams' expertise and dedication. The logo was designed by program manager Meghan Vance. 
Vanderbilt University Medical Center houses the Data Coordinating Center for the national ACTIV-6 drug repurposing trials. Dr. Lindsell heads the DCC as its principal investigator, with department members Frank Harrell and Tom Stewart among its co-investigators. For more about the medical center's role with ACTIV-6, see this November VUMC Reporter feature. 
The Influenza and Other Viruses in the Acutely Ill (IVY) Network has more than 11,000 critically ill people enrolled in its COVID-19 surveillance studies to date. Recent publications include "Association Between mRNA Vaccination and COVID-19 Hospitalization and Disease Severity," presented in the November 4 issue of JAMA.