Carlos Henrique Serezani, Ph.D. is an Assistant Professor of Medicine, Infectious Disease and Pathology, Microbiology and Immunology.
Dr. Serezani completed his Ph.D. at the University of Sao Paulo and the University of Michigan. He also completed his postdoctoral studies at University of Michigan. He was an Assistant Professor at Indiana University School of Medicine and has published more than 50 papers in reputed journals. The NIH and other foundations have funded his laboratory for almost 10 years.
The Serezani laboratory aims to develop therapeutic strategies to control systemic (sepsis) and localized infections (skin and lung) in healthy individuals, individuals with immune deficiencies, and those suffering from chronic inflammatory diseases, such as diabetes. They have concentrated much of their efforts in understanding the role of the lipid mediators leukotriene B4 and prostaglandin E2 and their actions on microRNAs, epigenetic changes and phosphatases to modulate immune cells involved in the control of microbial infection in these different contexts. The lab employs state of the art techniques to understand in vitro and in vivo cellular and microbial dynamics, such as intravital microscopy and IVIS imaging, along with different fluorescent and cell-specific deficient mice to track cell and organ-specific events.
---
How did you decide to become a scientist?
I don't really remember when I decided to become a scientist. I was always fascinated by biology in general. When I was in high school, I had an inspiring biology teacher that was a graduate student in genetics. She was always using examples of scientific papers in her classes. Maybe that was what sparkled me. In my freshman year in college, I started doing research in a lab that investigated mechanisms of fear (stress) and host response. After a few months, I knew I did not want to study neurosciences but wanted to be an immunologist.
How long have you been with VUMC?  
3.5 years
What does your lab do/study?
My lab studies how the body copes with infection. More specifically, we are interested in understanding why people with preexisting conditions, such as obesity and diabetes, cannot control infections. We employ state of the art techniques to determine phagocyte behavior and actions in the site of the infection, along with the spatial and temporal production of inflammatory mediators that could be leading to tissue damage or repair.
---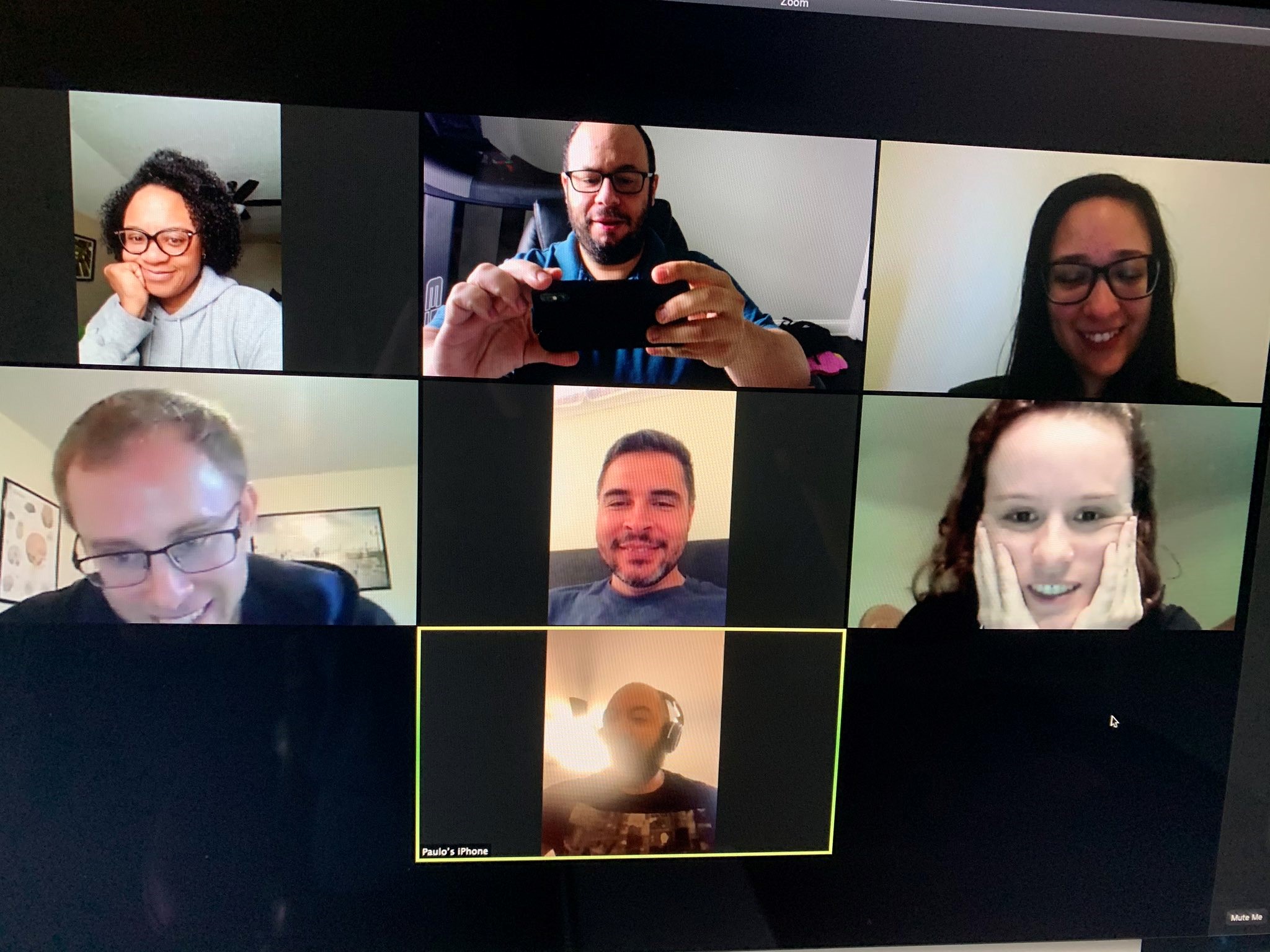 Pictured L to R: Amondrea Blackman, Carlos Henrique Serezani, Ph.D., Julia Bazzano
Nathan Klopsfenstein, Anderson Nunes, Nayara Pereira
Paulo Melo, Ph.D.
Not Picture: Morgan Bond, Sydney castellanos, Ana Salina​
Serezani Lab
---
What is one topic in your field that you are excited about right now?
The intersection between immunometabolism and epigenetic is fascinating to me.
What VI4 programming are you most looking forward to or has been the most impactful?
What VI4 programming are you most looking forward to or has been the most impactful? I am always in the lookout for the events involving the junior faculty and the seminar series. I think the most impactful VI4 programs are the MEGAMicrobe and the VI4 Symposium.
Give us some good recent articles to read that's related to your field of study.
Riquelme SA, Lozano C, Moustafa AM, Liimatta K, Tomlinson KL, Britto C, Khanal S, Gill SK, Narechania A, Azcona-Gutiérrez JM, DiMango E, Saénz Y, Planet P, Prince A. CFTR-PTEN-dependent mitochondrial metabolic dysfunction promotes Pseudomonas aeruginosa airway infection. Sci Transl Med. 2019 Jul 3;11(499). pii:eaav4634. doi: 10.1126/scitranslmed.aav4634. PubMed PMID: 31270271; PubMed Central PMCID: PMC6784538.

Sajti E, Link VM, Ouyang Z, Spann NJ, Westin E, Romanoski CE, Fonseca GJ, Prince LS, Glass CK. Transcriptomic and epigenetic mechanisms underlying myeloid diversity in the lung. Nat Immunol. 2020 Feb;21(2):221-231. doi: 10.1038/s41590-019-0582-z. Epub 2020 Jan 20. PubMed PMID: 31959980.

Medina CB, Mehrotra P, Arandjelovic S, Perry JSA, Guo Y, Morioka S, Barron B, Walk SF, Ghesquière B, Krupnick AS, Lorenz U, Ravichandran KS. Metabolites released from apoptotic cells act as tissue messengers. Nature. 2020 Apr;580(7801):130-135. doi: 10.1038/s41586-020-2121-3. Epub 2020 Mar 18. PubMed PMID: 32238926.
Tell us a funny story from the lab.
When I was a graduate student, I used to run DNA sequencing gels using phosphorous 32 (32-Pa - a radioactive probe). These experiments usually are very time consuming and I had to stay super late in the lab. One day, I was preparing my probe, and a friend of mine stormed in the lab screaming to scare me. Of course, I reacted and tossed the whole flask of the radioactive probe across the lab. Once it hit the floor, the container bounced a few times but did not break, and there was no spill! My friend and I saw our lives flash before our eyes. Moral of the story: Nothing good comes of working late at night...
As soon as the bars and restaurants open back up, where is the first place you're going?
I think I will go to the movies or to a concert with my wife.
---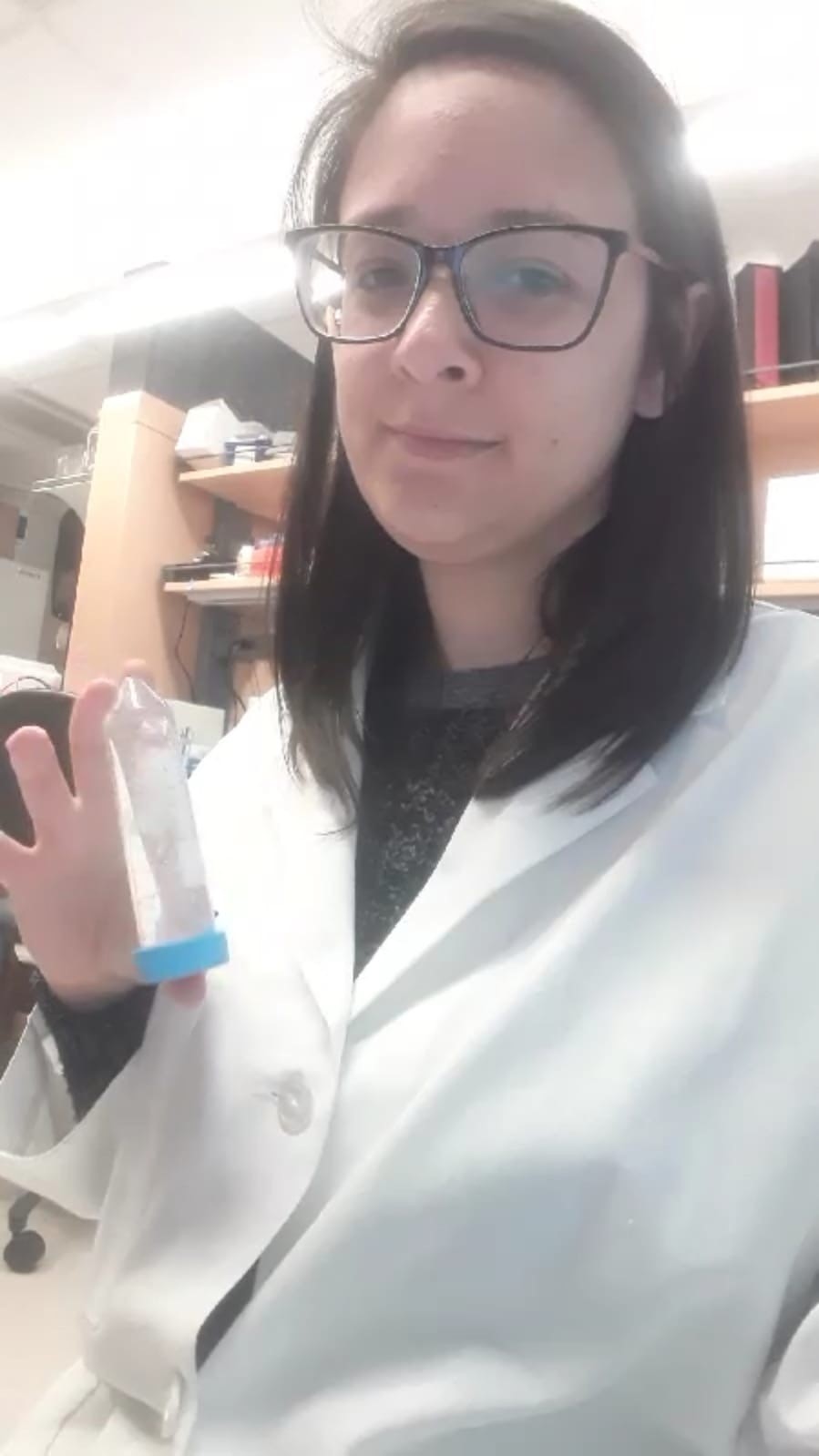 Julia Bazzano, Research Assistant II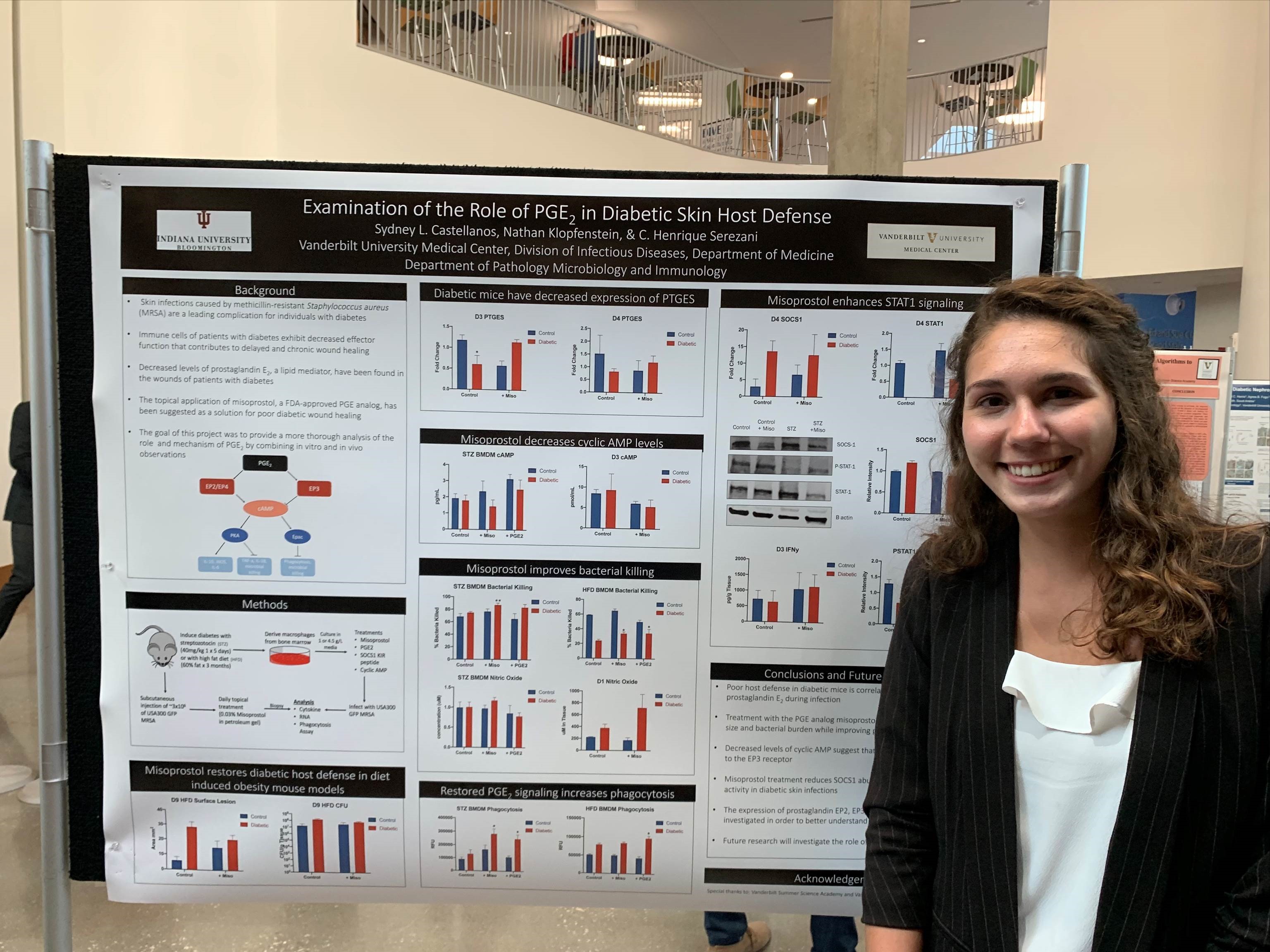 Sydney Castellanos, Undergraduate Student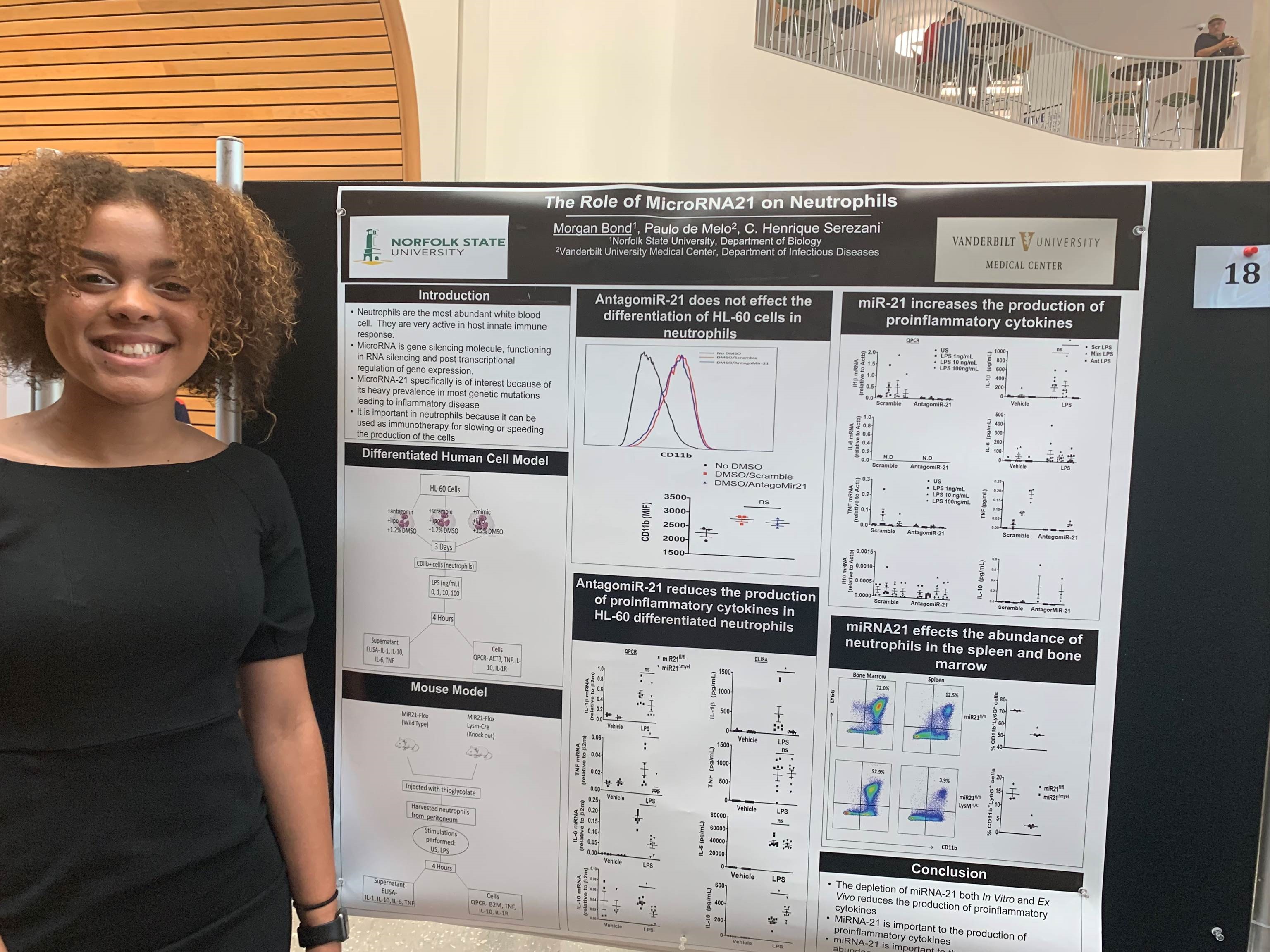 Morgan Bond, Undergraduate Student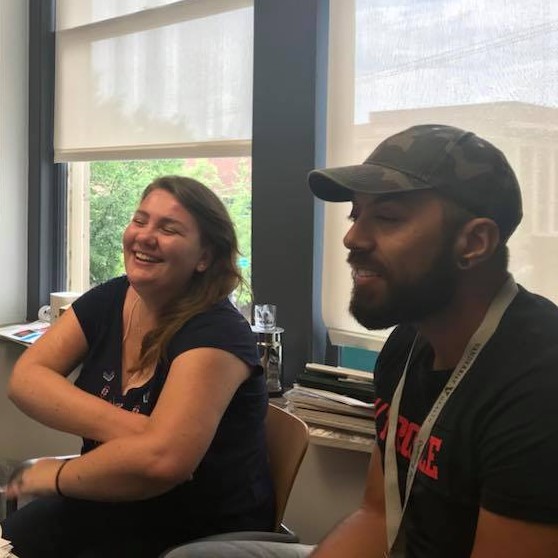 Ana Salina, Visiting Graduate Student, and Paulo Melo, Postdoctoral Fellow
---
Engage with Serezani Lab: