Thanks to everyone who participated in this event!
We're postponing 2021's MEGAMicrobe, and plan to return with a fantastic event Fall 2022.
Want an invite? Click here!
---
...and the winner is team Fungi!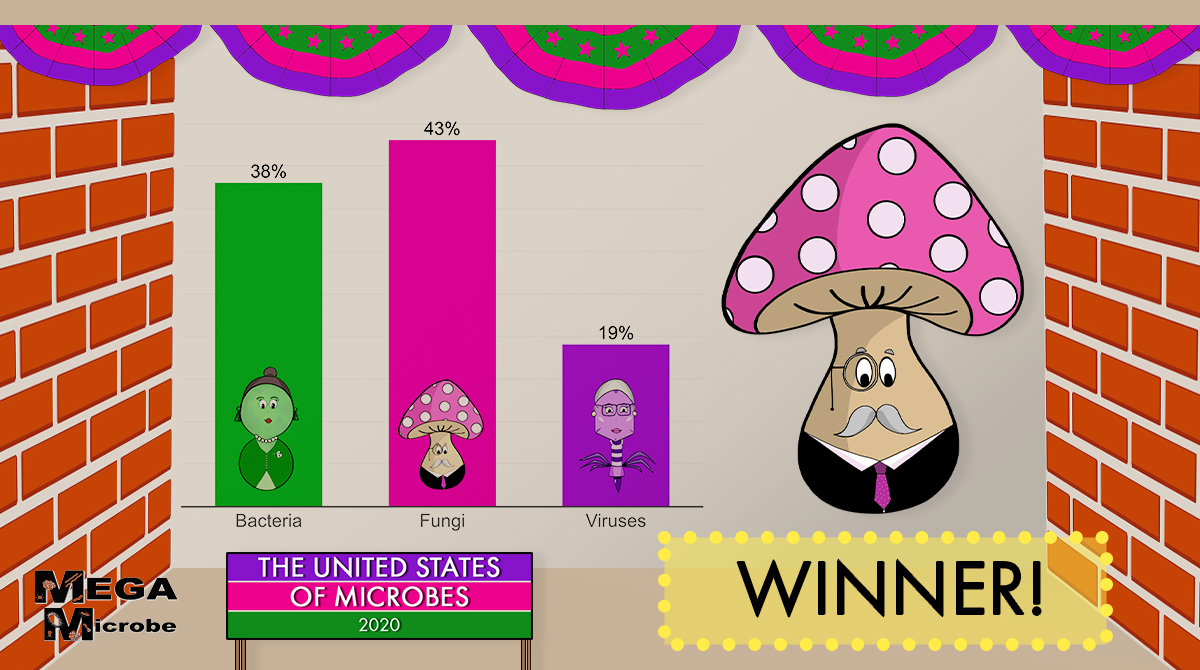 ---
Welcome to MEGAMicrobe 2020!
MEGAMicrobe is a free, community-focused, event for 5-14 year-olds, designed to generate interest in Science among Nashville's youth. Volunteers are dedicated to showing that science is fun, accessible and important.
Parents, teachers, and students are invited to come learn about microbes and the important role they play in human health in a fun, interactive setting, with real scientists from Vanderbilt University Medical Center.
Welcome to this year's microbial election! Below we have several ways to interact to help you choose which microbial candidate you think is best. Start with the video directly below to hear from each of our candidates, Bacteria, Viruses, and Fungi. Next, click on the candidate's picture to view activities and experiments that will help you learn a little more about that candidate. Wanna keep the fun going? Be sure to check out the quizzes to see which bacterium, virus, or fungus you are. Please note, the website and videos will work best with the Chrome internet browser.
One last thing - don't forget to vote for your favorite microbial candidate! The winner of this year's microbial election will be revealed on November 4th. Happy experimenting!
Watch the MEGAMicrobe Candidate Debate and then click on one of the candidates below to learn why each team wants your vote!
---
Research is important! Check out those sources:
Roossinck, M. The good viruses: viral mutualistic symbioses. Nat Rev Microbiol 9, 99–108 (2011). https://doi.org/10.1038/nrmicro2491

Royal Botanic Gardens, K. (2018). State of the World's Fungi 2018, Royal Botanic Gardens, Kew.

Betts, H.C., Puttick, M.N., Clark, J.W. et al. Integrated genomic and fossil evidence illuminates life's early evolution and eukaryote origin. Nat Ecol Evol 2, 1556–1562 (2018). https://doi.org/10.1038/s41559-018-0644-x
---