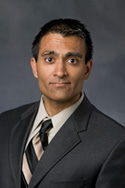 Mayur B. Patel, MD, MPH, FACS, FCCM
Division of Veterans Affairs General Surgery, Tennessee Valley Healthcare System
Center for Critical Illness, Brain dysfunction, & Survivorship (CIBS) Center
Division of Trauma, Emergency General Surgery, & Surgical Critical Care
Associate Professor of Surgery with Tenure
Dr. Patel has three active Board Certificates in General Surgery, Surgical Critical Care, and Neurocritical Care.
Areas of Expertise:
Trauma & Neurotrauma
Emergency General Surgery 
Surgical Critical Care
He serves the American College of Surgeons (ACS), Eastern Association for the Surgery of Trauma, Association for Academic Surgeons (AAS), Society for University Surgeons (SUS), Association for VA Surgeons (AVAS), American Association for the Surgery of Trauma (AAST), American Delirium Society (ADS), and Society of Critical Care Medicine (SCCM).
His current research interests focus on brain dysfunction and critical illness, as related to traumatic brain injury (TBI), post-traumatic stress disorder (PTSD), long-term cognitive impairment, dementia, and other aspects of ICU survivorship. The National Institutes of Health (NIH), Department of Defense (DoD), Agency for Healthcare Research & Quality (AHRQ), Eastern Association Surgery of Trauma (EAST) Foundation Research Scholarship, Vanderbilt CTSA, and the Vanderbilt Faculty Scholars Program have supported his research efforts. He serves the NIH Center for Scientific Review (CSR) and the Surgery, Anesthesia, & Trauma (SAT) Study Section and associated Emergency Care Special Emphasis Panels.
Dr. Patel has attracted a >$20M NIH Principal Investigator portfolio on behalf of the Vanderbilt University Medical Center (VUMC) collaborative community, represented by 2 active NIH R01 grants. The INSIGHT-ICU NIH/NIGMS R01 project will help define the impact of Delirium and Traumatic Brain Injury on long-term Cognition, Return to Work, and Neuroinflammation after critical illness and injury. The BRAIN-ICU-2 NIH/NIA R01 will help define the relationship between delirium and dementia among ICU survivors. He is actively developing pre-doctoral (MD and PhD candidates) and post-doctoral trainees (F and K level resident and junior faculty).

For inquiries about Trauma/Surgery ICU research and/or more details of his work or for his CV, please contact him (mayur.b.patel@vumc.org).
Education:
BA, Johns Hopkins University (1997)
MD, Vanderbilt University School of Medicine (2002)
MPH, Vanderbilt University School of Medicine (2012)
Residency:
General Surgery, Duke University Medical Center (2009)
Fellowship:
Trauma Surgery Research Fellow, Duke University & Ryder Trauma Center (2006)
Trauma & Surgical Critical Care, Vanderbilt University Medical Center (2012)