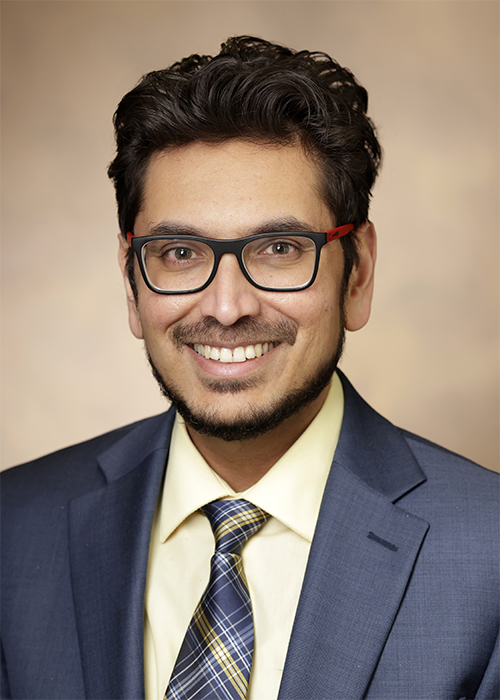 Lax Bhandari, MD
Assistant Professor of Plastic Surgery
Department of Plastic Surgery
Dr. Bhandari joined our surgical faculty in the Department of Plastic Surgery, as Assistant Professor, after leaving the world renowned Kleinert Institute of Hand and Microsurgery, Louisville, KY. Dr. Bhandari's practice will focus on hand and wrist surgery for adult and pediatric patients. He specializes in procedures involving reconstruction and microsurgery for wound coverage.
Research
Dr. Bhandari has extensively researched the role of nerve and vascular repair in surgery of the hand and other extremities. His research has focused on the use of regenerative agents and surgeries involving unique nerve conditions and injuries. Included among his recent publications in numerous peer-reviewed journals are: Management of tourniquet related nerve injury (TRNI): A systematic review, Cureus 2022; Rare case of intraneural lipoma of digital nerve, Case Reports in Plastic Surgery & Hand Surgery 2022; and Use of Integra® as a temporizing measure before definitive flap surgery in mangled extremities requiring revascularization, Cureus 2021. He has authored multiple chapters in Hand surgery books including Hand transplantation.
Memberships and Honors
Dr. Bhandari is board-certified in India in MS General Surgery and MCh Plastic Surgery. He is a member of the American and Indian Medical Associations, the American Society of Reconstructive Transplantation, the Kentucky Medical Association, and the Greater Louisville Medical Society. 
Education
Dr. Bhandari earned his Bachelor of Medicine-Bachelor of Surgery degree at the Manipal Academy of Higher Education, Mangalore, Karnataka, India. His residency in General Surgery was completed at Calicut University, Calicut, Kerala, India, and his residency in Plastic Surgery was completed at Kerala University of Health Sciences, Calicut, Kerala, India. This was followed by fellowships in Facial Plastic Surgery at the Dutch Association of Facial Plastic Surgeons; Erasmus MC and Velthuis kliniek, Rotterdam, Netherlands; in Hand and Microsurgery at the Christine M Kleinert Institute of Hand and Microsurgery; Louisville KY; and in Craniofacial and Pediatric Plastic Surgery at the University of Tennessee Health Science Center, Memphis, TN.

Contact
Division of Hand Surgery
Department of Plastic Surgery
Vanderbilt University Medical Center
Medical Center North, D-4207
1161 21st Avenue South
Nashville, TN 37232-2345
Phone: (615) 936-0160
Fax: (615) 936-0167
Patients
Vanderbilt Adult Plastic Surgery
The Vanderbilt Clinic, Suite 3701
1301 Medical Center Drive
Nashville, TN 37232
Fax: (615) 343-2552
Adult Appointments: (615) 322-2350
Vanderbilt Pediatric Plastic Surgery
Monroe Carrell, Jr. Hospital at Vanderbilt
2200 Children's Way, 9th Floor
Nashville, TN 37232
Fax: (615) 875-1731
Pediatric Appointments: (615) 322-8777

WEBSITE: Vanderbilt Plastic Surgery