Our History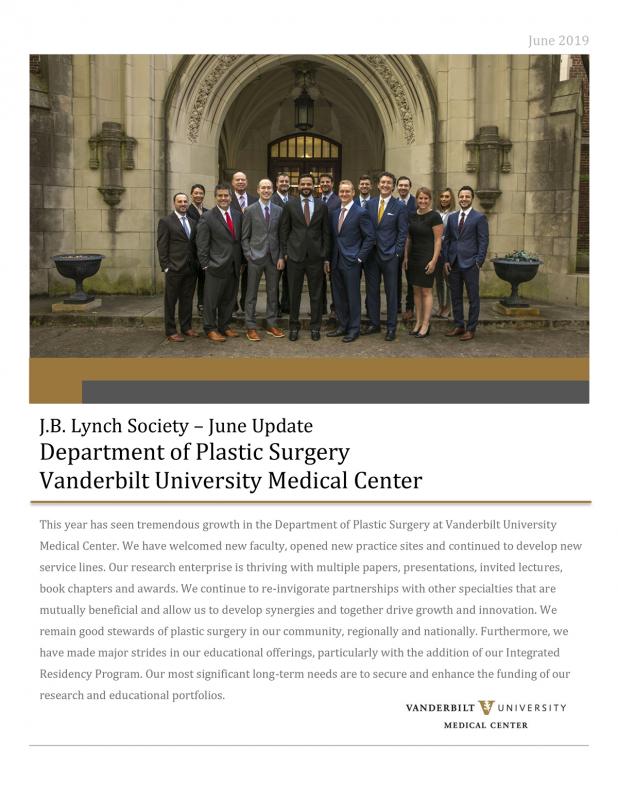 Since 1925 the Vanderbilt Department of Surgery has evolved to extend its mission to improve healthcare by focusing on education, patient care, and research. The Department of Plastic Surgery was one of eight surgical specialty divisions within the Department of Surgery at Vanderbilt Hospital. In 1973 John B. Lynch, M.D., Chairman of the Department of Plastic Surgery began developing an excellent teaching program, research interest and the creation of the Burn Center, still the only one in our region today.
Click the Lynch Society Newsletter to the right to view or download
Today and the future of Vanderbilt Plastic Surgery
Our top ranked facilities include Vanderbilt University Medical Center and Hospital, The Monroe Carell Jr. Childrens Hospital at Vanderbilt, and Vanderbilt University School of Medicine. Partnerships with the Nashville Veterans Administration and an ever-expanding affiliate network of community and regional medical systems provide the patient base for Vanderbilt.
R. Bruce Shack, M.D. Chair from 1990 to 2016, led the Department with considerable growth clinically and accademically. In 2017 Galen Perdikis, M.D. became the current Chair. Dr. Perdikis previously served as Professor and Chair of the Division of Plastic Surgery at the Mayo Clinic in Jacksonville, Florida for 16 years. During his tenure thus far, Dr. Perdikis has expanded surgical outreach in both cosmetics and plastic surgery and is currently developing a new multidisciplinary transgender clinic and a multidisciplinary lymphedema treatment center.
With a collective 132 years of service between our award-winning faculty they have developed many subspecialties within the surgical menu. The robust residency and fellowship programs have approximately 10 members annually and is ACGME fully accredited. Vanderbilt has become nationally recognized as a leader in reconstructive and cosmetic plastic surgery. We also treat pediatric conditions such as cleft lip and palate and other facial and body deformities as well as limb reconstruction and robotics.
The Plastic Team is complemented by other disciplines with additional medical expertise found within Vanderbilt including, Oncology, Orthopedic Surgery, Urology, Gynecology, Trauma and Neurological Surgery and Vanderbilt University Biomedical Engineering.
The Section of Surgical Sciences typically has 230 full-time clinical faculty and on average about 177 residents and fellows. Our medical center boasts 1,105 total beds, 834 adult and 271 childrens. Cosmetic Surgery has two dedicated private ORs suites while VUMC's main campus has 56 adult and 16 pediatric ORs which enables VUMC to perform over 51,000 surgeries annually.