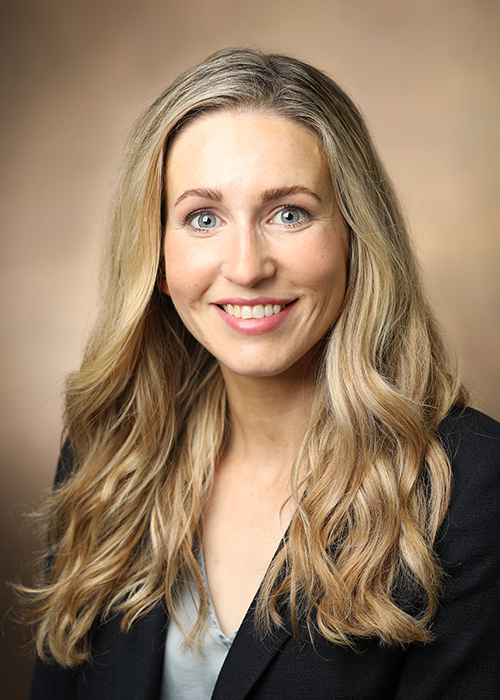 Lauren Connor, MD
Assistant Professor of Plastic Surgery
Director of Medical Student Education
Department of Plastic Surgery
Office Address
Medical Center North
Nashville
Tennessee
37232-2345
Phone
Phone: (615) 936-0160
Dr. Connor joined our surgical faculty in the Department of Plastic Surgery after completing an integrated residency in Plastic and Reconstructive Surgery at Northwestern University Medical Center, Chicago, IL. Her primary clinical and research interests focus on advancements in breast reconstruction surgery, aesthetic surgery and peripheral nerve surgery. Dr. Connor's patient care interests will center on breast cancer reconstruction, body contouring, migraine and occipital neuralgia and treatment of painful neuromas.
Research
Dr. Connor's research has primarily focused on improvements and developments in breast reconstruction techniques and outcomes, aesthetic surgery outcomes, and targeted muscle reinnervation for treatment of peripheral nerve pain.  During her dedicated research year in residency, she served as lead coordinator for a Department of Defense funded randomized clinical trial evaluating targeted muscle innervation as a treatment for chronic neuroma related pain in amputees. Among her recent publications in peer reviewed journals are: Targeted Muscle Reinnervation at the Time of Upper Extremity Amputation for the Treatment of Pain and Severity Symptoms, Journal of Hand Surgery; Obtaining Good Results in Cosmetic Blepharoplasty, Plastic and Reconstructive Surgery; and A Quantitative Analysis of Animation Deformity in Prosthetic Breast Reconstruction, Plastic and Reconstructive Surgery.
Memberships, Awards and Honors
Dr. Connor holds board eligible membership in the American Board of Plastic Surgery. She is a candidate for active membership in both the American Society of Plastic Surgeons and the American Society of Aesthetic Plastic Surgeons. Dr. Connor received the award for Best Presentation in the Reconstruction Session at the ASPS Plastic Surgery Meeting 2019 and was acknowledged as a Purdue University Rising Professional in 2017, awarded to recent graduates annually making an impact in their field. She was a Vanderbilt Medical Scholar as well as a Vanderbilt Canby Robinson Society Scholar while attending Vanderbilt University Medical School.
Education
Dr. Connor earned a Bachelor of Science from the Honors College at Purdue University, Lafayette, IN, where she graduated Magna Cum Laude and Phi Beta Kappa while serving as captain of their women's basketball team. She received the Flora Roberts Award as the top graduating female student in her undergraduate class before going on to receive her MD at Vanderbilt University School of Medicine, Nashville, TN.  She then completed a seven-year integrated residency in Plastic Surgery at Northwestern University Medical Center, Chicago, IL.