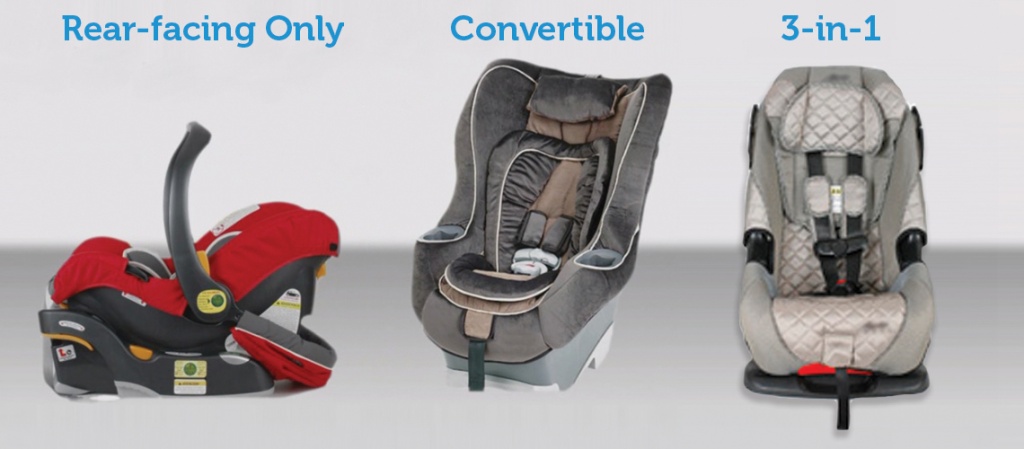 Car seats can be very overwhelming because there is so much information and it is hard to know where to get the most accurate content. We have created a bi-weekly series where caregivers have submitted questions and we help answer those questions. Feel free to email us any questions you have or if there is a topic you would like featured.
When buying a new car seat, it can be overwhelming because there are so many chooses. We will go over the different types of seats and what to look for when buying a new seat.
What features are most important to consider when selecting a seat?
When buying a seat, it is important to get one that fits your child, one that fits in your car, and one you can install correctly every time. It is always important to check the height and weight limit of the seat to ensure you get one that is appropriate for your child.  You can learn more about the different types of seats before you buy a seat. Check the labels and make sure there is one on the seat that says it meets Federal Motor Vehicle Safety Standards (FMVSS). Check to make sure the seat came with an owner's manual and instructions on how to install the seat.
You also want to get a car seat that fits your child based on their height and weight. Each seat has height and weight restrictions, so it is always important to look at the seat labels.
Does every seat have to pass a safety check?
Each seat that you buy new has to pass several tests to meet Federal Motor Vehicle Safety Standards (FMVSS). Each seat has also been crashed tested several times as well to meet FMVSS standards. Be sure to read Tips for Buying a Car Seat Online to ensure you are getting a seat that meets federal guidelines.
If a child can fit in an infant seat and a convertible seat, is one safer than the other?
Again, it is always important to look at the height and weight restrictions of the seat to make sure you get one that fits your child. There are several different seats you can use rear-facing, so it is important you get one that is best for your family and car. It is important remember that Tennessee State Law (T.C.A. 55-9-602) requires children under one year old and weighing less than twenty pounds must be in a rear-facing seat. The child must meet both of these requirements until moving to a forward-facing seat. Best practice suggests leaving a child rear facing for as long as possible until they exceed the height and weight requirements of the seat. A rear-facing seat refers to a seat that is in the opposite direction of the driver, where the child's head is facing towards the front of the vehicle and the child's feet are facing towards the back of the vehicle. Also, make sure to read both your car manual and your car seat manual before installing the seat. There may also be labels on the car seat that will help guide you through the installation process.
Types of Rear-Facing Seats:
Infant Only Seat-typically has a base and infant car seat that you can take in and out of the car. You will only be able to use this seat rear facing and once the child out grows the weight and height restrictions you need to buy a new seat.

Convertible Car Seat-can be used rear facing or forward facing. Once the child out grows the rear facing weight and height requirements, you can move the seat to forward facing and continue to use the seat. These seats typically do not come with a base. When looking into a seat that you can use for a longer, a convertible seat may be a good option because of being able to use it rear facing or forward facing depending on the height and weight of the child.

All in one car seat-This car seat can typically be used from birth to booster seat. It is a larger seat so if you have a small vehicle this is something to consider. You can use this type of seat rear-facing, forward-facing, and as a booster seat. Always check the height and weight restrictions when using the seat in different ways.
Do Car Seats Expire? Can the base expire? How bad of a car wreck does it need to be before replacing a car seat and/or base?
Most car seats only last six years and expire six years from the date of manufacture.  This is because the plastics from which the seats are made break down due to heat and sun exposure. Typically, the manufacturer will print the seat's expiration date on the restraint. If you cannot identify the expiration date on the product, call the manufacturer and provide the model number and date of manufacture to learn the expiration date. 
We do not recommend donating your used car seat. Used seats may be expired – every seat comes with an expiration date. A buyer would have no way of knowing if the seat had been in a wreck. Some safety features or parts may be missing, and the owner's manual would likely not be included. For these reasons, many thrift stores will not accept donations of car seats.
Child safety seats are designed to perform properly in only one crash. That's it, one. We thus discourage the use of restraints that have already been involved in a motor vehicle crash, even if there is no identifiable damage to the seat. If you do not know the history of the seat, refrain from using it rather than assuming it is safe. No matter how small the car wreck is the car seat needs to be replaced. Always mention to your insurance company that there was a car seat involved in the wreck as sometimes they help cover the cost of a new seat.
Sources:
2. Safe Kids Worldwide-Ultimate Car Safety Guide