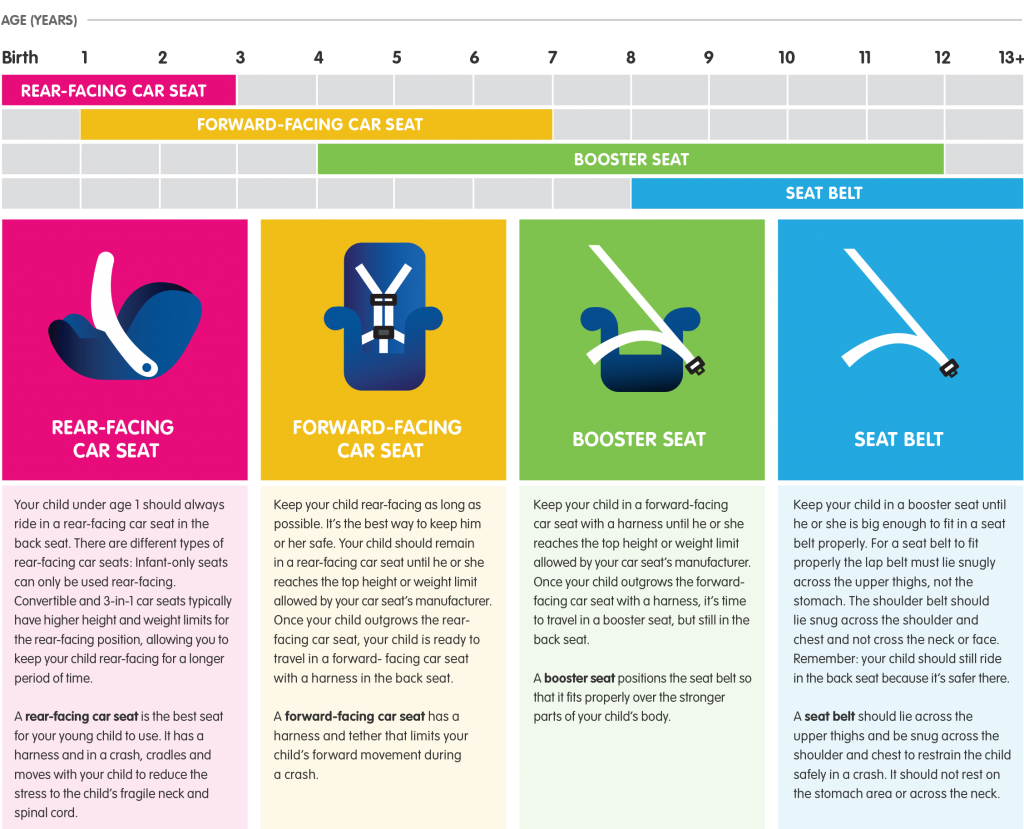 There are several different types of car seats and it can be confusing knowing when to move your child to a different type of seat. First it is important to understand the different types of seats and then review the law requirements as well as best practices regarding child passenger safety. When buying a seat, it is always important to select one that meets the height and weight requirements of your child, fits in your car, and one the caregiver can install correctly every time.
Rear Facing 
Typically, is used for newborn and young children because it protects the child's head, neck, and spinal cord. A rear-facing seat means the seat faces in the opposite direction of the driver where the child's feet are facing towards the back of the vehicle. It is always important to check the height and weight requirement of the seat. Best practice suggests leaving the child in a rear-facing seat as long as they still meet the height and weight requirements. Read more about rear-facing seats.
Forward Facing 
After a child has outgrown the rear-facing seat, the child moves to a forward-facing seat which contains a five-point harness and a tether strap. Always use the tether strap when using a forward-facing seat because it prevents the child's forward movement in a vehicle crash. Read more about forward-facing seats. 
Convertible Seats
Some caregivers choose to select a convertible seat that can be used rear-facing and forward facing once the child has met the height and weight requirements of the rear-facing seat. When installing a convertible seat, always check your car seat manual to see the correct position to place the seat belt as that will differ depending on if it is rear-facing or forward-facing. Read more about convertible seats. 
Booster Seats 
After your child gets too big for the weight or height limits of the forward-facing car seat, use a belt-positioning booster seat with the vehicle lap and shoulder seat belt. There are two types of booster seats, which include a high back and low back booster seat depending on your child's height and weight. Read more about booster seat safety.
Child passenger safety can be overwhelming but just take it one step at a time and always read your car seat manual as that will provide you with the most updated information on your specific seat.