Until recently, most Tennesseans wouldn't know who Mary-Margaret Fill, MD, was or what she did as a leading epidemiologist at the Tennessee Department of Health.
Then a pandemic happened.
Early on in the pandemic, Fill occasionally appeared in front of Tennesseans during the governor's frequent briefings on the rising number of COVID-19 cases across the state, an unusually high-profile position, helping officials explain the intricacies of the underlying data about the virus's spread and how the state was responding to the pandemic. She still briefs the governor and the state's Unified Command Group weekly on data about the pandemic.
Fill, deputy state epidemiologist at TDH, came to Vanderbilt University Medical Center for residency in internal medicine and pediatrics in 2011. She also served as an epidemic intelligence service officer for the Centers for Disease Control and Prevention prior to her position in the state health department. She is an adjunct assistant professor of pediatrics and internal medicine at VUMC.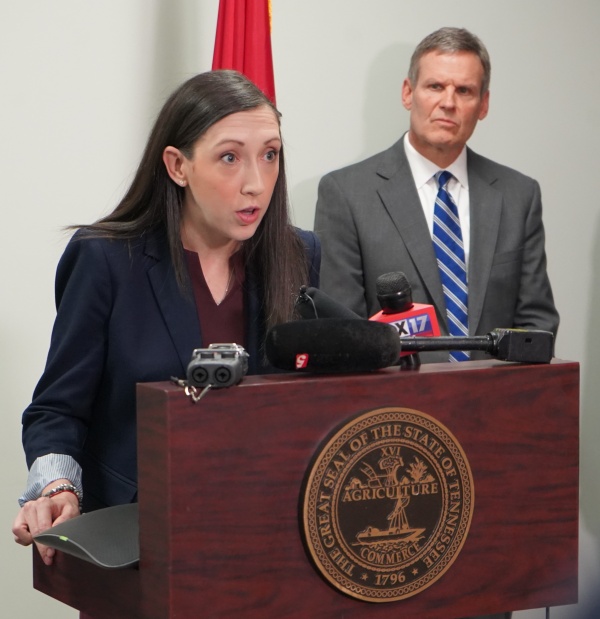 But for the last four years, she's also been pursuing a Vanderbilt Master of Public Health degree. The MPH program was able to design a specific course of study so that Fill could continue working in public health while attaining her degree.  
"One of the program's goals as it grows, is to retain our student-focused environment while making the MPH program more accessible for working professionals," said Dr. Christianne Roumie, director of the MPH program. "Dr. Fill is a great example of how we can adapt the program to meet each individual's needs. She is a leading public health professional with the critical skills needed during this historic time to guide the state during this pandemic."
Fill's day to day has changed dramatically since the pandemic began, which includes helping decipher and translate key data for state health leaders, including Gov. Bill Lee and the state's Unified Command, coordinating between epidemiologists in the field or handling issues that arise with other infectious diseases around the state that are not COVID-19.
"We're seeing in real time public health data be visualized and analyzed and scrutinized in many ways that it never really has before during this pandemic, and I think my additional education and training that I've gotten in the MPH program has undoubtedly made me feel more comfortable answering those questions," Fill said.
The goal of being more skilled at analyzing data and effectively using different methods was what drew Fill to the MPH program in the first place. She's become close to several of the MPH faculty and grown her perspective and insight as a student among a diverse group of fellow students from a variety of backgrounds, generations and professional experience.
"Having all of those diverse backgrounds and experiences in the classroom together is really beneficial," Fill said.
"I do think that as a whole (the pandemic) has certainly emboldened me and impassioned me in the work the department does," she said. She is expected to complete her MPH in May 2021, hopefully at a point where the pandemic is well under control, and certainly at a point where her passion continues to thrive.
(Photo: Mary-Margaret Fill, MD, speaks to reporters about the COVID-19 pandemic in Tennessee on March 4, 2020 alongside Gov. Bill Lee and other public health officials. Photo courtesy of Tennessee Dept. of Health)