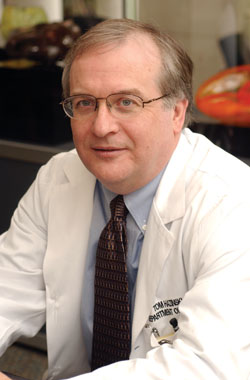 Dr. Thomas A. Hazinski 
About
The annual Faculty Development Workshop is named in honor of Thomas A. Hazinski who is remembered for his dedication to the faculty and his desire to see that everyone had the tools needed to be a success at Vanderbilt.  Dr. Hazinski received his undergraduate degree from the University of Notre Dame in 1971, his medical degree from St. Louis University in 1975, and joined the Vanderbilt faculty in 1984.  He was a Professor of Pediatrics and, built and directed the Division of Pediatric Pulmonary Medicine.  He was a co-founder of Vanderbilt's Master of Science in Clinical Investigation program.  In 2004, he become the associate dean for Faculty Affairs, a newly created role which allowed him opportunity to work on issues impacting the faculty, many of which have been topics of discussion in this annual workshop.  
About the Hazinski Workshop
The workshop is an annual half-day conference on a chosen topic related to faculty development. The program consists of a keynote lecture, complemented by interactive workshops in varying formats. Recent topics covered include: conflict resolution/communication, mentoring strategies and development of educator tools.   
Upcoming Hazinski Workshop
2023
Previous Hazinski Workshops
2004 - Enhancing Career Growth and Satisfaction for Women in Academic Medicine

2005 - Communication: How to make it work at work

2007 - Survivor vs. LOST: The Realities of Mentoring

2008 - Deal of No Deal: Developing Your Negotiation Skills

2009 - Extreme Makeover: Educator's Edition

2010 - Mind Bugs: The Science of Unconscious Bias

2011 - It's Complicated: Teams, Resources, & Relationships

2013 - Why Didn't I Think of That? Removing Barriers to Innovation

2014 - Who's on First? What It Takes to be a Team Player

2015 - Getting Better All the Time: Applying Lessons from Music, Sports, and Industry to Improve Performance

2016 - Modern Marvels: Applying Medical Technologies to Clinical, Research, and Educational Settings

2018 - VUMC Culture: History, Collaboration, Professionalism

2019 - The Teacher Within: Nurturing and Developing Teaching Skills from Students to Leaders

2021 - Harnessing Emotional Intelligence to Thrive in the New Normal

2022 

- 

How to Increase Your Cultural Intelligence for Greater Student Engagement